Back To Podcast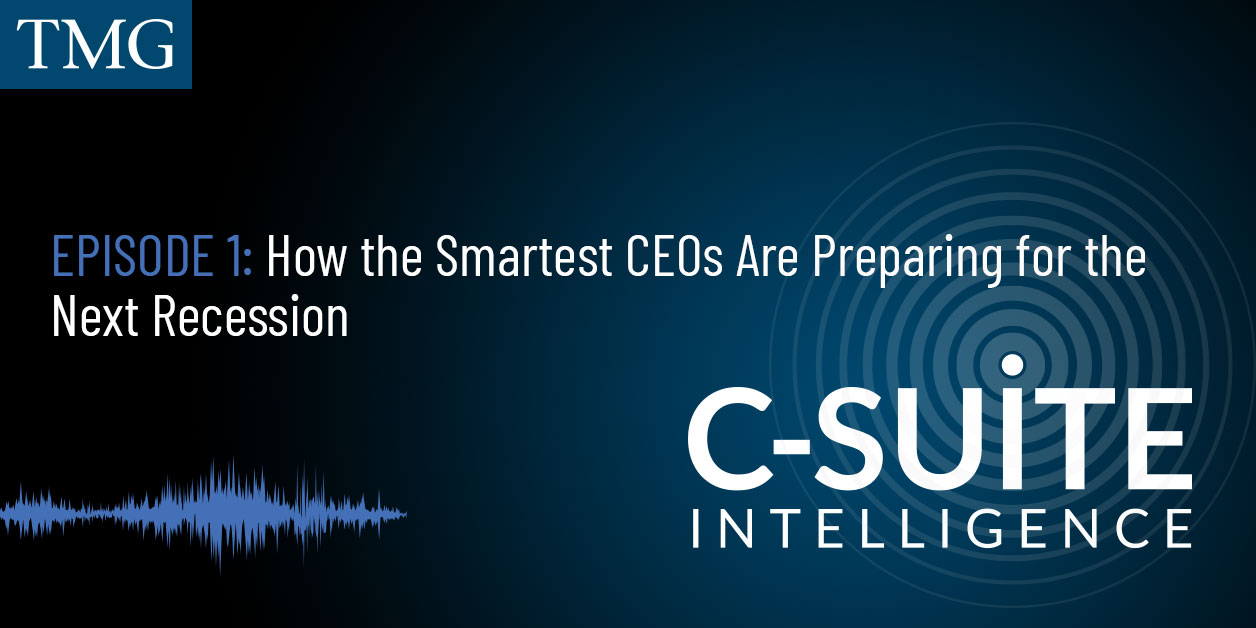 SEASON 1 | EPISODE 1 | SEPTEMBER 2019
Episode 1: How the Smartest CEOs Are Preparing for the Next Recession
Boom or bust, the smartest CEOs put plans in place well before the next downturn arrives, says Stephen Miles. Without scenario planning and taking steps toward "recession inoculation" during periods of growth, leaders can be caught by surprise when the economy turns, forcing them to make decisions with less time and thought. Miles discusses how CEOs are planning with their top teams and speaking with their boards and investors about how to weather the next recession.
In this episode
Stephen Miles
Founder and Chief Executive Officer
Coach to top CEOs, boards, and C-suite executives around the world, Stephen Miles is the founder and CEO of The Miles Group (TMG). His 20+ years of working closely with some of the highest performing executives, leadership teams, and boards of directors in the global Fortune 500 has put him at the center of some of the most critical leadership challenges and decisions companies are facing today.
Speaking frequently to organizations on strategies for coaching C-level executives and developing high-potential talent, Stephen has been featured in the Harvard Business Review, The Wall Street Journal, Forbes, Fortune, Entrepreneur, and Chief Executive. He is co-author of Your Career Game: How Game Theory Can Help You Achieve Your Professional Goals; he collaborates frequently with the Stanford Graduate School of Business on research around CEOs and boards, including a recent exploration of the costs and benefits of CEO activism. Stephen and his CEO advisory services were profiled in the Bloomberg Businessweek article "The Rising Star of CEO Consulting."
Full transcript
RICHARD
Volatility in financial markets, worries about trade: Economic concerns about a major downturn are on the rise. The smartest CEOs are putting plans in place in case a recession arrives.
C-Suite Intelligence: exclusive leadership lessons from coaches to the world's top-performing executives. I'm Richard Davies.
If they don't plan ahead for the next downturn, business leaders can be caught by surprise. They may be forced to make tough decisions with less thought and consideration than they'd like. What should CEOs, senior managers, and employees be doing now to inoculate their organization against a major change in business conditions?
STEPHEN
They get surprised by the recession, and then they swing big sticks really hard, and they do stupid things.
R
But are some leaders too pessimistic already?
S
I'm worried, given all of the other indicators just in terms of our overall economy, that we're talking ourselves into a recession
R
The possibility of a recession is now being talked about at the highest levels of large corporations. Stephen Miles tells us what he learned from CEOs.
S
Pretty much all of them believe that we are closer to the next recession than we are further away, and they all say that in their businesses there are indicators of erosion at the very bottom end right now, which usually translates into: something is coming.
R
Erosion at the very bottom end meaning...?
S
Meaning that creditworthiness, supply and demand, the demand at the bottom end is starting to go to an amber light. It's not red, but there's definitely indicators from multiple businesses that the warning lights are on, and we need to take stock of that.
R
How do top-level leaders of organizations and corporations prepare for that?
S
So, all of these leaders have thought [00:02:00] we were closer to the next recession than further away starting at the end of '17 when nobody was talking about it, and all of them have put recession plans in place. And what that means is, "What are we going to do if this is mild, moderate, or heavy, and how are we going to think about that?" And that usually means some level of cost out, and they usually take some of that out proactively. You also have to inoculate or at least have a conversation with your board and your investors around how you would approach a recession. So, one approach is, "We're just going to cut, cut, cut, cut, cut and get through it, and then we'll deal with whatever's on the other side." What many of the CEOs that I engage with and coach are doing is saying, "Let's have a conversation with our board and with our investors, and let's say, 'Okay, if we want to be healthier and stronger through a recession, here's what we're going to do as it relates to cost and efficiency and fitness as a corporation.' But at the same time, we can be differentiating if we say, 'We're willing to give up a little bit over here and get buy-in for that, so we can maintain some level of investment over here in order to come out bigger, stronger, better, faster, and leapfrog other people who don't take that stance.'"
R
It's very difficult, though, to predict the severity of a recession or the timing of a recession. The famous Alan Greenspan phrase, "The markets have predicted nine out of the last five recessions." So, it may not happen as quickly as many people think, and if you're too cautious as a leader, you might lose vital ground.
S
So, you make an excellent point, and we are not prognosticators as it relates to this. So, what they're doing is scenario planning. So, they're putting specific actions that they would take in place. So, if the indicator light actually does flash deep yellow, and we see some red in there, they can start to do, "Okay, round one would look like this, [00:04:00] and we'd go round one to round five depending on if it actually shows up. And if it does show up and it's horrific, here's what we're going to do."
R
But round one and round five are planned for, in other words?
S
Yeah, so business as usual today. "Let's take as much out of the current economy as we possibly can. It's given us some things right now. So, let's continue to invest. Let's continue to think about how we're organizing. We're going to be prudent around cost and efficiency." But from '08 or '09 to '19, most companies are pretty fit as it relates to their overall structures.
R
There was an, "Oh, my god!" aspect to the last very deep recession, which was caused initially by a financial near-catastrophe. This time, it's different, isn't it?
S
Well, it's different in the sense that the degree of unpredictability in the global economy, I think, is unprecedented. And, look, if the U.S. and China somehow get into a place where we are recessionary, the rest of the world is going to get the swine flu. It's not going to be a cold.
R
Right now, are most of the people you're talking to, are they putting in place some what-if scenarios?
S
So, there's a combination. So, I would say every CEO I referenced up front is putting in place scenarios and real plans attached to those scenarios. A subset of those CEOs are taking preventative action right now. So, they're starting to do some sort of recession inoculation, if you will, in terms of reducing their hiring, reducing a number of things to get in a place where...so, what that actually means is we could talk ourselves into a recession, also.
R
Yeah, and that's happened before.
S
It has happened before, and I'm worried, given all of the other indicators just in terms of our overall economy, that we're talking ourselves into a recession in some form.
R
Are there [00:06:00] many corporate leaders who don't plan and who go with their gut or don't really put these scenarios in place early enough?
S
I think we see evidence of that every single time there is something bad that happens or we go into a recessionary state—that you see people caught flat-footed, and then they're taking drastic actions, and they're using blunt force instruments to take those actions versus those that are more planful and have the scenario A, B, and C in place, and they're thoughtful around that. One of the keys in a recession is to think about your talent map, and: What do you need from a talent perspective as it relates to going in through the recession and coming out the other side? And if you happen to be one of those erratic leaders who's caught flat-footed, you usually use a blunt force instrument on your talent, as well, and you lose some of the people that you will regret deeply on the other side.
R
Yeah, I was going to say—what are the most common mistakes that are made going into and during a recession by top executives?
S
So, they usually underestimate it going in. So, there's no premonition or proactivity even though it's been looming around. It's like, you know, when we talk about retail, and everybody talks about Amazon today. Well, Amazon's been around since 1994, and every single human being's been talking about Amazon since 1994, and now suddenly Amazon's here, and they are the Amazon. Similar with a recession, people talk and talk and talk, and usually what actually happens—most people aren't that surprised. There is a cohort of people, though, and cohort of executives and leaders that somehow, even though we've been talking about Amazon since 1994, were shocked that they're so dominant and such a good company in terms of what they're trying to get done. Same with a recession—they get surprised by the recession, and then they swing big sticks really hard, and they do stupid things. They take the wrong people out. They take too much cost out. [00:08:00] They actually damage the business both in the current state and in the potential future state.
R
And do they change the corporate culture in doing so?
S
So, what happen oftentimes, it's death by a million cuts as opposed to some level of a scalpel being used and being very thoughtful around that scalpel because they're usually not planful. So, they usually have to do this five or six times, and the outcome of that is low morale, people leaving the corporation, the best people leaving the corporation.
S
Scenario planning is vital. You don't want to have rose-colored glasses here. You want to say, "Okay, in the best event, here's what it would look like from a recessionary point of view, but let's also map what a catastrophic event would look like. And how would we respond to that, and what are we willing to do and not do as it relates to that?" And this requires prioritization. It requires tradeoffs. It requires saying, "You know what? We have these ten things we were going to do in '19, but if a recession hits, we're actually only going to do two of them."
R
Recessions are painful. They involve suffering and taking hard decisions. But can they also be a chance to really rethink some aspects of your business model and therefore have really positive, reinvigorating aspects to them?
S
Look, I don't care what company you run or what business you're in, you're in the people business, and the better you are at the people business, the better you are at whatever business you're in. So, the people equation related to anything around a recession is super important, and most people are kind of blunt force trauma as it relates to people, and the outcome of that is crappy. So, if you can be thoughtful, programmatic, and have your scenarios and be realistic about them, then it's not death by a million cuts, and you can actually preserve elements of your culture and create the high performance and create the stickiness you need to get to the other side.
R
When you're putting together these scenarios as a top executive, and you've got key members of your team in place—and as we speak right now, we've got [00:10:00] the scenario of an ambulance outside. When that happens, are there certain people you need to have on your team that you might not during more normal business times when the sirens aren't ringing?
S
So, I think what's really important is that a recession creates a stress event for the corporation and for the leadership team, and people, in my experience, have a binary response to stress. They're either a zero or a one. And so, what a zero looks like in a stress event is the executive turns inward. They don't leverage the corporation. They don't leverage the team. They don't communicate in high bandwidths. They usually make decisions two ways. They either make them too quickly or don't make them at all, and they usually amplify the stress. None of that is good in a stress event.
R
Okay, what about the other side? What about the ones, the executives who respond well to stress?
S
Yeah. So, responding well to a stress event is the opposite of zero, which is you turn outward. You leverage the team. You leverage the corporation. You communicate in high bandwidths. You make decisions on the available information. You triangulate at a high level, and you, most importantly, absorb, absorb, absorb. You create an environment for everybody else to be successful. You create an environment where you make people better. The zeroes in a stress event create an environment where it's all about them. They're micromanaging, and everybody else is not better. They're actually worse off because of your amplification.
R
You just mentioned triangulating. What do you mean?
S
So, triangulation is one of the powerful tools in any executive's toolkit, which is you formulate a hypothesis on whatever the topic is, and then you work with people who are content experts and just good advisors and seek input on your working hypothesis, and you either confirm or refute it through your triangulation. And it's a great skill that people can learn at the lowest levels, and it serves them well all the way up if you happen to become the CEO someday.
R
Give us an example of that.
S
For example, [00:12:00] if we say we're in the people business, and we need to be very good at the people business, and you happen to need to make some people-related decisions as a leader, triangulation around that would be to get other people's points of view as it relates to a set of executives both in terms of people who just have good things or wise things to say, of good advisors, and/or people who have unique knowledge related to those people. So, it's not just you making the decision. You're taking stakeholders that are important into consideration to enhance your overall decision making. The context of that that's really important that people don't realize is that when you seek somebody's advice, which is what we're doing here—that's what triangulation really is, is seeking and taking advice. The "and taking" part of it is important, also, not just seeking. But in seeking advice and taking it, you signal to your counterparty, A. that you're willing to engage them, and B. that they're important.
R
In planning for the possibility of a recession, I can see executives thinking, "Oh, we have to reduce risks, and we have to consider costs, and we may have to make cuts to employment." But what about communication strategy?
S
The mistake people make interacting with other people is they don't set context for them, and they assume a level of content that is not there. So, there's missing context and usually missing content, and they enter into the conversation wherever they are on that topic, and it usually falls flat. So, number one advice or coaching to people communicating is: make it a management habit to set context. Because if you say, whenever you enter a conversation, "Let me just give you 30 seconds of context on this topic," if I need the two-minute version, I'm going to ask you for it, and I feel totally comfortable doing that. If you start with wherever you are, I'm going to give you all the non-verbals that we are tracking well, and I'm going to leave the room and say, "What the hell did they just talk about?"
R
So, what you're saying is explain the background to the decision that's being made before you then walk through the decision.
S
Exactly. Bring everybody up to the same level, and we're on the same [00:14:00] playing field. Now, to your one-to-many version of this, in a stress event, you need to communicate in high bandwidths. It's one of the most important things. If people don't know, they make it up, and they're 100% wrong 100% of the time. So, if that's our working assumption, then what we need to do is cut through that with communication one-to-one, one-to-a-few, one-to-many, and we have a consistent message, and we're relentless.
R
And that's what you mean by "high bandwidth" as opposed to just one simple communication out to a mass number of employees.
S
Yeah. Multidimensional, multimodal, high bandwidth, relentless, and there's context and content in everything you do.
R
And so, explaining any difficult decision is vital.
S
The other side of that equation is if you don't explain it to me, I'm going to make it up, and I'm going to be wrong 100% of the time, and people are going to believe me.
R
We've been talking about top-level executives and how they respond to the possibility of a recession. But if you're a mid-ranking executive or an employee at any level, how do you make yourself indispensable?
S
So, I think regardless of a recession, this is just an important aspect of being a high-performing employee, which is you are able to disproportionately add value in whatever you do. And the way to test that, the way I test it when I go into companies, is I always ask the person I'm assessing, "Who are the one or two people on your team that, if something came over the transom, you would just hand that work to them?" And there's always one or two names that come instantly to whoever they say. They're the recession-proof individuals because they're the people who—it doesn't matter what's happening, what stress, how much work they have—they're the go-to people. You want to become a go-to person. So, in order to be a go-to person, you need to have your yard in order, so you have some capacity to be the go-to person. So, you have to be good at what you do, create some capacity in what you do, and then go look for the next thing. You need to be able to deliver on [00:16:00] your current remit, so then you can have capacity to have additional remit.
R
So, how good are people at the middle level of a corporation at being proactive, at seeing perhaps there are clouds on the horizon, and taking action now?
S
So, I think that the cohort that we're talking about is actually relatively small. That's why if you're listening to this podcast and you're in the middle of a corporation, you can actually be differentiating because I think a lot of people inside corporations follow, and they follow at a very high level. So, they wait to be instructed, and I think that there's an opportunity for you to differentiate by being proactive, by listening, by triangulating, by understanding what's going on.
R
So, for mid-level executives, people listening to this podcast, can recessions be opportunities?
S
So, I think that they absolutely can be an opportunity. I think there's a couple things that are really important. We referenced earlier being good in a stress event. And so, as an executive, a middle-level, it doesn't matter who you are; you need to be good at a stress event because there is a cohort of people around you that are relying on you, and if you are a zero versus a one, that's going to create the conditions for you not being good, right? So, if you want to be recession-proof yourself, being good in a stress event is differentiating because you're calm; you're clear; you're seeking and taking advice; you're making decisions; you're communicating; you're leveraging the team, leveraging the corporation, and absorbing, absorbing, absorbing. And in that context, you can get a lot more done faster, and people will recognize that.
R
Is one way of doing that to ask a lot of questions at any level rather than just reacting to the circumstances?
S
In a stress event, if you're that one person asking 50 questions, it's not going to land well. In a stress event, what people need from you is somebody who has good judgment, who seeks and takes advice on things that are critical, [00:18:00] and when I turn my back on you, you have four fields plowed because you are a doer, and you're proactive, and you get stuff done, and you're not coming and asking me every single micro move that you need to make.
R
So, you may need to behave differently in a recession than you would in normal times?
S
So, I think you need to define in normal times that you can do your job well enough where you have capacity because in a recession, when you look around, there's going to be fewer people around you if you happen to be the last man or woman standing. And in that context, you're going to be required to do more, right? You need to differentiate yourself in peacetime where you can show that you have the capacity to do more, so when the stress gets put on the system, you're one of those go-to people who can do more. And so, I can assess you in that context before a recession to see how you respond, and then I can look at you and say, "Okay, in peacetime, this is their capacity for work. Is that good enough if we go into a recession and there are fewer people around them? Can they take up some of the slack or not?"
R
Stephen Miles on what top executives and everybody in the company should know about preparing for harder times in the economy. C-Suite Intelligence is our free podcast. Executives from The Miles Group share what they know about management, leadership, change at the top of organizations, and so much more. Free podcasts are available on your favorite podcasting platform. I'm Richard Davies. Thanks for listening. [00:19:29]