Back To Podcast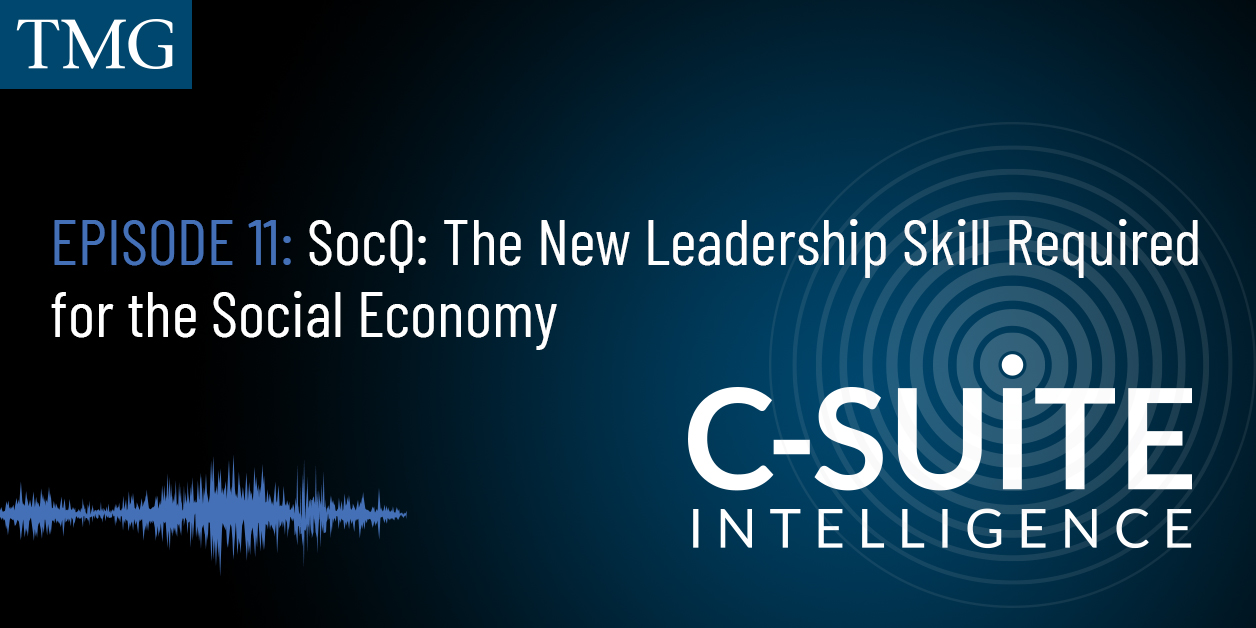 SEASON 1 | EPISODE 11 | NOVEMBER 2019
Episode 11: SocQ – The New Leadership Skill Required for the Social Economy
As we move from a knowledge-based to a "social economy," leaders must build what Stephen Miles defines as their "social intelligence quotient" or SocQ. This skill goes beyond having one-to-one empathy to being able to connect with the broader public in a way that communicates a company's purpose and values yet is in sync with the community's standards. Miles explains how leaders' SocQ and ability to connect one-to-many are essential to organizations' survival under the global magnifying glass.
In this episode
Stephen Miles
Founder and Chief Executive Officer
Coach to top CEOs, boards, and C-suite executives around the world, Stephen Miles is the founder and CEO of The Miles Group (TMG). His 20+ years of working closely with some of the highest performing executives, leadership teams, and boards of directors in the global Fortune 500 has put him at the center of some of the most critical leadership challenges and decisions companies are facing today.
Speaking frequently to organizations on strategies for coaching C-level executives and developing high-potential talent, Stephen has been featured in the Harvard Business Review, The Wall Street Journal, Forbes, Fortune, Entrepreneur, and Chief Executive. He is co-author of Your Career Game: How Game Theory Can Help You Achieve Your Professional Goals; he collaborates frequently with the Stanford Graduate School of Business on research around CEOs and boards, including a recent exploration of the costs and benefits of CEO activism. Stephen and his CEO advisory services were profiled in the Bloomberg Businessweek article "The Rising Star of CEO Consulting."
Full transcript
RICHARD
The importance of SocQ—effective social empathy one-to-many can save corporate leaders and your organization from disaster.
C-Suite Intelligence: leadership lessons from coaches to the world's top-performing executives. I'm Richard Davies.
STEPHEN
I think this is one of those DNA topics.
R
In this episode, Stephen Miles, CEO of The Miles Group, talks about how the business world has changed and why SocQ is a critical skill for any leader.
S
If we take Malcolm Gladwell's 10,000-hour rule, most people don't even have five minutes on this. Usually stuff you don't practice at, you're usually pretty crappy at.
R
For many years, leaders have been taught that empathy is an important skill, empathy as it relates to yourself and those who you deal with. The first form of empathy, says Stephen Miles, is MeQ or personal empathy.
S
Can you be introspective? Can you think about yourself? What are your core strengths and areas for development? And most importantly, can you seek and take feedback and action them? The second one is really what Daniel Goleman brought to life in the 20th century, which would be defined as emotional empathy or EQ, and that's really EQ one-to-one. So, do you have empathy for somebody who's your counterparty sitting across from you? And what we learned through his work is that a lot of people think they have high EQ when, actually, rated by others, it's much lower. And the other thing that we learned is that empathy, even close in, isn't that good. It doesn't work that well. So, what we have is we've moved economies, too. So, we've moved from what was defined as the "knowledge economy" to what is being defined today as the "social economy." And as we move economies, what's happening for executives is that EQ is moving from one-to-one to one-to-many, and the term that I've come up with really [00:02:00] to try and define this one-to-many EQ is "social emotional empathy." So, it's really empathy one-to-many, and it's at a distance.
R
Before we get into more about what SocQ is, you are not saying that MeQ and EQ aren't important. It's just that we also now have this additional Q, SocQ that matters so much more today than it used to.
S
So, you are 100% correct. I think you need to know yourself. You need to have self-awareness. You need to be really good one-to-one as it's related to empathy and being able to take the other person's perspective, EQ, and now we have this added burden, maybe, which is this one-to-many version of it.
R
Why do we have this added burden now as opposed to, say, in the 20th century?
S
The social economy has caused us to move into this one-to-many model. It's basically a global model where all individuals can weigh in on all topics, and if you're a leader of something, then your leadership is not only within the context of your company, your economies, your employees, your customers, but it's a global magnifying glass that's applied to you, and it's applied in real time.
R
Is SocQ really just being good on social media, or is it much more than that?
S
No, it's much more than that. In fact, I think many of the executives who are actually good at social emotional empathy may not even have a Twitter account. So, it's their ability to understand the multivariate world that they operate in and really transition to this notion of being in an aquarium now, and everybody's got a point of view, and there's no place to hide in your aquarium. And then you have to respond to those points of view as it relates to it, and I think that's what's different today, is that we have this world looking at you and commenting on you in [00:04:00] real time, and those comments can become viral and then have a brand and reputation effect.
R
Why is it that we've now entered this world where executives, high-level executives, live in what you call an "aquarium" with the outside looking in all the time?
S
We've gone back to medieval times. Basically, in medieval times, we all lived in a village. There was a town square, and there was sport around who was hanging in the town square, and now that sport is just on a global basis, and it's held in an electronic device. But essentially, you knew everybody in the town square. Everybody commented on you, and there was somebody—in The Lord of the Flies analogy, that was Piggy. And everybody's trying to figure out who the weak elk in the herd is or who the elk in the herd is that they can pull out of whatever issue it is. They try to isolate you on that issue, and then they pin you against the wall, and you have to be very effective at understanding your simmering issues, understanding what could become event issues, and then being able to have a point of view related to that.
R
It's much deeper, isn't it, than just, "We now live in a 24/7 world, cable TV, social media world"? There's something else that's much more fundamental to the way companies are facing the world.
S
What's fundamental about this is you can never make anybody happy, right? What happens on these points of view is you're pulled into the tails. You have a cohort of people that think you're doing the right thing, and they're supporting you and backing you, and you usually have another cohort in the other tail that think whatever you're doing is ridiculous. We seem to get pulled into the tails on any issue. So, as a CEO or a leader, you have to understand that pleasing isn't actually an outcome here because you are never going to please all the constituencies.
R
And so, you should get comfortable with that?
S
Well, there's two elements to this. I think you have to be grounded in some sort of foundational purpose as a company. Everybody's talked about purposes. You need to stand for [00:06:00] something as a company. There's been specific companies historically that have been driven by a purpose, but they've usually been one-off, kind of unicorn companies that have a purpose, and everybody else just talked about it but really didn't have any anchoring. You need to have a purpose today as a company. You need to be grounded in that purpose. You need to have some values attached to that as a leader, so when you come out on any topic, it is grounded in some foundational point of view that's your company point of view, and you know you're not going to make all the constituencies happy, but you're coming from a place that's anchored.
R
You said things can go viral, that stuff happens really fast, and that today is very much different than yesterday, or today's set of problems facing a top executive may shift dramatically overnight.
S
This is what I would define as an "event issue" if you're a CEO. So, if something bad happens to somebody in your company or a customer or somebody doing business with you, and something bad happens, and somebody with their phone—everybody's a reporter today—so, if somebody captures that on video, they post that video. Their five Twitter followers decide that that's interesting, and one of those five Twitter followers happens to have a million followers, and suddenly it takes off and somebody is critiquing it.
R
And how does having good SocQ empower the right decision in that case where something has erupted?
S
Well, in the 20th century, you'd have three days to respond. You'd develop the company response in media. You'd do a media release. Somebody would show up—maybe or maybe not—two or three days later. Now the whole cycle has passed you three or four times in that context. So, as a company, as a CEO, for example, in this situation, you have to be able to come out on the front foot. If you have a purpose and a set of values attached to that, you're usually well grounded in what the right thing to do is. The right thing to do is very important. As opposed to just lawyering up and giving the [00:08:00] litigious point of view or the legal point of view, you have a company point of view. You represent that company point of view, and, look, you may not have all the facts and data at any given moment in time, but your perspective is grounded in, "Here's the right thing to do for our company at this moment in time."
S
Humility is always important, right? There's nothing uglier than arrogance in any way, shape, or form, and this is an amplification. If you have arrogance in this version, it's really ugly. The reason why this is hard, though, is because empathy one-to-one is difficult, and people overrate their capability there; now we've got empathy one-to-many, and that one-to-many is a very diverse point of view as it relates to whatever topic. So, you have to cut through that and have a point of view that's related to the purpose and values of your company, what you stand for, and do you meet the community standard on your response? It used to be, "Here's our corporate standard, and here's our corporate response." Nobody actually gives a you-know-what about that now. What they care about is: Can you take the community response, and can you be empathetic from the masses, from the other people on the other side of the equation as opposed to have an arrogant, company-centric view on whatever the topic is?
R
So, I can see a company executive pretending or acting or trying to give the impression that he really cares about a situation but not really feeling it in his heart.
S
If you're not grounded in any foundational purpose or values, people see right through that today. If you come from a foundational, anchored place, whether people agree or disagree with you, you're coming from someplace. If you're just coming from window dressing, people are going to undress you in front of the entire world and make you look ridiculous, and we see that every day.
S
It's common. I think one of the challenges here is that we don't have 21st-century muscle as it relates to one-to-many EQ, this social emotional EQ.
R
So, one-to-one, are sometimes executives skeptical about the need [00:10:00] to have high SocQ?
S
So, what I think here is that the awareness piece of this is very important because I think, basically, what this could be interpreted through the lens of the 20th century was...which is, "Look, I've got a great corporate communications department. They know how to handle these things. Why would I need to invest time and energy related to this?" And then you can pull case study after case study out and say, well, "I'm sure each one of these CEOs felt the same way about their topics, and now they either don't run the company anymore, or they're in a compromised position." And so, for me, it was really sort of documented to define it and to create something that you'll remember related to it and then go into, okay, what does it mean for you as a CEO in terms of your company? And what that led to is there's really three kinds of SocQ and my definition of those three kinds, so we could create company awareness to each one of those events.
R
Okay. Well, let's walk through those then. What are the three types of SocQ?
S
Yeah. So, the three types that really come to mind is...sort of the easiest one is an event-driven SocQ. So, something bad happens, and you have to respond to it. So, it is in real time. There has been an incident, and it's gone viral, and it's on every front page of every newspaper, and everybody's twittering about it, and now you have to come out and respond to that event. It is the viral, in real time, "we have to respond" version of this. The second version of this would be what I would define as CEO-led. So, there's actually no event. You're creating the event as the CEO. So, we've seen specific CEOs come out on the NRA. So, they took a stand—purpose-driven, company-related stand to the NRA. We've seen other CEOs come out as it relates to LGBTQ issues and take a purposeful, proactive stand as it relates to those issues. So, CEO- and company-led [00:12:00] as opposed to something happening to them.
R
So, you've created the event rather than the event creating a need for a response.
S
You've created it. Correct, yeah. And then the third one is what I would define as your simmering SocQ issues. So, any CEO has simmering issues. If we lay out some big ones, plastic waste is a big one, cage-free eggs, hormone-free, fur, sugar. There's a whole bunch of really big issues out there, and they've been simmering for 20, 30 years. Cage-free has been around, and we've been talking about it, and then suddenly in the last few years, it went from a simmering issue to an event, which is some cohort of people decided that if you have a lot of eggs in your business, we're going to take you on. And I think my coaching to CEOs and the analogy I use is, you know, you need to know what your cage-free are. So, if you happen to not be in the egg business but you just run a company, you've got your version of cage-free simmering, and you need to have analytics and thoughtfulness around that, so you can be in a prepared position if it turned into an event.
R
Another simmering one, I guess, is packaging for a lot of retail companies and others who are consumer-faced.
S
Yeah, 100%. Yeah, and if you look at that as an example, so what's happened is the narrative has turned. If you are a company that consumes a lot of plastic or has a lot of plastic in your product, the narrative is switched on you, right? So, the special interest groups and NGOs have turned that into, "Plastic is bad," as opposed to, "Waste is bad." Plastic's actually not bad. What's bad is waste associated with it, and so, as a CEO, you need to change the narrative related to the social side of this, which is, "Actually, plastic's not that bad. We can do better as it relates to the recyclability of it, but what is bad is plastic waste or waste in general. And how do we have full-circle waste, collecting it and bringing it all the way back from a recycling perspective as [00:14:00] opposed to it being a negative?"
R
Can any very talented, high-level corporate executive learn SocQ?
S
Yeah. So, SocQ, in my opinion, is something that can absolutely be taught and learned, but if you are open and you believe that you can continue to add to your range and to your leadership, this is something that's extremely coachable.
R
Okay, so what's the first thing you tell someone who you think really needs to hear this message?
S
I create awareness around the topic like we're doing today. A lot of people have never heard the term SocQ. A lot of people have read the newspaper and seen all sorts of CEOs on the front page and haven't really translated it into the topic that we're bringing to life today. And then, as a CEO, for those who are really keen on this, you should do a simulation. You should have an event or simulate an event for your company. Something bad happens, and then how would you respond in real time related to that event? Because if we take Malcolm Gladwell's 10,000-hour rule, most people don't even have five minutes on this. Usually stuff you don't practice at, you're usually pretty crappy at.
R
So, the 10,000-hour rule meaning you're good at anything if you practice, practice, practice.
S
We need to practice. So, we need to create awareness around it. We need to get some definitions around those awareness. We need to understand the instances that it can happen, and then we need to practice.
R
We're talking here about high-level corporate executives. What about the workforce? Is it important to spread this message to your workforce? Because everyone who's forward-facing, dealing with the public, is a representative of that company.
S
So, I think awareness just like ethics, just like compliance, just like governance—I think this is one of those DNA topics for your whole company. I think we need to create awareness of it because usually the spot fires associated with this [00:16:00] do not happen in the CEO office. They can and do, but generally it's front-line executives who are dealing with customers out there in real time solving problems in call centers, in retail, wherever they happen to be, and an issue happens. And the more awareness that you can have around that and the more tools that you have at your disposal, the better you can effectively dispense it.
R
An aspiring executive, young, up-and-coming person's listening to this podcast. How do they learn the importance of and even the basics of SocQ?
S
So, like everything, I think to be an effective executive in the 21st century, you have to be an outside-in person, right? And what I mean by that is a lot of executives sort of focus on their company. So, they're inside-out executives. You know, "I know the most about my company, and there's an outside world there, and I interface with it." But that's not good enough. So, what you have to do is become a student of the external environment. And the good news about this topic is there are lots of case studies every single day where something goes viral, and you can see in real time leaders responding to that topic and either doing it reasonably well or doing it very poorly. So, what I would suggest is that you are always an outside-in. You are always a consumer of things that are happening outside of your company.
R
Do you find sometimes that consumers, people who are buying the service or the product know more about a certain aspect of the company's business than a high-level executive? And should executives be listening more carefully to what individual consumers are saying?
S
Look, we live in a world now where, as a consumer, you have a one-to-many voice, and as a company that provides anything—a service or product—to consumers, you're getting judged on that every day. So, this lends itself to the ivory tower being dismantled [00:18:00] and senior executives spending time out in the field with everyone—not just the programmatic, entourage-laden tour around sites that have been spiffed up for the last month; to the nitty-gritty, "I spend time in stores every week. It's our policy, and I don't want the entourage version. I want the real version. I want to listen and engage related to that." If you do that, then you create this real-time, real-content, inside-out version.
R
So, what's the difference between the real version and the entourage version?
S
The entourage version is that somebody in the company or a lot of people in the company know you're showing up in the second quarter, and suddenly the plant is painted, the store's painted, there's new furniture. We've got our three best employees on that day. You get the gilded-lily version of the tour as opposed to you just showing up and listening and talking and engaging.
R
And implementing SocQ is not necessarily very expensive.
S
It's super inexpensive. It's creating awareness, having analytics around how we would respond to if one of our simmering cage-free issues becomes an event. It's teaching and simulating what we would do as a corporation as it relates to an event—What are those potential events?—and making sure that people go through that. And then as a board, having some awareness wherever you want to put it—in a committee or at the full board level—awareness around our simmering issues and, most importantly, defining as a company, if you haven't done that yet: What's our purpose? What are our values? And if they were tested in some way, shape, or form, do we really feel great about coming out on the front foot and being anchored by those?
R
The importance of SocQ. Stephen Miles, thanks very much.
S
Thank you. It's great to be with you again.
R
This was a conversation with Stephen Miles on C-Suite Intelligence. In this and other episodes, we draw on the deep knowledge and experience of the experts from The Miles Group, coaches to the worlds' top-performing executives. Subscribe on Apple Podcasts, Google Podcasts, Spotify, and other podcast apps, and never miss an episode. I'm Richard Davies. Thanks for listening. [00:20:25]