Back To Podcast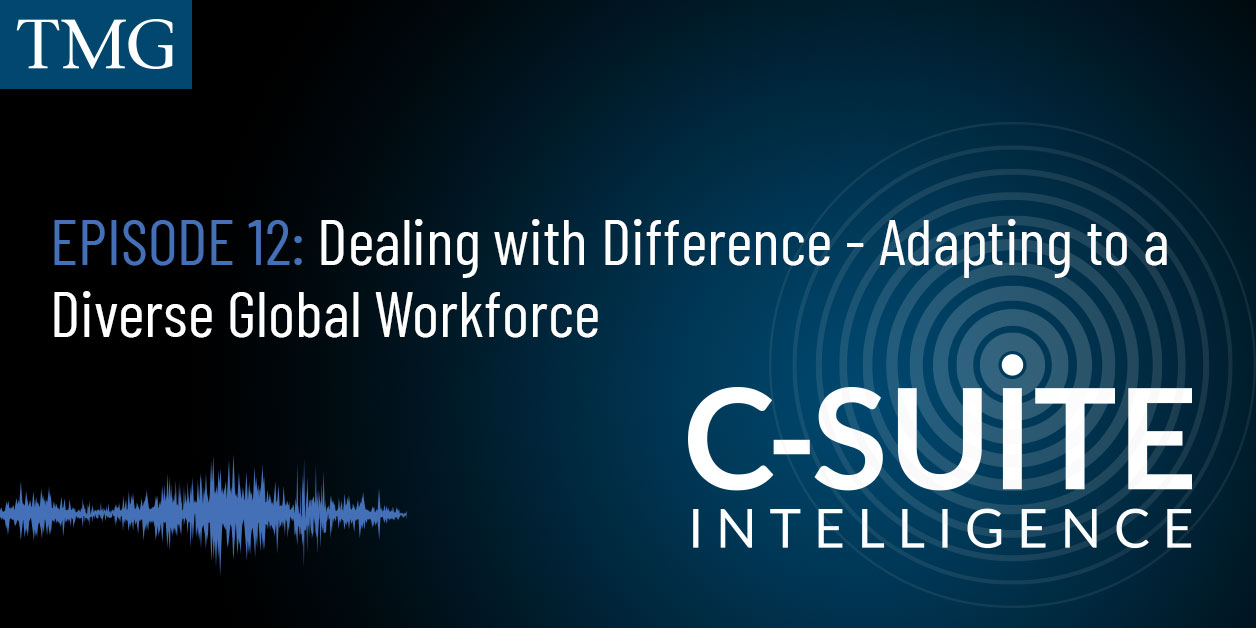 SEASON 1 | EPISODE 12 | DECEMBER 2019
Episode 12: Dealing with Difference: Adapting to a Diverse Global Workforce
Working with colleagues and clients who come from many cultures, countries, and backgrounds is a hallmark of global business today. But how effective are you when working with people who are not like you? To succeed in an economy that is increasingly diverse, says Taylor Griffin, individuals must adapt to culture and gender differences as well as to a broad range of personality and communication styles. Griffin walks us through some of the challenges and opportunities in dealing with difference.
In this episode
Taylor Griffin
Managing Director and COO
Coaching C-suite executives and board directors for top performance and talent optimization across the organization, Taylor Griffin works across a broad range of company size and stage – from the largest Fortune 50 global corporations to private-equity portfolio companies and emergent VC-backed firms. Taylor works with these leaders to continuously attain higher levels of performance, grow successfully into new roles or new organizations, and build their "viability" as succession candidates for the C-suite or the CEO role itself. With deep experience working with management and boards on "people" issues and succession projects, Taylor has contributed multiple pieces of research and articles such as "When High Performers Behave Badly," published in C-Suite and co-authored with her colleague Courtney Hamilton, and "How Boards Should Evaluate Their Own Performance," published in Harvard Business Review and co-authored with Stanford Graduate School of Business professor David Larcker, researcher Brian Tayan, and her colleague Stephen Miles. Prior to helping found TMG, she was with Heidrick & Struggles' Leadership Consulting Practice.
Full transcript
RICHARD
Working with colleagues or clients who come from many cultures, countries, and backgrounds is a fact of life in global business today. But how effective are you when working with people who are not like you?
C-Suite Intelligence: exclusive leadership lessons from coaches to the world's top-performing executives. I'm Richard Davies.
We talk with Taylor Griffin, Chief Operating Officer at The Miles Group. She walks us through some of the challenges and opportunities of dealing with difference.
TAYLOR
It's travel. It's openness to other cultures. So, one of the things that's really interesting is you'll see people get an opportunity at work that's amazing—say they get an opportunity to go to India—and instead of seizing that opportunity, they fill their suitcase with PowerBars.
R
When working with people not like you, what should you keep in mind? I asked Taylor.
T
All of us need to think about: How do we have range to our style? I mean, that's really the key in dealing with any kind of difference. Can you flex and adapt to different situations, to different people, to a different set of circumstances? And by having range, it means that you understand who the person sitting across the table from you is, and I think that's when you have somebody who can be really effective with a lot of different styles, is that they try to understand who's around them and the context that they're operating in, so they can be more effective.
R
This must come up quite a bit in large global corporations where it's inevitable that you're going to have people not only of different genders but also different cultures, different nations all sitting around the same table.
T
I have a lot of clients that...they're based in the U.S., but they're big, global companies, but their own criticism of themselves is that they're not really global. [00:02:00] And that means that their executives, their leaders, their managers and employees aren't sufficiently global in their perspective, in their approach, because they haven't had a sufficient understanding or experience in a global environment. And so, take a company that's headquartered in the U.S., and the employee has all of their experience within the U.S. and just doesn't have a lot of cross-cultural experience. They kind of come at it from one lens and have a headquarters view of the world as opposed to where this company actually does business all over the world.
R
So would travel be a good way for younger people to begin to cultivate this global perspective?
T
Absolutely. I think it's travel. It's openness to other cultures. So, one of the things that's really interesting is you'll see people get an opportunity at work that's amazing—say they get an opportunity to go to India—and instead of seizing that opportunity, they fill their suitcase with PowerBars, you know? And you just think, "Wow, you missed an opportunity to engage with individuals over what could be a fantastic meal. You've missed an opportunity to learn a little bit more about their culture. You've shown them that you're not curious about their culture. In fact, you're afraid a little bit of the culture, and you're just not seizing the opportunity." That's not a global executive. So, travel is important, but it's also taking advantage of when you're there. And you have a lot of people who don't want to travel. They don't want to move abroad. They don't take advantage of those opportunities that the company provides them. I see companies now instituting sort of mini rotation programs where somebody goes to where they do business in another part of the world for—maybe it's a month, maybe it's a month to three months—for a limited duration of time. So, you're not asking somebody to completely uproot their life, and not enough people are taking advantage of those opportunities.
RICHARD: And you think that it would really help if they did.
TAYLOR: Hugely. It changes your perspective on things. You have a much better understanding of how business gets done in a different part of the world, how that culture operates. [00:04:00] That's going to give you a whole degree of empathy that didn't exist before when perhaps you're dealing with somebody from that country in another instance far removed from the situation.
R
And how important is that empathy?
T
Hugely important. I think that's where you find people who can line up to a lot of different styles have usually built it through this set of experiences where they've learned what these different styles are to line up to. That's what empathy essentially is.
R
And that also comes into play with gender, right?
T
Oh, yeah, absolutely. There's not a lot of females, let's put it out there, in a lot of industries, right? So, you see these...
R
Yeah, what is it, 24 out of Fortune 500 companies, only 24 women CEOs? Kind of shocking.
T
Yeah, same with the board of directors. It's still a very small percentage of female directors of the Fortune 500. So, the numbers aren't advancing rapidly, and these are individuals who've grown up in a predominantly male environment, particularly within certain industries, and so they're not going to change overnight in terms of really understanding different styles and approaches. This is going to be...it's more of an evolution than a revolution.
R
With gender, are there certain kinds of behavior that men or women exhibit that can be learned? For instance, I'm an interrupter, and I'm told that guys are much more likely to interrupt in meetings.
T
Right. You know, what's interesting is that people often ask this question, but I've seen female interrupters, and I've seen women exhibit what would be considered very classic male behaviors, as well. So, I hate to draw sort of the hard and fast rules around what's a male behavior and what's a female behavior because you can see it in all types. And sometimes you'll see a team that has a lot of identity diversity, but they're all what you would consider alpha males, and it could consist of a lot of people from all over, people of different genders, different ethnicities, but they all exhibit a similar sort of aggression. So, I don't know that people necessarily always fall into [00:06:00] one bucket or another. I think it's important to be aware of what your own style is, so that you can flex and adapt that.
R
So, a lot of the lines that are currently being drawn and narrow descriptions about male behavior or female behavior—not necessarily true?
T
I don't think that they're always true. I do think, though, that it's important to just be sensitive to other individuals and to think about what style you employ. Is that going to be the most effective style with that other person? And so, regardless of gender, if you have someone in front of you that you know is not incredibly vocal and aggressive with their point of view, how do you better draw them out? How do you make sure you get their viewpoint on the table? Because it might be a really powerful viewpoint, and particularly if you think about that in a team setting. You have maybe a number of members that are quite vocal, but you have somebody who's a little bit more quiet. How do you draw the quiet person out, so that they have an opportunity to speak? And that might mean you just understanding that they're not going to naturally come forward, and you have to carve out and create the space for them.
R
So, let's say you have an employee who you value but you're finding it hard as a boss to get through to or to understand, and you feel they're withholding something of themselves when they meet with you. Is that a time to go to HR and say, "Do you have any tips for me?"
T
Yeah, I mean, look, if you have a trusted HR advisor who gives you good coaching and counsel as it relates to guiding and leading your team, that's fantastic, and use that resource. Another thing you might think about is: How do you draw that person out a little bit better and try to understand what would make them more comfortable? What's a way for them to express their point of view that is comfortable for them? And so, this is where you need to have some degree of a relationship with your employee, and that comes usually in the form of one-on-ones. But spend some time and ask them some questions. How do they best like [00:08:00] to be communicated with? What's the best environment for them sharing their point of view? Some people like to express it in writing. Other people like to be much more verbal and vocal around things. And so, understanding how each of your direct reports prefers to communicate, prefers to come forward with their point of view, and you can usually come up with a system or a process for drawing that out.
R
That's really important, isn't it, that different folks have different communication styles?
T
Right, and particularly around the globe. So, this happens a lot for leaders managing big, global teams—understanding that in different regions, some people might not be as vocal and might not come forward as much as your American team. So, how do you make sure that you're managing it in a balanced way, managing the team in a balanced way that draws out the perspectives of others? Because you're going to benefit from the global diversity.
R
We Americans, are we more vocal than most?
T
Oh, yeah. I would say that we do have a culture that's a little bit more vocal and more comfortable with expressing our point of view in the face of hierarchy.
R
Yeah. You talked about one-on-one conversations. There's a difference, isn't there, between having a relationship which is helpful to both and a friendship?
T
That's right. So, a relationship at work should not be confused with a friendship and, particularly as a manager or as a boss, your job isn't to be the friend of your employees or of your team or your direct reports. You find some bosses really want to be liked, and they want that, but that is not really their job. Your job is to drive performance inside of that organization. It's to support your employees. It's to create an environment where they can be successful, but it's not to be their friends. And so, I think making that very clear distinction is important, and one-on-ones should be set up around that employee's set of responsibilities and how that incorporates into the manager's total set of responsibilities.
R
And I assume that friendships can lead to real misunderstandings. [00:10:00]
T
Yeah, they do, and I think what I see as the biggest problem with friendships at work is, one, it becomes harder for the manager to have a more objective view around performance. And so, for instance, we're doing a succession right now with a CEO candidate who is too close to the team. They've worked together forever. They're friends, and so the board's question is, "Can they drive high performance? Can they recognize high performance? Can they find high-performing talent?" When you're too close, you just don't have that objectivity. And then, as you get more and more senior in your career, you can't have friends of, people that you're pulling up along with you because they're your friend. That creates rumors inside of the organization, and it creates a bit of a toxic culture.
R
Workplaces are becoming more diverse in many different senses.
R
And that involves, inevitably, different cultures, different communication styles. So, how do you assess excellence?
T
It's a really good question. I think one of the things that you want to do is establish a framework for what excellence looks like that can cut across different geographies and different cultures. And this is really, actually, the responsibility of the company to do. You know, it can happen at various levels. I'll call it "key success factors," but that's really your framework for what excellence looks like inside of your company. And so, definitions with that usually encompass things around: What does it mean to lead the business or function effectively? And there's always the metrics and results that get tied to that because excellence doesn't exist without driving results. We should all be honest about that. There's usually some strategic component within that. So, can you create a narrative for whatever your set of responsibility is and get buy-in around that narrative and enrollment from underneath you around that narrative?
R
So, you need to communicate this.
T
Yeah. And usually communication skills become an important one. Now, the communication skills can apply to [00:12:00] diverse cultures and diverse people, but to be an effective communicator means you do communicate, and what do the parameters of that look like? People leadership is always a really important component of excellence, right? So, if we think about excellence in terms of leadership, it is about people leadership. And across cultures, across geographies, do you develop people around you? Do you make them better? And make them better means developing them, exporting them to other parts of the organization. Are people better after having worked for you? Can you spot good talent? Can you then recruit that talent, retain that talent, develop that talent? Those are the pieces people tend to look for, and that doesn't really matter where you are or where you're from.
R
Let's turn that question about excellence on its head and look at it from the point of view of a middle-ranking executive or a younger executive who wishes to rise up in the organization.
T
I think you think about those same components, right? And what does it take to be effective within your organization? So, look upwards, and ask a couple of questions, right? Who's really successful here? Why are they successful? How did they get to those positions? Do a little homework on this. It's okay to dig into these elements. Talk to colleagues around there. How did they get to those positions? You can kind of develop your own framework for what success looks like in the organization, and it's not to emulate your career after that, but you kind of see what works and what doesn't work inside of that company.
R
Is mentoring super important?
T
I probably have a little bit of a controversial view on mentoring. I think this idea of forced mentoring programs is a little ludicrous, and I don't think it's highly effective. I was with an executive yesterday, actually, who said, "Oh, I've been asked to mentor this younger employee inside of the organization," and he says, "I don't know them. So, I don't really know how I'm going to add value." And that's the problem. You know, you've got a mentoring program where, in theory, it seems great [00:14:00] because this person's experience is going to be helpful to that person, but what you end up having is: the two people meet; they have a series of nice conversations; but I don't think the mentor gets a lot out of it, which is fine. That's not necessarily their job, but more concerningly is that the mentee doesn't get anything out of it. And so, that becomes the biggest problem, and I actually think it's more on the mentee to drive a successful outcome there than it is on the mentor. And so, I think if you are in a mentoring program or you do have a mentor, you need to think about: What do you need from this relationship to make it successful? How are you going to extract the most value from that? And structure the arrangement accordingly. You should be coming prepared, for instance, to those sessions. Send that person questions in advance. What are the things that you want to probe into? It's the only way that they're going to add value to you because, otherwise, they don't know you. They don't know your track record. They don't know how you lead.
R
We live in charged times, and one article that I read before coming here suggested that some male executives are now uncomfortable mentoring women.
R
In your experience, is that true? Has the environment in the workplace changed that much?
T
Yeah. I mean, I do think it's there, but what you find is some men are reacting poorly to this and may be backing off instead of leaning in. And if you demonstrate the right behaviors, it's not going to be an issue.
R
So, that could be a real problem when it comes to women moving up the corporate ladder.
T
Yeah. The majority of executives are still male. There are informal mentors, and you want effective managers, and you don't want them to be afraid to have meetings with you, have a dinner with you, have a lunch with you. That's where it becomes a problem because they're going to be doing it with your male counterparts without issue. It's up to leaders to really step into this. This is an opportunity for people to say, "I want to line up to a broad variety of styles. [00:16:00] I want to have a diverse team around me and to just exhibit respectful, professional behaviors."
R
Yeah, and if you do that, then a lot of other stuff is noise from the outside.
T
Yeah, and we're sort of talking at the fringes, anyway. As much as I bring forward that example, there are thousands of other examples where it's had no impact to people's relationships, and people are operating just fine.
R
Taylor Griffin on C-Suite Intelligence. In this and other episodes, we draw on the deep knowledge and experience of the experts from The Miles Group, coaches to the worlds' top-performing executives. Subscribe on Apple Podcasts, Google Podcasts, Spotify, and other podcast apps, and never miss an episode. I'm Richard Davies. Thanks for listening. [00:16:52]