Back To Podcast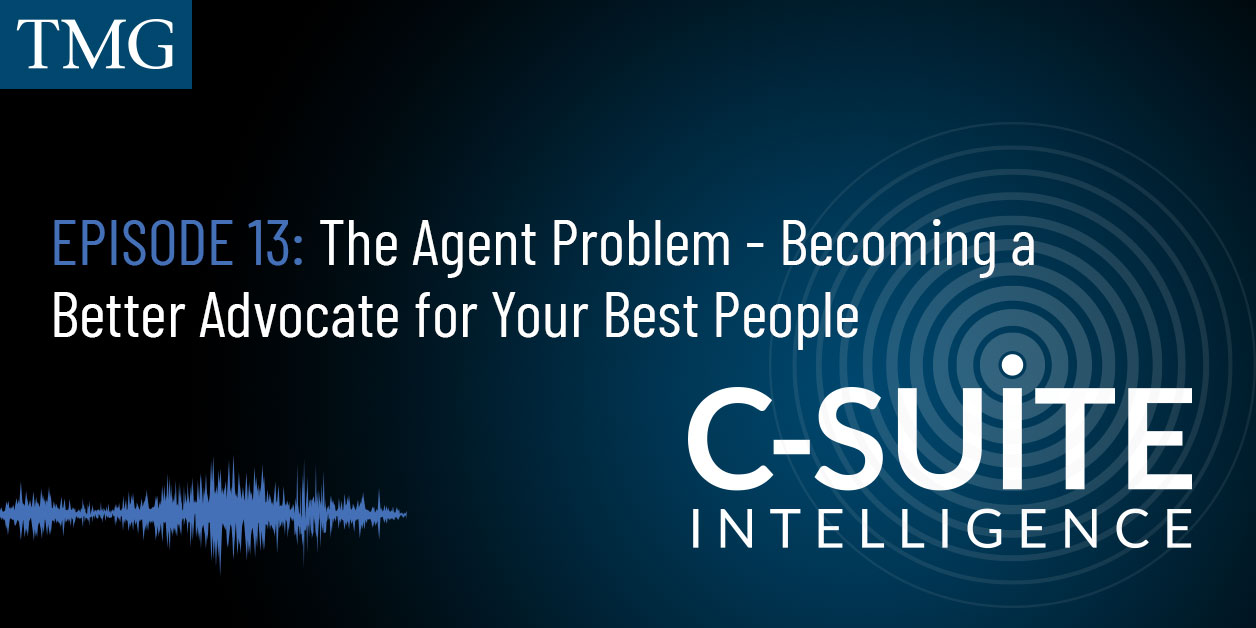 SEASON 1 | EPISODE 13 | JANUARY 2020
Episode 13: The Agent Problem - Becoming a Better Advocate for Your Best People
The most critical decisions around an employee's future at a company usually happen when they aren't in the room. But most organizations have an "agent problem," says Stephen Miles: its leaders aren't effective agents or advocates for valuable employees, and talent discussions can get dominated by fast talkers or bullies who push forward "their" people who are less qualified. Miles explains steps you can take to represent your best people most effectively and create a stronger team overall.
In this episode
Stephen Miles
Founder and Chief Executive Officer
Coach to top CEOs, boards, and C-suite executives around the world, Stephen Miles is the founder and CEO of The Miles Group (TMG). His 20+ years of working closely with some of the highest performing executives, leadership teams, and boards of directors in the global Fortune 500 has put him at the center of some of the most critical leadership challenges and decisions companies are facing today.
Speaking frequently to organizations on strategies for coaching C-level executives and developing high-potential talent, Stephen has been featured in the Harvard Business Review, The Wall Street Journal, Forbes, Fortune, Entrepreneur, and Chief Executive. He is co-author of Your Career Game: How Game Theory Can Help You Achieve Your Professional Goals; he collaborates frequently with the Stanford Graduate School of Business on research around CEOs and boards, including a recent exploration of the costs and benefits of CEO activism. Stephen and his CEO advisory services were profiled in the Bloomberg Businessweek article "The Rising Star of CEO Consulting."
Full transcript
RICHARD
The most critical decisions around an employee's future in a company usually happen when they aren't in the room. But how are they being represented when they're not there?
C-Suite Intelligence: leadership lessons from coaches to the world's top-performing executives. I'm Richard Davies.
When you are a boss, being an effective agent, or advocate, for your direct report is a big part of your job. Companies have meetings about their talent that involve an assortment of colleagues and HR, and it's up to that person's boss or other colleagues to represent the employee well. If this advocate doesn't have the right facts about who the person really is and what they do, that's a problem.
STEPHEN
Every company I've ever seen has some element of an agent problem.
R
Stephen Miles, CEO and founder of The Miles Group, says most executives don't realize the high cost of not being good agents for their people. Some of their best people may not have the best advocates when it comes down to a career-changing decision being made.
S
My overriding thesis on every organization is that you're in the people business, and the better you are at the people business, the better you will be at the business that you're in. And my experience, so far, is that most companies are not very good at being in the people business. You know, so much money is spent on talent and talent management and this whole notion of talent, yet when it comes down to it, there's representation of talent. Whenever somebody's talking about you, and you're an executive in a company, and you're hoping to get promoted or the next job or the next something, somebody is representing you, and you're not in the room, and they're your agent. Whether we want to talk Hollywood, or whether we want to use it as a proxy for a corporation, the analogy holds in the fact that somebody's talking about you and representing you, usually badly, and they're your agent. [00:02:00] And we need to teach people to be better agents, A., and B., take the agent role very, very seriously.
R
Before we do that, what are the hazards of being a bad agent or misrepresenting someone?
S
So, this is what happens to people. Somebody comes into the room who's unprepared and really doesn't know you well enough, doesn't know your body of work. Somebody else who happens to be a powerful executive around the table had an experience with you that wasn't a successful one through their lens, and then they make very strong statements related to you: you're not strategic, you don't know how to develop people, you're too detail-oriented. There's some overarching statement that defines you as an executive and crushes you in the room because your overarching agent, A. wasn't maybe in the room or B. was in the room but wasn't prepared, and somebody much stronger with no information crushes you. And that's just not okay. It's not okay for you as the executive being representative, and it's not okay if you want to be really good in the people business.
R
What about people representing themselves, acting as their own agents?
S
Part of this is you have to work hard to be your own agent. You have to have a strong narrative about yourself. You have to have example after example after example that illustrates your strengths. You need to be self-aware in terms of: What do you bring to the party, and what do you need around you in terms of complementary leadership? Not everybody can be everything. So you need to be self-aware to say, "This is what I bring to the party. This is what I need to grow into, and this is what I'm going to need and self-select for on the team."
R
How widespread is the agent problem?
S
Every company I've ever seen has some element of an agent problem. So I think it is one of those things that people really don't have awareness around. I think, because there's good process around talent management and often not good enough content, the process seems to win the day as opposed to the content. [00:04:00]
R
It sounds like most organizations don't realize that this is even a problem. Is that right?
S
I think close to 100%, this would be a revelation to them. They think that they spend a lot of money on talent management, and they're really good at talent management. But when you sort of peel back the onion and look at the content, and you look at the agent problem both in terms of self-representation and those representing you when you're not in the room, it's not good enough.
R
How do we fix the agent problem?
S
So, A., like everything we talk about in our podcast, awareness, right? I think a lot of this, these are good people with good intent. So we need to create awareness that, as an executive, and every executive should be really good at the people business, the number one thing you can do to be better at the people business is be a great agent for the people you represent. So you take it really seriously. You prepare like you're going to a customer meeting. You've read their résumé, and you know your people. You don't need somebody there with you from any department inside the organization to represent the person. You've studied them. You know them. You interact with them. You do one-on-ones with them. You coach them. You know their body of work, and you're able to represent that body of work with example after example after example. So, if some bully steps up that has some anecdotal generalization, you can take that on in any way, shape, or form and represent them in the totality of how good they actually are and how representative they are of the position that they're up for.
R
How do you get to be an agent?
S
Well, it just happens, and you know how it happens? You start to have people direct report to you. So, as soon as you're a leader of people, you're an agent, and that's why this is, I think, a revelation for people because I think a lot of people don't really understand that most people inside organizations have people who report to them, and they are agents. And they typically do this really poorly because they don't have the awareness around this concept that we're talking about.
R
Is there a way to measure being a good agent?
S
Well, what typically happens is that you get people [00:06:00] who are the best marketers who become the best agents or the most powerful executives, right? So you get this notion of power and sales lead the day. That's not good enough. This bar is way higher than that. Maybe that's important, but what we want is content to lead the day, and in order for content to lead the day, you have to study, you have to understand, and you have to contextualize. And people don't do that. So the bullies win. They get their people promoted. The person who's the best sales agent in the moment, which usually means they speak well on their feet as opposed to any other form of effectiveness, and they win the day. And then you get these people who are underrepresented inside the organization who are massive talents.
R
Every organization has discussions around talent, and often they're talking about executives when they're not in the room. Who is talking about them?
S
The agent problem essentially boils down to every talent discussion happens, usually, when you're not in the room. That's just the way things happen, right? Promotions happen because a group of people who know you have a conversation around that, and then the outcome of that is you're either promoted or you're not. So a few things are really important here, right? You have multiple agents. So you have the person that you directly report to, usually your primary agent. Then you usually have functional agents: head of talent management, could be your HR business partner. It could be a mentor. It could be an external agent. Look, I'm an agent for lots of people inside an organization. I'm the external agent. I'm called into the CEO or a leader of a business or function or called in from a board perspective, and I represent you in that context. Look, most people have got other things to do than represent you as your agent. Let's just take that as an underlying premise. So you need to do a little work with your agents related to: How do they understand you? How do they understand the manifestation of you? How do they understand the hard problems that you're working on? How do they understand and are able to represent your body of work, both current and previous? And this isn't in the sort of Art of War sense [00:08:00] of representing yourself, but this is just creating really good content so the good content can be represented in an authentic way and then be delivered by somebody other than yourself when you're not in the room.
R
Assuming that your boss or the person you report to is going to be your agent in some settings, how do you make sure that your boss is representing you correctly?
S
Well, there's lots of ways. Like, hopefully, your boss cares about developing you, so there's some one-on-one interactions that you have with them, and you can sort of represent the work that you're doing. They need to understand the work that you're working on in some detail and then how you're approaching that work. A lot of times, you may be flatlining or having an unsuccessful part of your career because it's really hard, and you're just trying to work through some walls that are hard to just hurdle, and people need to understand that. Everybody's career and trajectory isn't the top right corner. So, when there is a manifestation of it not being in the top right corner, it's even more important for your agents to sort of understand what you're working on, how you're working on it, and how you're tackling these wicked hard things in order to deliver a great outcome. And the way you do that is through interaction and through content.
R
Most important discussions about talent happen behind closed doors. I asked Stephen, What advice does he give to senior executives about the agent problem and the need to ensure that people perform better?
S
The way that you make people better in every interaction as it relates to being a great agent is A. you're aware that you are an agent, check, and then, in the context of that, we want to understand some of the issues related to the agent problem. So issue number one is that we always look through the lens of the person in their current role. Look, I experience this all the way to the CEO role. So let's just take the chief operating officer, for example. I wrote a book with my coauthor, Nate Bennett, on "Riding Shotgun," and that book was really focused on the COO role. And what we found in the COO role [00:10:00] is that you can put somebody who's had this amazing career, typically most do inside an organization, you put them into the COO role, and now we ask them to be the Os of the COO, which is very operational, right? So they start to talk in very tactical terms, very detail-oriented, very short-term oriented. Let's say they've done that for 12 or 18 months extremely well, and I'm representing them as their agent, right? I'm an agent in this context many times. You go in front of the board, and some board member will say and make a sweeping generalization that, "You know what? I don't think they're strategic, Steve." And really, it's from a good place, which is for the last 18 months, we've asked them to do something very specific, and they've done it extremely well because that's why we're having this conversation.
R
Talk about the very strong role played by confirmatory bias.
S
There's this powerful force in the universe, which is negative and positive confirmatory bias, and, look, we all have it. The best way to check it is, you know, if you have an interview with somebody, and they showed up late, they weren't prepared, they didn't quite present themselves in the right way, negative confirmatory bias usually seats into the situation for you. And then maybe three or four or five other people interview that person. They have the best interview in their life. Everything was great, had a great conversation, you name it. You're never hiring that person because, in your mind, negative confirmatory bias set in, and all you look for in every interaction after that seated in is the negative. It's really hard to sort of jump the hurdle and see all the shining rays of light that other people have seen. And this is a powerful force. This is why first impressions are so important for people, because if negative confirmatory bias sort of sits in early in a first impression, it's really hard for you to overcome it.
R
You talked at the beginning about the importance of awareness. How do you overcome negative confirmatory bias?
S
Right. So, almost always, there's going to be somebody around the talent discussion table that's got some negative bias. [00:12:00] Not everybody's perfect in every interaction. Not everybody can make everybody happy all the time. It's just a fact of life. So somebody around that table is going to bring up some sweeping generalization that's based on an experience that they had. So it's coming from a good place, hopefully, and they're going to say something related to that executive, and that's just a fact of life. And their negative confirmatory bias is going to be a powerful force for them. So, as their agent, that's why you have to be prepared. You have to have the body of work. You have to be prepared to have conviction around that body of work. You have to be able to represent them and eliminate role bias because what ends up happening is negative confirmatory bias usually sat in five years ago, and then somebody's bringing it up in some talent discussion today. It happens all the time. So you need to be, as their agent, prepared for this powerful force that's going to enter into the conversation, and because your representation is so good, you can overcome that hurdle.
R
As a leader, do you need to train people to be better agents?
S
Yeah. So this is a practice makes perfect thing. So, if I have anybody who reports to me, I'm their agent, and let's A. take it super seriously, like a customer visit. Any time I'm representing as an agent, this is the most important work I do because I'm in the people business, and I want to be world class at being in the people business. Then, B. I want to calibrate. I want to understand some of the foibles. Where's negative confirmatory bias, or positive? Look, some people get the halo effect, and they're way better in people's minds than they actually are, and that's equally disruptive to the organization, and you need to understand that. How do I calibrate as it relates to what good looks like? Calibration is really important, and you can partner up with people inside the organization who are good agents and who are highly calibrated so you can get a view of the world of what really good looks like and then apply that to your current situation.
R
Does that have to be done in a systematic way, in a very conscious way?
S
Ideally, yes. I think it's important to sort of take this really seriously. I think it's important to create awareness, training. What are some of the foibles? [00:14:00] What are some of the risks associated with it, and how do we arm or equip our agents to be the best at the game? This is a simple toolkit that will make a massive difference inside an organization and, actually, the billions of dollars that you spend on the process of talent management, this will actually allow you to realize some of the return on those billions because you have the best content and the best people representing that content.
R
So, just to summarize, as an agent, how do you fix the agent problem?
S
We define agent as anybody who has direct reports, which is most people inside an organization. A. Let's create awareness. Let's take the agent part of your job really seriously because I know you all want to be great at being in the people business. It starts with being a great agent for the people who you represent on your team. And, look, having a great brand as a leader starts with being able to represent people really in an honest, content-based way. So let's take it really seriously, and let's have awareness around it. And then you can work with people inside the organization and help you with your own calibration because there's always people who are highly calibrated and really great agents, and they have a brand related to that. I think it's important to understand confirmation bias, both negative and positive confirmation bias, so you understand how that seats into a conversation and how that might seat into your own conversation related to your representation. You need to understand role bias. So, really, what are the biases around the role that you're asking a person to do, and are you looking at them holistically, or are you looking at them through a very narrow sliver and not representing them well enough as it relates to that? And then, in order to get good at it, you just need to practice, right? Practice, practice, practice.
R
This was a conversation with Stephen Miles on C-Suite Intelligence. In this and other podcast episodes, we draw on the deep knowledge and experience of the experts from The Miles Group, coaches to the world's top-performing executives. Subscribe on Apple Podcasts, Google Podcasts, Spotify, and other podcast apps, and never miss an episode. I'm Richard Davies. Thanks for listening. [00:16:08]