Back To Podcast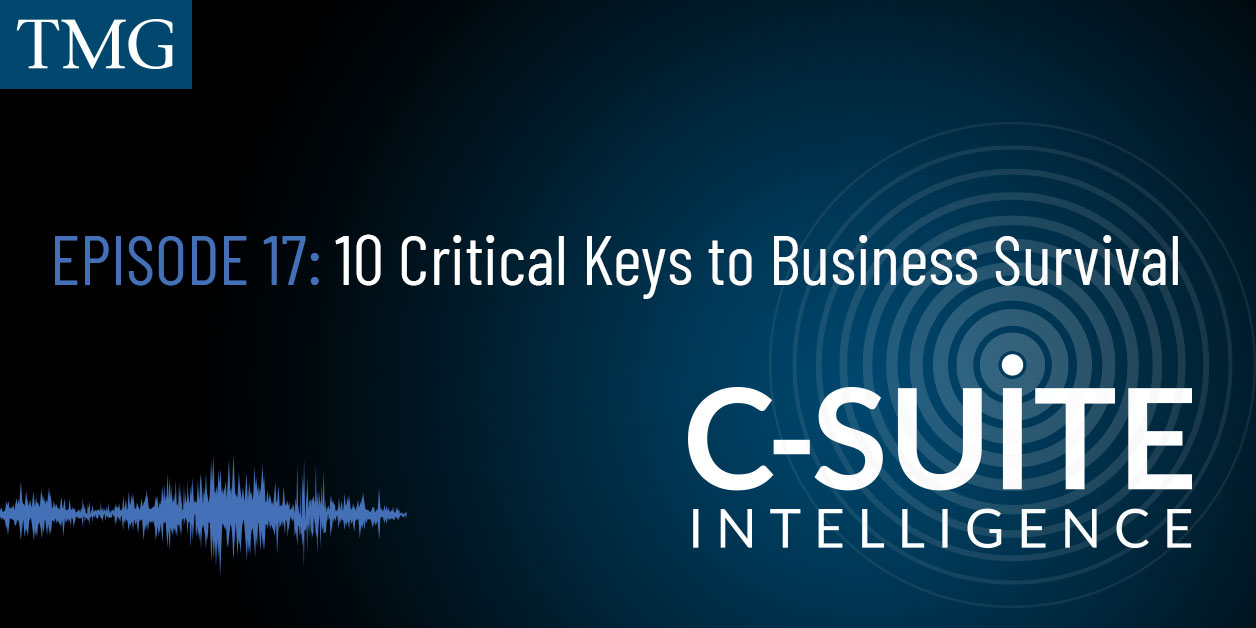 SEASON 1 | EPISODE 17 | MARCH 2020
Episode 17: 10 Critical Keys to Business Survival
The incredible challenges companies are facing today are creating shocks to the system that every CEO needs to prepare for, says Stephen Miles. From the stunning impact of the coronavirus to the increasingly rigorous ESG expectations placed on every company to the exceptional level of performance demanded of leaders 24/7/365, the best CEOs are shifting the way they and their teams approach these daunting problems. Miles takes us through 10 keys that are critical for companies to survive today.
In this episode
Stephen Miles
Founder and Chief Executive Officer
Coach to top CEOs, boards, and C-suite executives around the world, Stephen Miles is the founder and CEO of The Miles Group (TMG). His 20+ years of working closely with some of the highest performing executives, leadership teams, and boards of directors in the global Fortune 500 has put him at the center of some of the most critical leadership challenges and decisions companies are facing today.
Speaking frequently to organizations on strategies for coaching C-level executives and developing high-potential talent, Stephen has been featured in the Harvard Business Review, The Wall Street Journal, Forbes, Fortune, Entrepreneur, and Chief Executive. He is co-author of Your Career Game: How Game Theory Can Help You Achieve Your Professional Goals; he collaborates frequently with the Stanford Graduate School of Business on research around CEOs and boards, including a recent exploration of the costs and benefits of CEO activism. Stephen and his CEO advisory services were profiled in the Bloomberg Businessweek article "The Rising Star of CEO Consulting."
Full transcript
RICHARD
From sudden flare-ups on social media to shifting political pressures to the economic and business earthquake driven by the global spread of the coronavirus, change happens fast: 10 Things CEOs Need to Know That Are Essential to Business Survival.
C-Suite Intelligence: leadership lessons from coaches to the world's top-performing executives. I'm Richard Davies.
Stephen Miles, CEO of The Miles Group, says business leaders are facing a daunting new level of challenges. We look at 10 factors that CEOs need to focus on.
STEPHEN
I think we're in this sort of tectonic shift from the knowledge economy to the social economy, and I think the social economy brings an element of transparency that CEOs have never experienced before in their life. And, as a CEO, many of them have not developed the muscle around how to be successful in dealing with social emotional events, I would call them. So something bad happens to the company out there, and then, as the CEO, you have to respond to it, and you have to respond to it in a terrarium, right? You are in the glass with the light on, and everybody is rating you. People are loving what you're doing, or people are hating what you're doing, but there's generally not much in the middle. You have to cut through that in a meaningful way and deliver an outcome for your shareholders and stakeholders inside the company.
R
Could you give an example of a social emotional moment?
S
Number one are simmering issues. So, if you look at things that are happening inside companies, carbon is a simmering issue, or it's on fire now. Cage-free chicken eggs, definitely been simmering a long time, has become an issue; plastic waste; water consumption. You look at anything out there related to big events, and a lot of it is tied to, actually, world without waste and [00:02:00] the planet, and how are we responding from a packaging perspective, how we think about the world as a company. Larry Fink, who's the CEO and founder of BlackRock, has come out in the last couple of years with his yearly statement putting pressure on CEOs to not just be in the money-making business, but you need to be in the stakeholder business, and you have to care more deeply about social issues. So I think there's a lot of pressure on CEOs to take this into consideration.
Let's take a simmering issue. If you take, for example, plastic, the notion of plastic has been around for 20 or 30 years. The narrative has been lost because what's happened is plastic has become waste, and waste is bad. So, therefore, plastic is bad, as opposed to... Most plastic's actually not bad. It's a very useful vehicle. It's just, because it has become the Kleenex of waste, it's really hard to recover that narrative that, actually, plastic is okay. Waste is bad. So there was a simmering issue 20 or 30 years ago around plastic and waste and the reusability of plastic, and we lost the narrative. Now it's really hard to recover it. Similarly with cage-free eggs, it's been 20 years in the running, somebody's had a commentary around cage-free. But it's got some traction in the social world because a lot of people are able to mobilize very quickly around an issue.
So, as a CEO, what's really important is you need to monitor your simmering issues, and they can happen in any of the four corners of the world. So you have to have a team related to this. You need to track Twitter. You need to track various social mechanisms to understand where your company sits as it relates to that social issue. Are you tracking it, and could it become an event, something actually bad happens? So you are in a crisis situation, having to deal with that event, and if you haven't tracked your simmering issues or thought about these various events, you can look very awkward and ineffective [00:04:00] in those situations.
R
And then there are events that are created or initiated by CEOs themselves.
S
Some CEOs have come out on the front foot as it relates to LGBTQ issues, and they've taken a stand as it relates to those issues. Marc Benioff at Salesforce is in every magazine related to this. It's something near and dear to his heart, and he is action-oriented related to this. There's no simmering issue that's sort of impinging on him, and there's no event. He's creating this as somebody who cares deeply about this issue, both personally and from a company perspective. But it's another element of this social mechanism happening and CEOs having to respond.
R
So, handling social emotional events is one key factor for survival. Number two is shifting from a know-it-all to a learn-it-all company with a growth mindset.
S
What's really important to understand is that I think the reason why Jeff Bezos's building that he goes into is called Chapter One because he's deeply scared and paranoid that Amazon someday will become a stasis or fixed-mindset company and lose the edge it has around being a growth-mindset company. What he's trying to prevent is, when you have success as a company, that success can breed a level of arrogance and hubris. It can breed an inside-out mindset because, "Look, all these companies from around the world are coming to best practice and benchmark us. We really don't have anything to learn from the outside. We're just going to teach. We're teachers." It's from the company out as opposed to from the outside in, and you get to a place where the fixed mindset seeps into the company, where you become a know-it-all. It sucks the life out of high performance, and it sucks the life out of the company's success over time, and it seats in early with some level of success, and then it promulgates itself across the company.
So the idea here [00:06:00] is: how do you create that paranoia in a healthy sense related to having the edge to continue to learn, continue to feel like you can get better, and to continue to have this outside-in view of the world and a high capacity for learning related to that? Somebody once said, "It's what you learn after you know it all that counts." This plays true for a company. Once a company has a level of success, there's a know-it-all version of the company. Then what do they learn after that? A lot of companies regress into this know-it-all mindset, and the ego and hubris that follows that usually leads to their demise in some way, shape, or form.
R
The third factor is prioritizing investment in a business's digital future.
S
Well, we finally have arrived. For the last 30 years, people have been talking about, "Every company is a tech company," and we finally are there. So we are in the world now where I don't care what company you lead or are a member of, the element of digitizing your business is front and center. What's interesting from a CEO perspective is that you are in the building organizational capability role. That's your job, right? So we have business of today, and let's be wildly successful and win in the business of today, and let's build and plant the seeds of the business of tomorrow, and let's build a bridge between the two of them. And part of the business of tomorrow, which has now become today, is the digitization of the business. I think a lot of CEOs think its Star Trek that they live in, and they can just, "Make it so." And they can't. It actually takes one foot in front of the other. They need to understand the capabilities. They need to map processes, people, and sort of how they're going to approach the world and how the digital overlay of that approach to the world is going to affect their business, both in the business of today and the business of tomorrow. For CEOs, it's a rude awakening sometimes if they haven't built the organizational capability, and now they're in panic mode related to, [00:08:00] "Okay, somebody make it so," and it's near impossible to make it so.
R
We're talking about the 10 Things CEOs Need to Know That Are Essential to Business Survival. What's number four?
S
Number four is training the company and the CEO as an Olympic athlete. There's two dimensions of this. There's the company as an Olympic athlete. So, I think what I mean by Olympic athlete is that every day, every minute, every employee is looking at the organization and trying to make it better: better processes, better people, better innovation, better technology, better approaches, better customer interface. But we're in the business of fitness. We're increasing the company's fitness level every day, and it's all of our jobs to do that, as opposed to, "We're going to sit on the couch for a long period of time, and then we're going to slowly sort of come off that, and usually in some drastic form, try to get some level of fitness quickly," which usually doesn't end well for anybody.
If you take companies... Any CEO I've coached, if you look at 2008 to 2020, there isn't a single CEO that said, "'09 was the China year, and '10 was Latin America, and we crushed it there." Every year, it has gotten harder and harder and harder to get growth. So you're competing for share, usually share with somebody else who's pretty good at keeping their share. So, if you have an Olympic athlete as a company, then the more you can go get on the top line, the more you get to keep and distribute to all of your stakeholders on the bottom line because your overall fitness as a company is much higher.
Then the final part of this is just the CEO as an Olympic athlete. These jobs just suck the life out of you and crush you. You're the meat in the sandwich in every single situation you're in. You're expected to perform. You're supposed to be the best version of yourself and need to be the best version of yourself. You have to travel, generally, the world day in and day out and engage, engage, engage, engage, and it just sucks the life out of people. You just watch them age like dog years. So, in order to counteract that, [00:10:00] you have to think about your own fitness and your own energy management and your own psychological answer to overall human health in order to deliver exceptionally for all of your stakeholders. I think what we're seeing is a lot more CEOs taking the personal side of their Olympic athlete status much more seriously.
R
Speaking of taking things seriously, talk about the fifth factor, which is the need to take seriously the possibility of failures: environmental, social, and governance areas.
S
Yeah, I mean, this is, for those of you who read annual reports, this is ESG, as they call it. ESG used to be really about altruism, which is, "As a company, we're going to do things that are important. We're going to reduce our waste. We're going to reduce our carbon footprint. We're going to recycle. We're going to think about how our company impacts the world." And many companies have taken the initiative, long before ESG was a popular term, and done a lot of really good things, and they've done a lot of those really good things sort of under the radar just because it was the right thing to do, and they had the right CEO and leadership team taking the company forward. That has changed. ESG has become license to operate. So, in the social world that we live in now, you can lose your profit pool and lose your license to operate because you are not taking ESG seriously.
So, from a CEO perspective, what's interesting about ESG is generally whatever path you go down for, and no matter how good that path is, it usually costs your shareholders more money. So you have to balance off the profit nature of a corporation because we are in business to make money. At the same time, what's the stakeholder implication associated with making money, and how do we do the right things in that context?
R
Right now, number six is a very topical concern, [00:12:00] supply chains, especially with tariffs and with the eruption of coronavirus. Talk about the importance of this.
S
This is another fascinating topic because we've spent the last 30 years creating global synchronized supply chains that have really low levels of friction in them, and we move those supply chains around the world to arbitrage and take advantage of various countries' situations to deliver a lower-cost outcome for whatever our product is that we manufacture. And we've become really good at it. What's happened in this current administration is that trade wars have become much more current. There's been a lot of enforcement around trade, and there's been a lot more enforcement around protectionism. It's interesting. I think a lot of people are saying, "Is this a one-time administration event, or is this a new era that we're heading into around trade and protectionism." And if we are headed into a new era, the notion of manufacturing and creating and having a presence that's local becomes incredibly important. What's interesting is it takes their efficiency and synchronized, frictionless supply chains and turns them on their head, and we're going to add cost back in the system. And that cost gets translated to – guess who? All of us who go buy stuff because it's going to be more expensive.
The coronavirus is a really interesting example because we haven't seen it yet, but we're about to see the effects of this happening in real time because China's ostensibly been shut down for a period of time now, and that is going to affect all sorts of inputs. It's going to affect outputs. Bezos came out recently – Prime Day is in July of this year, and he's worried about having product for July. So he's thinking about this notion [00:14:00] of disruption of a globally synchronized supply chain and what that's going to mean from a selling perspective. So this is going to be a really interesting example for all of us to think about and read in the newspaper.
R
Item seven of the 10 Things CEOs Need to Know is bracing for stronger regulatory action.
S
It doesn't matter whether you're in Australia, and the regulator applying a lot more muscle if you're in technology, you're starting to feel the regulators around the world providing scrutiny and oversight. I really believe that there is a movement that's spurred on by really a populous movement inside many countries, but there's definitely a movement away from the corporation, and it's emblazoned a lot of regulators. I think what we're going to see is more regulatory action and more inspection as it relates to companies and companies' practices. As a CEO, again, this is license to operate. Material that we're talking, you have to take this stuff very seriously. You have to engage, engage, engage. You have to understand your counterparty's perspective. You have to understand what the view is related to your company. And then how do you respond to that in a meaningful way? Because the, "Just ignore it," is not going to work in this context.
R
The eighth thing is building competitive muscle.
S
What's really happened since 2008 is companies have been focused on the bottom line. So I think our global companies are fitter than they've ever been. I think our balance sheets are in great shape. They've taken advantage of the downturn in 2008 to really take a look at their own level of fitness and the bottom line and really shored that up. The problem is that there's not much left to do in many companies on the bottom line. So now we're, "Okay, let's talk about the top line." And we are in a hard growth world. Hard growth is, "I need to look around, and if I'm going to grow, I've got to take share." Taking share is hard, and you're usually trying to take share from another company [00:16:00] who's actually quite fit, and they're actually good at what they do. And now we have to take share from that company, and I think this notion of hard growth and being able to be fit on the bottom line, but then training the workforce and training our people and our teams to be able to be great at hard growth and taking share, I think is the next place that's going to be really important from a CEO. This is back in the build organizational capability perspective. There's a lot of capability that's been built around the bottom line. We need to focus on building capability around the top line, which is innovation and creativity and go to market and profit pools. How do we compete? How do we sell? How do we market? How do we win in this context? And I think we need to build more capability around that.
R
As we've seen, planning ahead for potentially negative events is very important, and amongst those is the possibility of a recession, which could happen quickly.
S
Yeah. What's interesting is, at TMG, we focus on a lot of the bigger industrial companies. They're clients of ours, and we're seeing them in recessionary areas, and we've seen them facing recessionary headwinds for the last six or eight months, full on. They've been taking decisions in order to deal with those recessionary pressures that they're feeling. So there's this really strong economy in the U.S. We have 3% unemployment. Things are going well. The consumer is maintaining a level of strength. People are buying houses. People are buying cars. There's lots of good things going on, but behind the scene, there are some recessionary headwinds that are facing into the industrial sector, and it's likely that that's going to transmit further into the economy. I just tell my clients, "We're close to the next recession than we are further away from it." So what can we do in order to prepare for that?
I think the outlier here are external events like the coronavirus because they can create a shock to the system and put us into [00:18:00] a deeper recessionary time very, very fast. We've got this undercurrent of recessionary headwinds, at least on the industrial side. We have a potential shock to the system that could be a global shock to the system, and we need to respond from a leadership and company perspective in order to deal with the shock. Not to be doom and gloom here, but I think the overlying factor on this is it could be global and synchronized this time, as opposed to one country versus another country. When you have China and the U.S. in a recession at the same time, it's never any good for anybody else, including China and the U.S. We just have to be conscious related to that, and CEOs, I think, need to have their feelers out and make decisions related to this to stay fit and healthy.
R
We're up to number 10, which involves the nature of leadership and how that's been changing in many large organizations.
S
Yeah. I think this is a really important topic for anybody who works inside a company, is they've turned from linear and vertical to horizontal and matrixed, and it's really about managing to an outcome. So you understand what the organizational outcome is that you're trying to achieve, and then you look at the playing field. Who's on it? Who are my peers? Who are the people that I need to co-author with? Who do I need to build relationships with? Who do I need to seek and take advice from? Who do I need to ask for help from? Who do I need to communicate from? That whole constellation of activities horizontally can allow you to be effective and deliver an organizational outcome, but just sort of muscling something over the line in a linear vertical way is really not working very well for many people. They need to learn this horizontal toolkit.
R
Stephen Miles on C-Suite Intelligence: leadership lessons from coaches to the world's top-performing executives. Every episode tackles a different topic. Subscribe on Apple Podcasts, Google Podcasts, Spotify, and other podcast apps and never miss an episode. I'm Richard Davies. Thanks for listening. [00:20:03]