Back To Podcast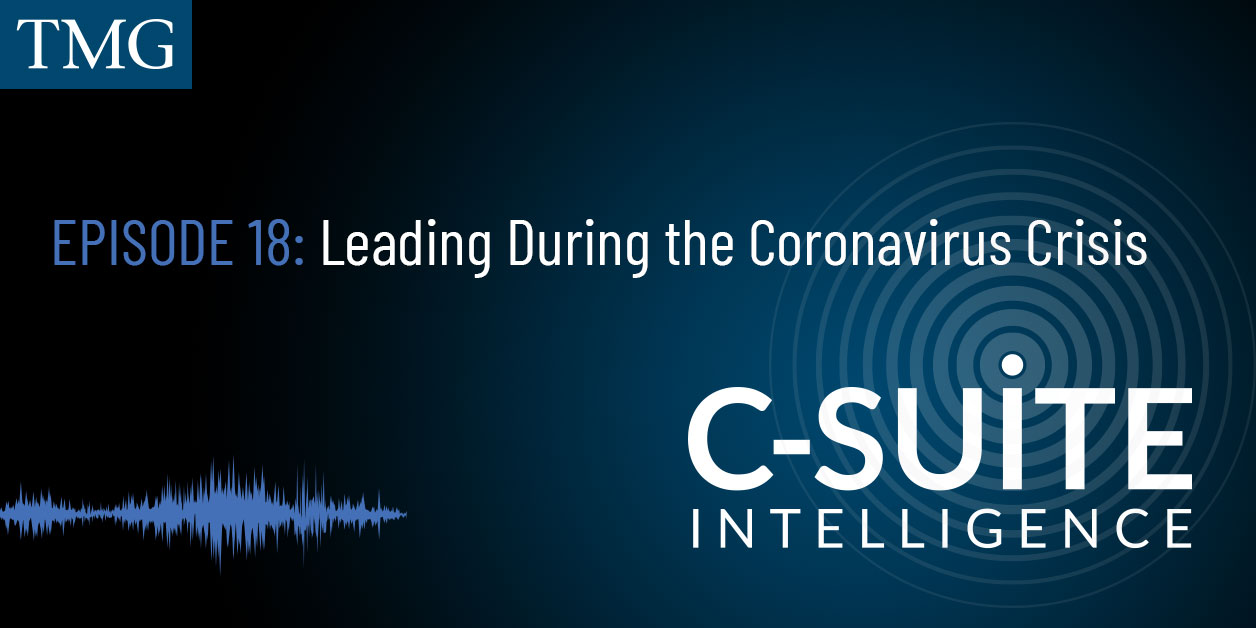 SEASON 1 | EPISODE 18 | MARCH 2020
Episode 18: Leading During the Coronavirus Crisis
The coronavirus pandemic is challenging leaders at unprecedented levels. Executives are facing the complexity of severe business impact and employee health concerns while they and many employees work from home. But many leaders haven't led during a crisis, says Stephen Miles; they react poorly, amplify stress, and ignore critical information and advice. Miles provides tools for leading powerfully during this crisis, including how to make decisions, communicate, and engage employees with empathy.
In this episode
Stephen Miles
Founder and Chief Executive Officer
Coach to top CEOs, boards, and C-suite executives around the world, Stephen Miles is the founder and CEO of The Miles Group (TMG). His 20+ years of working closely with some of the highest performing executives, leadership teams, and boards of directors in the global Fortune 500 has put him at the center of some of the most critical leadership challenges and decisions companies are facing today.
Speaking frequently to organizations on strategies for coaching C-level executives and developing high-potential talent, Stephen has been featured in the Harvard Business Review, The Wall Street Journal, Forbes, Fortune, Entrepreneur, and Chief Executive. He is co-author of Your Career Game: How Game Theory Can Help You Achieve Your Professional Goals; he collaborates frequently with the Stanford Graduate School of Business on research around CEOs and boards, including a recent exploration of the costs and benefits of CEO activism. Stephen and his CEO advisory services were profiled in the Bloomberg Businessweek article "The Rising Star of CEO Consulting."
Full transcript
RICHARD
Every single leader and every single organization is facing a crisis at the same time. The coronavirus pandemic is an unprecedented challenge, putting stress on individuals and companies like never before: Leading During the Coronavirus Crisis.
C-Suite Intelligence: leadership lessons from coaches to the world's top-performing executives. I'm Richard Davies.
This is a special edition of our podcast series. Stephen Miles, CEO of The Miles Group, is in Atlanta, and he spoke to us from his home. I asked him: how prepared are leaders to handle this crisis?
STEPHEN
I think we've had a really long bull run, and there are some leaders who experienced 2008 when we had the global financial crisis, but that was a select few. So, as you said, this is affecting pretty much everybody and everywhere in the world. And I think, if you have experienced a crisis before, you're rusty, and many of us have never experienced a crisis to this magnitude. So we're inexperienced, and this is something new for us.
R
So does being a good leader mean that you're automatically going to be a good leader in a crisis?
S
Actually, that's not the case. In fact, sometimes people get surprised because the people who are the best leaders, most effective in peacetime, if you will, or on calm waters, can be highly ineffective in wartime or in rough waters. So it really isn't transferrable from being good in peace or on calm waters to being good in war or in rough waters. It doesn't transfer automatically.
R
So how do most people respond to a stress event or a crisis?
S
What's unique about this crisis, because every crisis has an element of uniqueness to it, [00:02:00] this one's global. So, as you said, this is affecting every person. This has an element of protecting our people, which generally has never been seen before. Usually, we're just protecting the enterprise and our company. In this element, we have to do that for sure, and then we have to protect our people. Then the third overlay for many of us is that we have to do all this and work from home. So the degree of complexity associated with this crisis is unique and, I think, unprecedented.
R
So, are there different ways to respond to an event or a crisis? Are there people who respond much more effectively than others for specific reasons?
S
Yeah, that is for sure, and you've heard us talk on previous podcasts around growth mindset. This would be a good time to do a refresher of that podcast, but generally people have a binary response to a stress event. There's a cohort of people who are really good at it, and then there's another cohort of people who are less effective at it and often need additional support. Those people who are really good at it, what's interesting is it overlays really nicely with growth mindset. Here's what good looks like in a crisis if you are a growth-mindset executive and effective. You typically turn outward. So you leverage the team around you. You typically have a lot of empathy for those team members, remembering that this crisis is unique because there's both a business element and a human element, and the human element is divided into two, which is we need to protect our people, and for many of us, we need to do that while working from home, which is an added layer of complexity. So you have to have a lot of patience, empathy. Most things aren't going to work perfectly. There's going to be a lot of fumbling around in order to operationalize this, and it's going to require a lot of leadership to cut through it. Additionally, you leverage the resources of the company. You make decisions on the available information, [00:04:00] and most importantly, you communicate in some of the highest bandwidths that you've ever communicated in in your lifetime. When you think that you have over-communicated, there's still lots of people hearing things for the first time or wanting to hear it for the 10th and 11th time, just to create some level of certainty for them. Additionally, what's really important and defining is that you remain calm, and you set the tone at the top, wherever that happens to be for you, and you absorb, absorb, absorb. People are always looking for you and looking for your direction and also looking for the manifestation of the crisis in you. If you are absorbing, calm, cool, and collected, and directing, it helps everybody else focus on the work at hand.
R
How does that compare with leaders who are stuck in a fixed mindset and who may not handle this crisis very well at all?
S
Well, typically, this cohort of executive, they turn inward. They typically don't leverage the team. They often personalize the crisis and therefore have very low levels of empathy to provide to their team members, and they really don't look through the lens of their team members and how they're handling the stress event. It's usually through a singular lens, which is egocentric and their own. So what we also see with fixed mindset or people who are less effective in a crisis is really around communication. They often do not communicate in high bandwidths. They often communicate in asymmetries, and those asymmetries are really around distancing themselves from whatever the issue is and self-preservation. And finally, they really amplify the situation, so they make it worse. The tone at the top is usually some form of Chicken Little and, "The sky is falling!" They create higher levels of uncertainty around them, which makes it really hard for those people who are on their teams to focus and prioritize around the organizational outcomes that are required.
R
You've spoken a couple of times [00:06:00] about the need for leaders to communicate in high bandwidth. Could you walk through what that looks like? One thing I know that you feel really strongly about is the need to treat employees as whole people.
S
I think what's really important is oftentimes in a crisis, people can become what I would define as platoon leaders, field generals. They lead from the front, which is often very much required. But what that can do sometimes is narrow their focus to the business outcome. As we stated in the beginning, what's unique about this crisis is there's a deep human element associated with it, which is the health of our employees, which is number one, and then supporting many of our employees who are doing something they've never done before, which is trying to be the full-potential version of themselves working from home. So treating people holistically is incredibly important. It's not just the business outcomes. You actually show empathy and understanding and patience and absorption and support for people who are worried and uncertain because there's a health implication associated with this crisis and trying to reach full potential working in an environment that's isolated at home and often distracted. So, if you can come to this complex, multivariate problem and treat people holistically and show high levels of empathy while still prioritizing on the business outcomes, the probability of you being successful and having broad enrollment in followership will go up exponentially.
R
Now, we're all working during this crisis remotely. So how do you get a better understanding of what people want and need?
S
So this is the exhausting part of leading in the current situation, which is there's an isolationist aspect to this, and those people who are in leadership roles [00:08:00] who happen to also be high introverts, this can amplify their introversion and decrease their ability to connect with their organization. What we've always said in every podcast is, "Good process delivers good outcomes." It's really important to have good underlying process related to your leadership, which is, "Let's increase the rhythm on our team processes. Maybe we're going to do something daily. We're going to have a daily check-in. We're going to use video in whatever form that you use it: FaceTime, Zoom, whatever it happens to be. But we're going to check in with people. We're going to have team members check in with each other. So we're going to support each other horizontally. We're going to provide information. We're going to provide context. And most importantly, we're going to provide some level of prioritization about what the work is that actually needs to get done to deliver the organizational outcomes. There's nothing like a crisis to prioritize people on the stuff that matters. Then let's wrap that around some level of empathy and understanding for each person's individual circumstance to help them be successful."
R
But the leader doesn't have to personally manage every part of the crisis all by himself or herself, right?
S
I mean, this is a critical differentiator. I think the people who are most effective in a crisis lead the crisis, the overarching crisis, but every element of the crisis needs to be crisis-managed by a bunch of different people, right? If you become the ultimate crisis manager, you just don't have enough bandwidth. I don't care who you are. Nobody's that good. So what we want you to do is elevate and prioritize and create streams of work, and then, as the leader, you step in and out of those streams of work as required in order to add value, problem solve, remove obstacles, support executives, but helping to deliver the overall organizational outcome as opposed to trying to be the crisis manager.
R
What else helps a leader be successful in a crisis?
S
What we do in a crisis is we up our rhythm in every dimension. So, a lot of times, we have quarterly rhythms. That could become monthly. [00:10:00] That can become biweekly. That could become weekly. That could become daily. That could become twice a day. I have a number of clients right now where they're having stand-ups in the morning and in the afternoon as a leadership team. What do we know now? What's the new context? Who's on what base in terms of getting stuff done? Where do we have intersections, and who's doing the individual work related to that? And it's creating this high level of alignment, high level of prioritization, and high level of support as it relates to the work that's getting done.
R
How do you assess who to have on your core team during a crisis, who you want there and perhaps who you don't want there?
S
Well, I think there's three buckets of people. There are people who just naturally step up and show great judgment and decision-making and absorption and leadership in a crisis, and check, right? We want lots of those people. There's another cohort of people who can actually be quite effective in a crisis, but they just need some additional support and some empathy. So we take that cohort of leaders who are truly a 10 out of 10 in a crisis that they provide a little wrapper for that second cohort, and that second cohort moves up and is effective. There's a third cohort that can be paralyzed in their decision-making and amplify the crisis. What we need to do is understand if, with support, potentially, can we get movement from that cohort of people, or are they going to be truly isolated and paralyzed related to this? What's interesting is many of those people actually don't want to make the decision, but if you step in and are directive with this cohort of people and actually make some decisions for them, they will execute brilliantly related to that decision. So they become sort of the order-taking cohort. As a leader, it's important to have a lot of range to your style and a hybrid leadership style where you look across this multivariate portfolio of people that report to you. "Who are my out-of-box, they're the best in choppy waters? Go at it. Let's stay aligned, [00:12:00] let's communicate, and you can do a lot. Let's enroll and show a lot of empathy and support for this next cohort. Maybe we need to make some decisions for them. Maybe we need to remove some obstacles. Maybe they just need support." Then, finally, there's probably a cohort of people that, if you make some decisions for them and give yourself permission to do that, then they will unlock, and they will execute brilliantly.
R
Making decisions during stressful times can be really difficult. Is there a way to sort out what kind of decisions we actually need to take more time with?
S
Yeah, I think this is a very important differentiator and toolkit for all of our listeners. I think there are really two kinds of decisions out there. There are what we would define as one-way doors and two-way doors. So, in one-way doors, the decision, once it's made, is extremely hard to reverse, undo, modify in any way, shape, or form, hence one-way. You go through it, and it's really hard to come back. Then there's two-way doors, which really, you can make the decision, and you can get new information, and you can modify it, change it, course-correct. But there's degrees of freedom on a two-way door. What's really important is that when you have a one-way door, the best way to do this is really, as the decisions fly at you, make sure that you go to manuals and executives because that's another area where we taught people, "Don't be in automatic mode. Decisions are coming in. Let's go to manual. We got a Y in the road here. Is this a two-way door, easily course-correctable, or a one-way door where if I go through it, make the decision, it's going to be really hard to reverse or course-correct?" When I'm in a one-way door situation, what's really important here is you go slow to go fast. Look, lots of stuff needs to made in real time and quickly. This isn't slow in the slow sense. This is just slowing down. So you're triangulating inputs, and there will be people around you who are content masters. [00:14:00] There will be people around you who are simply wise, and it's also wise to check in with the people you report to so they're part of your triangulation circle because you need to manage your stakeholder groups as well as you're making decisions, especially hard-to-reverse decisions like one-way-door decisions.
R
That concept of, "Go slow to go fast," has been mentioned by you in previous podcast episodes. So just another reminder for listeners, it may be a good time now to visit some of those points. What about the really hard decisions? These are the ones that very often involve a great deal of complexity.
S
What's really important is that, in a crisis, there's lots of unknowns. So you try to garner new information all of the time and evaluate that information related to your decision set, and then make the decision based on the available information, always taking into consideration one-way versus two-way doors. But what really differentiates executives is their ability to hold ambiguity in front of them. So, in a wicked hard problem, there is no point B in front of you. You're just stunned by the degree of difficulty and complexity of a problem. But what you do is you start to tackle it, and you open a few doors. A little ray of light happens over there. We move over to that door. We open it. We get some new information, interesting. Apply that to our model, one-way, two-way door. Okay, let's go through. We've got more light, and you zigzag your way through this ambiguity and through new information and problem-solving in order to reach the destination.
R
As you've stressed, the way leaders communicate is very important, and that must be even more so when many people are panicking and are fearful. Do you have any further tips around communication for leaders?
S
I think what's really important is that you use multi-channels, whatever that happens to be, town halls, [00:16:00] in-persons, texts, blogs, email, everything related to every channel so you're reaching people, that you are persistent and redundant in your message as much as you can be. As new information comes, you need to continue to evolve your messaging, but having a baseline-aligned, persistent and redundant message that you layer on new information so people can track with you. It's important to increase rhythm because a lot of people don't know, and when they don't know, and you combine that with uncertainty and fear because there's a lot of fear associated with our current crisis because of the human aspect to it, then people start to make stuff up. And they often are wrong when they make stuff up, or they're reading some asymmetric information that doesn't have any context to the current state, and they amplify the situation. So, as a leader, you need to cut through this in as many ways as possible, and you and your leadership team need to be aligned on your messaging so they, too, are coming through this through multiple channels.
R
And I would imagine that being calm is a crucial part of this.
S
I was talking to the CFO of a giant steel company the other day, and they teetered on bankruptcy a while ago. She wasn't the CFO at the time, but what she did do is, almost every day, she would look over at the CFO to see what his demeanor was at any given moment of the depths of the cycle. When she saw him and the CEO calm, cool, collected, problem-solving, directing the organization, it allowed her to refocus herself and her team on the work that needed to get done in order to deliver the organizational outcome. And they came through it brilliantly. It was just a real reminder to me that people are watching all the time, and they're seeing if you're a sky-is-falling person or whether you're setting the right tone at the top, which is, "Let's define reality because reality's very important, and let's offer hope. And in the context of that, [00:18:00] my behaviors are absorbing, calm, cool, and collected to allow other people to focus on delivering outcomes."
R
Stephen Miles, thanks very much for doing this at this important time.
S
Well, I hope everybody's safe. We're all learning through this crisis, and we're all going to get through it together, so thank you.
R
Stephen Miles, CEO of The Miles Group, on C-Suite Intelligence: leadership lessons from coaches to the world's top-performing executives. Every episode tackles a different topic. Many are especially relevant in this time of coronavirus crisis. Subscribe on Apple Podcasts, Google Podcasts, Spotify, and other podcast apps, and never miss an episode. I'm Richard Davies. Thanks for listening. [00:19:00]