Back To Podcast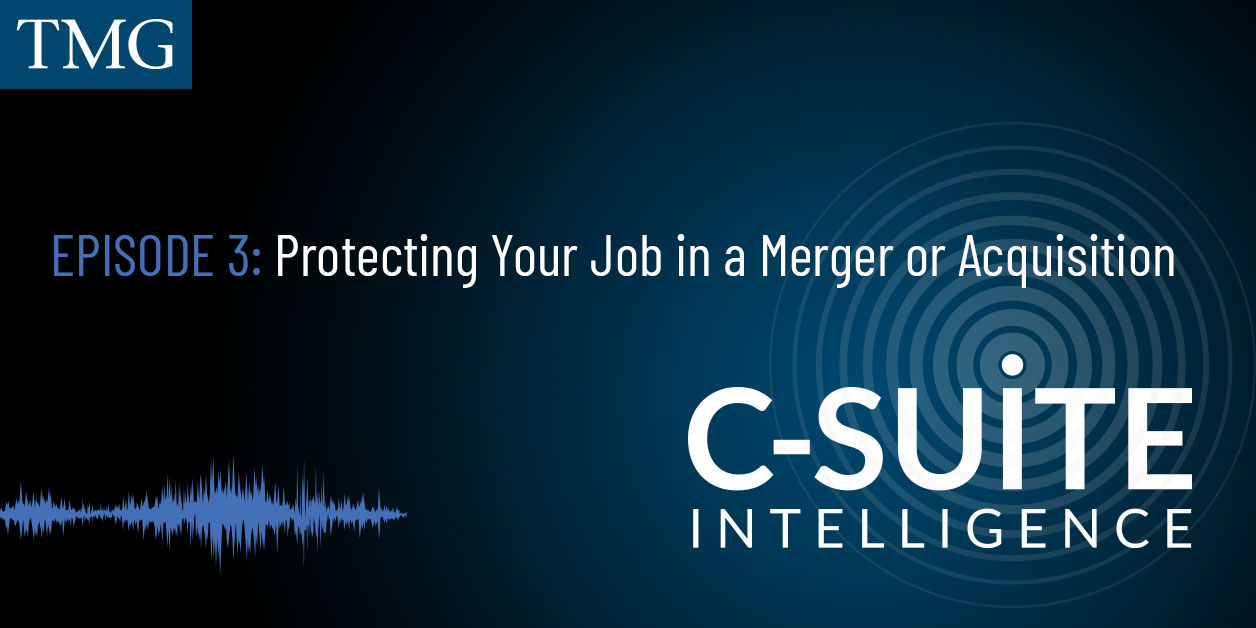 SEASON 1 | EPISODE 3 | SEPTEMBER 2019
Episode 3: Protecting Your Job in a Merger or Acquisition
When new owners take over your organization, how do you protect your job? As five consecutive years of acquisition top $3 trillion and robust private equity markets continue to chase company investments, the reality of M&A today makes changes in management inevitable. Courtney Hamilton explains the best ways to prepare yourself for company takeovers and how to arm yourself with vital information about the company and its new leadership.
In this episode
Courtney Hamilton
Managing Director
Courtney Hamilton works with senior executives in both Fortune 500 companies and private equity- and VC-backed firms to assess and develop talent. She advises boards and top teams through their most critical leadership challenges – including CEO successions, organizational change initiatives, and key executive transitions and new hires. With extensive experience in executive coaching and development, her work crosses a broad range of industries, from financial services, technology, and media to industrial products, consumer products, manufacturing, transportation, and healthcare. Courtney co-authored with Stanford Graduate School of Business professor David Larcker, researcher Brian Tayan, and her colleague Stephen Miles the paper "Where Does Human Resources Sit at the Strategy Table?". For C-Suite magazine, she contributed the article "When High Performers Behave Badly" with her colleague Taylor Griffin. Prior to joining TMG, Courtney ran livingsocial's market entry strategy in Asia. She has worked in investment banking and in marketing at American Express in Beijing and FBR & Co. in New York.
Full transcript
RICHARD
When new ownership takes over your organization, how do you protect your job?
C-Suite Intelligence: leadership lessons from coaches to the world's top-performing executives. I'm Richard Davies.
How should top managers and other employees respond to a merger, a buyout, an acquisition? Things can change fast. What happens around talent when your company has new owners?
COURTNEY
Learning to be your own agent is something that you should cultivate over time, and whether or not you're mid-, junior, senior, it's something you should be able to do.
R
Courtney Hamilton, a managing director with The Miles Group, says takeovers are a common event in a changing landscape of corporate America.
C
We've seen a huge volume of deals over the past five years, five consecutive years of $3 trillion in acquisition volume publicly, as well as really readily-accessible capital for lots of people. So, in the private sector, there's been lots of acquisition, as well
R
Very often, when there's a takeover, there's an almost immediate change of culture, isn't there? And so, what's the first thing that a member of senior management should do when this happens?
C
Well, I think it depends whether it's an acquisition by another company, a takeover, or whether you're changing ownership to private equity or potentially even going private from being a publicly-traded company. I think, in both cases, you need to do your homework, right? So, if you're a senior executive or even a mid-senior middle manager, if you're not actively involved in the deal itself, there's still plenty of ways that you can inform yourself around what's going on. So, if you look at, for example, the AT&T deal, there's plenty of publicly available information. It's in the Wall Street Journal every single day. So, if I'm an employee, for example, at Turner Sports, you might think it's completely out of my hands, but, actually, you [00:02:00] can go out and you can really inform yourself as to what's going on. Sure, it's held up in the courts, but now it's going to go through, "Here's who they've stated is going to take over this piece of the business." Look him up, right? Try to understand: What's his M.O.? Does he normally cut? Does he bring in his own team? He's had a couple of transitions. So, trying to understand in detail, and do your own homework for what you might be in for. You can often find some information on: Why are they buying this company? So, I think ensuring that you inform yourself in detail is step number one.
R
Are there fundamental differences between an M&A and a private equity takeover?
C
It depends, but I think typically what you'd often see is in an M&A, in a merger or acquisition of one publicly-traded company of another publicly-traded company, typically they're looking out for synergy, the idea that this combined entity has stronger growth potential than the two separately. But as we combine, there's going to be two or maybe three of everybody, and we have to make some difficult decisions. So, by definition, there will be cuts. Private equity can be a little different in that what their investment thesis often is, as investors, is, "This company is somehow, some way undervalued. We believe we can do a better job as we get seats on the board and make some management changes to realize the value of this company." So, the foundational approach is a little bit different. So, if you find yourself, say, at Turner being purchased by AT&T, in all likelihood, there might be two or three more of you. And so, the way you can think about that is you have to prepare yourself for where and how you add value. I think in the private equity scenario, oftentimes you're going to be required to deliver returns in a shorter period of time. So, I think the initial transaction and in the wake of the initial transaction, it's going to feel a little [00:04:00] bit different. I think, in our experience, in a private equity transaction, things happen a lot faster, too.
R
So, that assessment interview or you being interviewed, in a sense, for your own job, that comes quicker, potentially, with a private equity takeover.
C
It can. Yeah. Yeah, it can. It can—sometimes before the deal is even done. Sometimes it's part of the due diligence of the deal.
R
So, what happens around talent during these situations?
C
Well, again, it depends on the situation, but from an M&A perspective, oftentimes they're looking across the enterprise for: Where is there value being created? And who in this combination of two companies is better at each piece of value creation? I think in a private equity scenario, what you'll typically see is an initial evaluation right out of the gates to understand whether or not this is the team we're betting on. So, in some cases, you're going into the transaction saying, "Part of the reason I'm buying this company or buying a large stake in this company is because I am betting on the team, and I might want to make some changes." Sometimes they're going to clean house right away. And so, typically you'll know your answer pretty soon after the transaction has closed—whether or not the sponsor is betting on the team or whether or not they're cleaning house and they're bringing in their own people. And oftentimes, in a private equity scenario, they have their person who they've already lined up to come and step in.
R
And sometimes you could be faced with a rival for your job because of this.
C
Oh, absolutely. I think the difference is in an M&A transaction, oftentimes you get the opportunity to represent yourself in an assessment interview, potentially against someone else. You might not know who your competitor is. Sometimes it's straightforward: CFO to CFO. You might not know who you're competing with for a job in that kind of a transaction, but you get to sort of do your homework and understand what you're up against. I think in a private equity scenario, [00:06:00] what you need to do in an assessment interview is prove that you understand their investment thesis, you believe in their assessment thesis, and you have a plan for how you can realize the value that they see within the organization.
C
So, I think in the context of a private equity transaction, it's pretty easy to figure out what the investors see as the value within the company, and they often talk about why they've invested. So, they'll send out a press release and say, "We believe that the multiple is depressed because of x, y, or z. There is an opportunity to take share from competition." And so, how are we going to take share? Is it through enhanced product? Is it through a more aggressive sales strategy? Usually, you can find that out. And so, if you're head of sales, and they're coming in and saying, "We need to take share, and we need to do it through a more aggressive sales strategy," it is your job in an assessment interview to be overprepared to be able to articulate what your strategy is going forward. Right? So, oftentimes, if you get this email that says, "You're going to be assessed. Here's the name of the person who's going to come and see you and interview you for a couple of hours. Don't worry, there's not too much for you to prepare." That's actually...
C
In this context, it's not quite as true. I think in a developmental assessment, that's different, but this is a selection assessment. They're trying to figure out whether or not the current team or members of the current team will be able to deliver on the value proposition that they see as part of their investment thesis. And so, being prepared to articulate how you're going to do it and what the challenges would be to realizing the investment thesis is part of your job as you're trying to keep your job.
R
And so, how do you communicate your value to [00:08:00] the new boss or the new owners effectively?
C
Yeah. So, I think the number one thing that you need to do is have content. So, it's not necessarily about just skills or just behaviors or just experiences. It's about all of those things together. And so, I think for one, you've got your résumé. What have you done? But within that period of time, what have you really demonstrated in each role that you've had? And what are the capabilities you have? And, again, align with the investment thesis. If the idea is take share, when have you taken share? When have you architected a strategy to take share? So, yes, you can walk through your entire résumé, but where the points of emphasis need to be are what align with the investment thesis.
C
How you added value, but how you added...examples of how you added value in the context of what the firm is looking to do by taking an ownership stake in the company
R
I want to drill down more on this, but I'm just kind of curious about what you've learned in your experience with The Miles Group in working with companies and managers and top-level executives who are in companies that have been taken over. How do many of them react? Do people usually go negative, or do they assume that they're so important to the functioning of the organization that, "Hey, I'm fine"?
C
I think that the individuals who recognize that they bring value to the organization but have a little bit more of a humble approach and think through what the investment thesis is—again, whether it's a takeover, whether it's a private equity stake—and show up well-prepared are the ones who typically do the best. I think sometimes you walk into an organization that's being taken private, for example, and they're so relieved. They're so excited. They want to get down to business. They've been frustrated with struggling between short-term and long-term value creation whilst having a group of [00:10:00] stakeholders, i.e. shareholders, that they need to keep happy throughout that, and there's fundamental problems in the business that need to be fixed, and they're excited
R
And their shareholders, in a public situation, could have multiple voices. So, it's...yeah.
C
Right. Oh, yeah. Exactly. It's the definition of stakeholder overload, right? And so, in some contexts, you walk in, and they're delighted. They see these fundamental problems in the business, and they finally have an opportunity—and sometimes the capital—to fix them without being subject to the scrutiny of shareholders
R
C-suite executives versus younger, up-and-coming, middle-ranking executives—are there different strategies that you would recommend for them, or are the challenges broadly the same in this situation?
C
I think as a C-suite executive, you're just going to have more information on what's going on. You're going to have a better view, and sometimes I think what we see is a little more cynicism coming from the C-suite in that they're a little bit more intimately involved with perhaps the negotiation of the deal or the reason for the deal, and therefore they probably don't have to do quite as much homework because they're already informed. And in many cases, they recognize it could be a foregone conclusion. They're the target. The acquirer is just going to have their way.
R
And clean house or just make major...?
C
Perhaps clean house, or perhaps they're going to go with their CFO. I think oftentimes it can be a little disheartening. That said, there's still often opportunities to make the call. You always have to be your own agent. And so, I think what you may have expected over time in steady state operations of having other people represent you and represent your talents and your capabilities actually goes away oftentimes in the context of a deal. So, learning to be your own agent is something that you should cultivate over time, and whether or not you're mid-, junior, senior, it's something you should be able to do, [00:12:00] and at oftentimes you'll see senior level executives who aren't great at doing that on their own.
R
Is that fundamentally about networking?
C
That's a piece of it. I think it's really about self-awareness and the value that you bring to the organization, the value that you bring to your team, and also what you don't bring. So, I think having the mirror held up to you whether it's in the form of leadership assessment or your HR business partnership, but over time having a really firm handle on what your core competencies are, as well as what your opportunities are for continued development, it's just going to serve you well—again, especially in the context of a takeover.
R
In terms of an assessment interview, I mean it may well be that you're on your way out and there isn't much you can do to save your position. So, should you, before an interview like this, start looking?
C
Sure. So, I think the good news is if you get called in for an assessment interview, they are considering you seriously. They're too expensive to...
C
...To not be considering it. That said, when you know this is coming down the pipeline and you know you're one of two or three individuals for a given role, yep, you absolutely should start looking very confidentially and not necessarily because you're so ready for that next job but because you do need to understand what your value is in the marketplace. I think this is particularly important for executives who've been in the same company for their entire career. I think this is when it's the scariest. You've grown up inside of a company. You haven't been out interviewing, right?
C
You haven't been talking to people. You don't know how to answer a lot of those questions. A lot of your peers may have just joined the company two or three years ago. They've been on the interview circuit. So, if for nothing else, to practice, get your narrative together. What are your core competencies? Be able to answer those questions, and be able to understand: [00:14:00] What does the external market look like?
R
There are rumors that your company is going to be taken over? Are there things you can do before the big news happens?
C
Well, I do think this is something...this is advice I give more to junior executives because I think this is something we see time and time again when we're going into those levels, is they're not informing themselves, they're not preparing themselves, and they are taken by surprise. And so, whether or not you think your company's the target of a takeover, you're underperforming, and activists are getting involved—no matter what, you should be understanding how your company is playing in the public market at all times. And you'd be shocked how often we have conversations or assessment interviews or team coaching where the more junior cohort, they're really focused on their specific business or function, and that enterprise mindset is not there. Right? And so, they are, by definition, taken by surprise any time anything happens. So, I think, again, for the junior cohort, it's recognizing that whether it's your first year out of college or whether you're 15 years into your career, it is your responsibility to inform yourself. I think we often hear a sentiment from the Millennials that they weren't told, that they're not being communicated to. But if you're part of a 60,000-person company, it's your job to figure that out and to put a Google alert on for news about your company, to follow the stock price, to understand who's coming in and out of the stock, and to understand what's going on in the industry more broadly.
R
And beyond that, do your own assessment interview of yourself from time to time?
R
We've been talking about taking a hard look in the mirror or the logical, smart thing to do, but this can be a very emotional time. I mean, many [00:16:00] people, their identity is wrapped up in their work and in who they are and in the company they work for. And so, I guess that's something you really have to be aware of and smart about.
C
Absolutely. We have this expression that we use all the time in our coaching, which is the idea of absorbing stress versus amplifying stress. In times of crisis, in times of high tension, you often see executives who absorb it, and they focus, and they're able to, for example, take that look in the mirror, "Here's what I'm good at. Here's why I should be part of the combined organization or the new organization," and be able to dispassionately explain that. I think the opposite side of that coin, to your point, are people who amplify the stress. So, what we'll see as people come into our assessment interview is usually one or the other, and the amplified stress is they're feeling it, and they're amplifying it out into the world around them. And so, there's no mistaking that they feel that tension in the system, and I think it does come from this idea that your job is your identity. It's who you are. I think before you come into an assessment interview, the best thing you can do for yourself is take a step back and go to manual and focus on the task at hand rather than the second-, third-, and fourth-order effects of this interview. Saying, "This is the interview that's going to determine the rest of my life," is a surefire way to amplify stress and to demonstrate that to your interviewer.
R
We were talking about connecting the dots between the investment thesis or the reason why a company is taken over and what you bring to the table.
R
So, your strategy for doing that?
C
Yeah, exactly. So, I think a key component, like we said, is first fundamentally understanding the investment thesis and what specifically sponsors or owners or the new company plans to do—whether it's one, three, five, ten years out—and aligning yourself with that trajectory. So, is it digital [00:18:00] transformation? Is that the thing that's going to drive growth and value creation in the future for this organization? Is that part of the investment thesis? How do you fit into that? And aligning yourself—very much aligning your experiences, your skills, your capabilities with what they are hoping to drive. I also think a really...again, that hard look in the mirror around not just you but perhaps the organization you were in. Were you part of the organization that was continuing to create value in a difficult operating environment, or were you part of the organization that was underperforming? And within those organizations, who were you? Were you leading a high-growth market in an overall underperforming sales organization? Understand that about yourself, and you need to be able to, again, serve as your own agent and represent that, that even though that sales organization was underperforming, here's what you were able to do, and here's what's fundamentally broken about the sales organization, and if we're going to get to where we need to go in three, five, ten years, here's what needs to change about the sales organization.
R
This might strike some as weird, but perhaps take a second long look at that beautiful photo of your wife or husband?
R
Or hug your children, spend a little extra time with them on the morning of that assessment interview to remind yourself that there are other things in life.
C
There's other things. Exactly. There's absolutely other things. I think it's all relative. I think this is also where that—back to your earlier comment about going out and interviewing or just talking to a couple search people that you trust or friends in the industry. What's out there? I think oftentimes if you haven't been on the market for a while and you haven't been out interviewing, you don't recognize that there is a whole world outside of the four walls of your office. And so, if for nothing else than to feel a little bit good about yourself, to recognize your value and recognize that there is life outside of this company and life beyond this portion of your career, it's going to [00:20:00] put things in perspective.
R
Courtney Hamilton of The Miles Group, thanks very much.
R
Courtney Hamilton on some smart strategies when your organization has new leadership. Check out other ways to respond to change, growth, and innovation on C-Suite Intelligence. Listen free on iTunes, Spotify, and other podcast platforms. I'm Richard Davies. Thanks for listening. [00:20:21]