Back To Podcast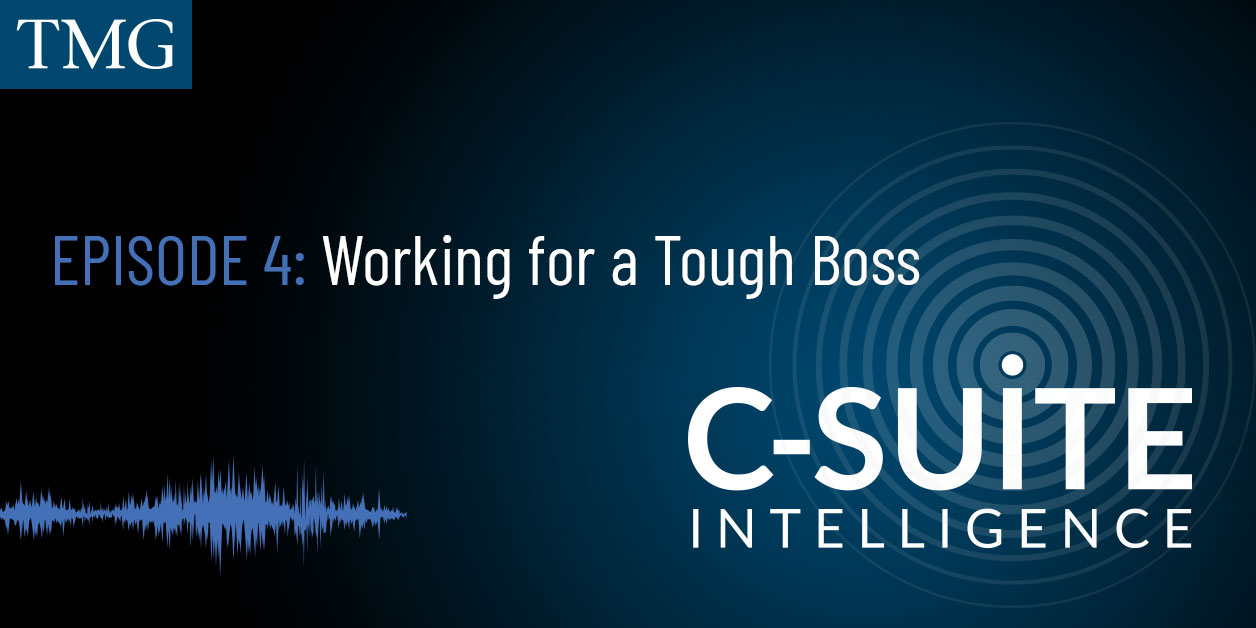 SEASON 1 | EPISODE 4 | SEPTEMBER 2019
Episode 4: Working for a Tough Boss
Working for a tough boss doesn't mean that you are powerless in your job, says Taylor Griffin. There are strategies for adapting to a range of challenging leadership styles – from finding information elsewhere in the organization when a boss is uncommunicative to diffusing heated conversations with a boss prone to anger. Griffin explains ways to be effective in your role even in difficult situations and how working for a demanding boss can be one of the most valuable experiences of your career.
In this episode
Taylor Griffin
Managing Director and COO
Coaching C-suite executives and board directors for top performance and talent optimization across the organization, Taylor Griffin works across a broad range of company size and stage – from the largest Fortune 50 global corporations to private-equity portfolio companies and emergent VC-backed firms. Taylor works with these leaders to continuously attain higher levels of performance, grow successfully into new roles or new organizations, and build their "viability" as succession candidates for the C-suite or the CEO role itself. With deep experience working with management and boards on "people" issues and succession projects, Taylor has contributed multiple pieces of research and articles such as "When High Performers Behave Badly," published in C-Suite and co-authored with her colleague Courtney Hamilton, and "How Boards Should Evaluate Their Own Performance," published in Harvard Business Review and co-authored with Stanford Graduate School of Business professor David Larcker, researcher Brian Tayan, and her colleague Stephen Miles. Prior to helping found TMG, she was with Heidrick & Struggles' Leadership Consulting Practice.
Full transcript
RICHARD
You work for a tough boss, highly demanding, unpredictable, and perhaps uncommunicative. What's your strategy?
C-Suite Intelligence: leadership lessons from coaches to the world's top-performing executives. I'm Richard Davies.
Working for a tough boss can make your life hell, but in many cases, the experience may be helpful to your future career.
TAYLOR
And what you can learn from somebody like that is pretty amazing. There's a lot you learn of what not to do, but there's a lot you learn to do.
R
Taylor Griffin, Chief Operating Officer at The Miles Group, says most workplaces are demanding. Resiliency is required
T
You can't be celebrated for everything you do, and in workplaces, there's often not a lot of recognition. It's just part of the job.
R
So, we're talking about working with difficult people above or working for a tough boss. So, what defines a tough boss?
T
I think it's a good question because I think it comes in a couple of different forms. One type of tough boss would be someone who's incredibly demanding, and I think that that's probably the most common type that you hear about—lots of last-minute requests, expectations in terms of work/life balance, quite frankly. The pace that they might set for themselves is not necessarily a pace that's easily followed by others, just a seat is hot type of a boss. It's not a complacent place and a comfortable place to work. I think the other type of boss that you see a lot is someone who's just highly unpredictable, and that can come in the form of moods. It can come in the form of their demands. Their unpredictability makes it really tough to align to them.
R
Now, the classic impression that many of us have of the tough boss is the demanding boss
T
Right. Yeah, [00:02:00] exactly. Well, you know, I think demanding bosses are a good thing. You learn a lot from those types of bosses. So, if you go around and you ask people, "Who's the best boss you ever worked for?" a lot of them will describe somebody that just gave them a lot of room, empowered them, didn't interfere too much. But you ask them...you could ask that same person, essentially, "Who did you learn the most from?" and they would describe a very different personality. And I think the demanding boss is actually a really effective boss
R
So, "tough boss" is not necessarily a diss. It's not necessarily a bad thing.
T
Right, I think so. Right. I think there's an expectation that all bosses—particularly, I think, sometimes you see this with younger generations—bosses are going to be really supportive. They're going to recognize and praise you. Feedback, when you get it, is going to be incredibly constructive, and it's going to be thoughtful. Those expectations are too high. People are really busy. What you want is someone you can learn from, and that can come in a variety of forms, but demanding is a good thing
R
One form of tough boss we haven't mentioned is the boss who is underperforming, the boss who isn't up to your standard.
T
Right. Well, look, I think there's a couple of types of these. I mean, some of them aren't necessarily underperforming with their total set of responsibilities, but they may not be paying a lot of attention to your area. That's one type that you might see. The other type is, you know, they themselves aren't very good, and that can be difficult to work for when you yourself are a high performer and have ambitious goals.
R
How do you deal with an angry boss?
T
One, obviously the anger has to be within some boundary, but I would say questions are the best way to diffuse any kind of anger situation. And this happens—it's not just bosses, but whenever you have somebody who's kind of bullying in that environment or sort of "smartest person in the room." You can see it being called a lot of different things. Usually, it's just [00:04:00] facilitating the person and asking questions to clarify what they're seeking, how do folks line up, how do they get what they're expecting, and how do you help get to the right outcome. And if you stay there with whatever the right outcome is for the business and don't let it impact your emotions, you're not escalating the situation any further.
R
Define "facilitation mode."
T
So, to me, it's really seeking to understand what they're trying to get at. "Tell me a little bit more about what you need here," or, "How can we help?" It tends to diffuse somebody's emotions.
R
What about bosses who are not good at communicating?
T
You see that a lot, particularly with the unpredictable bosses because a predictable leader is somebody who has communication cadence and usually management systems and processes in place that allow for better communication. A lot of complaints you hear from people is just that they don't know what this person wants, and they don't have information from above to help them do their jobs better. They don't have information from outside that's going to help them do their jobs better, and they don't have information from their manager that's going to help them do their job. And most people just need communication. That's how you delegate effectively. It's all a communication tools thing.
R
Yeah. Are there types of tough bosses or outliers that we haven't discussed in the description of a tough boss?
T
Well, I mean, I think there's probably people that are really bad bosses, you know? And you've got plenty of examples of those out there that violate values, integrity, ethics. That's not what we would define as a tough boss here. There's guardrails, I think, to our dialogue, and I think most of the time you really see it within highly demanding, highly unpredictable.
R
How does all of this relate to corporate culture?
T
Well, I think within different cultures, you get a lot of types of management. So, within one company, you see a lot of different types of managers. So, we'll see people go through their [00:06:00] career and escalate through their career inside of one organization, and they'll have experienced many different types of bosses, some of them that they would describe as very good, some of them they might describe as bad, some of them they might describe as just very, very tough. And so, what your culture does is it creates the guardrails for behavior on one end of the extreme versus the other. So, you have to operate within a set of norms, but within those norms, you'll see a lot of different types of leadership behaviors. So, I don't think that you can have one set expectation for a management style.
R
We live in a society where many things are codified, where rules are meant to account for many different situations.
R
But corporate culture, when it comes to dealing with a tough boss, can only inform you so much, right?
T
Culture is an interesting one. I had one client say it really well. Corporate culture should always be evolving, and actually always be changing, but values stay the same. And so, corporate values are becoming increasingly more important because culture is something that should evolve. You shouldn't have the same culture statement in place a decade from when it was initially created. That said, it keeps people within boundaries of behavior, but within those boundaries, people can behave in a lot of different ways. And just because there's a stated corporate culture, too, doesn't mean that everybody follows it.
R
Many companies are kind of secretive. So, is that a problem when it comes to trying to find out what the boss is expecting of you?
T
You know, it's a funny thing. I think people, they think it's secretive, but the truth is they just have to ask questions. So, for instance, we have a client that has a very notorious secret culture, and the truth is they're not necessarily that secretive. They just expect people to go figure it out, and going and figuring it out means going to ask those questions.
T
The onus is on you to get information. It is actually up to you as the employee to get that information to be the most effective employee possible. Do a diagnostic on what their style is. When do they seem to be operating at optimal effectiveness? What are the types of questions that they do ask? What are the areas that they're most interested in as it relates to your set of responsibilities? How are they going to measure you? Are they clear on those measurements? Do you need to seek clarity around those things?
R
And what are some ways you can do that?
T
I like the idea of what I'll call synchronizing with your leader. So, you take control of the conversation. Don't expect that your manager's going to come to you and sit down and have this very clear set of goals, very clear set of explanation around how he or she is going to manage you effectively, what their expectations are of you. Instead of waiting for them to do that, go to your manager and propose some options there. Maybe it starts with a series of questions: "How do you like to be communicated to?" Some people like to be communicated to by phone, some in person, some via email, some via text. It can come in all sorts of different forms. If you're in a tech company, they like to use whatever their technology is. So, be very clear in terms of how they like to be communicated with, how often they like to be communicated with, what are the types of details they want.
R
And you should ask your boss those specific questions.
T
Ask the questions, yeah. In the absence of information, seek it out.
T
And I think there's the other elements of it, too, which are around—you know, it's not just how they like to be communicated with. But do they know what success looks like at the end of the year for you? So, maybe they don't, maybe they do. Maybe they're going to be clear with you about it. Maybe they won't. But you should figure out what it is. What is the gold star at the end of the year for you? If you map to that and you have a clearer understanding of that, you're much more [00:10:00] likely to achieve a successful outcome.
R
Right, and get information not just from your boss but from colleagues.
T
Right. I mean, some bosses are going to be—as we talked about earlier, communication being a key element of sometimes working for a difficult boss—some bosses are going to be really prolific in their sharing of information. Others are not so prolific and not very clear in their communications. So, it's up to you to seek clarity, and you can do that in a variety of ways. I think it starts with them, but maybe it's seeking information from your peers. Maybe it's seeking information from your team. You should constantly be on an information hunt.
R
Are there specific challenges for young executives or young, up-and-coming executives that apply to them more than to, say, higher-level executives?
T
You know, it's a good question. I recently had an engagement with a female boss and an all-female staff, which I found interesting
T
And unusual, and actually amazing, but the boss exhibited what I'll call some inflammatory behaviors mainly in the form of being incredibly demanding and maybe a little unpredictable. And what you found was that there was a lot of complaints coming out of that, people highly sensitive to it. And so, I guess I say this in the sense of: it's very interesting because you wouldn't have seen that, maybe, many years ago. Tough bosses were expected
R
Yeah, I was going to ask you about that. Are you finding that younger employees today are more sensitive than maybe they were 20 years ago?
T
More sensitive and definitely more willing to raise their voice around what they see as a potential issue, and I think that that has real benefits, and I think we're seeing some of the benefits more broadly in the public eye. But what you have inside of a company is that somebody hasn't really violated values or principles of an organization. They're just tough and demanding, and that's a different thing, [00:12:00] and there's less resiliency towards that, too.
R
So, willing to speak up, good; overly sensitive, bad
T
Right. Bad, exactly. I actually think—when I work with senior executives, especially, and you go through their career, one of the interesting pieces is that they've usually had a really difficult period and a difficult boss throughout there. And what you can learn from somebody like that is pretty amazing. There's a lot you learn of what not to do, but there's a lot you learn to do, particularly if they're demanding around performance. Like, learning how to tension an organization and create some discomfort inside of an organization is a good thing. It helps to drive performance as long as it's done, of course, within the bounds of appropriate behavior. And I do think it's a great experience in terms of just building their own resiliency. And what you would want to almost encourage younger employees is how do they think about their own resiliency and what they can handle in terms of difficult feedback, high performance, somebody who is a little unpredictable. You need resiliency around these things because not everybody's going to cater to you.
R
Talk a little more about that, about the difference between being resilient and overly sensitive. That's a tough boundary.
T
It is a really tough boundary. It's hard to create hard and fast rules around this, too. So, you have to situationally address it and assess it, quite frankly. So, I just...you can't be celebrated for everything you do, and in workplaces, there's often not a lot of recognition. It's just part of the job. You get paid to go there. That's your recognition
R
Yeah. If you're paid well, then it's assumed you can do the job.
T
Exactly. There's a lot less pats on the back in the workplace, and as you progress, there's a saying, "It's lonely at the top." That means there's no pats on the back. It really is quite lonely
R
You coach people at the top. Do you [00:14:00] speak with them about not being too tough?
T
So, I would actually never coach someone away from being too tough. I would coach them away from being unpredictable. So, those are two different things. And I would coach them away from being too hands-off. So, unpredictable and hands-off can be a bad thing, in my mind. Tough is a very good thing in my mind. What I would say is you want to give somebody the parameters to be successful under you, and that doesn't mean coddling them in any sort of way, but it means having a management operating system that allows them to predict when you're going to come in and come out and what you're going to expect of them. It's meetings. It's processes. It's your expectations. It's how you're going to measure them. Being clear, being predictable, you've created the parameters for someone to be successful regardless of what your personality is like.
R
How can you be a tougher employee?
T
So, I think it's the idea of absorption and your job being to absorb the impact of things around you, and in order to do that effectively, you need to have appropriate outlets outside of work. So, work cannot be your outlet. I had a client say to me once, and it was great, she said, "You need to get your love elsewhere. I don't care where you get it, but you need to get it outside of work." And so, you can't be needy in the workplace. It can't be the place that you're looking for a lot of validation because you're not going to get it there in the same way that you would get in your personal life or in any sort of outside activity. To absorb effectively means you can't bring a lot of emotion to that, and you have to be able to sort of depersonalize certain situations.
R
What about if you just dislike your boss?
T
Oh, that's a valid point and can happen quite a lot. You're not there to like your boss. You're there to work for your boss, and this isn't a personal relationship. I read an article the other day that was talking about workplaces that promoted friendships, and then I read another article that was talking about what you can learn about [00:16:00] managing through rock bands. And it was talking about The Beatles and how close of friends they were, but it only lasted for seven years. Friendship is not what you're seeking out in a managerial relationship, and I think you need to be very clear with that from the outset. It's not a friend relationship. I mean, it can be a supportive relationship. It can be a good relationship, but it shouldn't be a friendship. So, it doesn't mean you need to like them. You need to be able to work with all different sorts, and you will encounter all different sorts of personalities. And so, like should be taken out of the equation. Sometimes even respect should be taken out of the equation, unfortunately. You're not always going to have the highest degree of respect for every person. But can you line up to them? Can you figure out a way to be successful under them? Can you predict what they need from you? And can you be effective under them? That's what you're really looking for.
R
To sum up, it sounds like having a tough boss can be a good thing even if that tough boss is not always as effective as he or she might be because it can be a really valuable learning experience as you move up the ladder.
T
Exactly. And we should be looking for those learning experiences throughout our careers.
R
Taylor Griffin on working for a tough boss and how to make the best of a demanding situation. C-Suite Intelligence is our free podcast. Executives from The Miles Group share what they know about management, leadership, change at the top of organizations, and so much more. Free podcasts are available on your favorite podcasting platform. I'm Richard Davies. Thanks for listening. [00:17:45]