Back To Podcast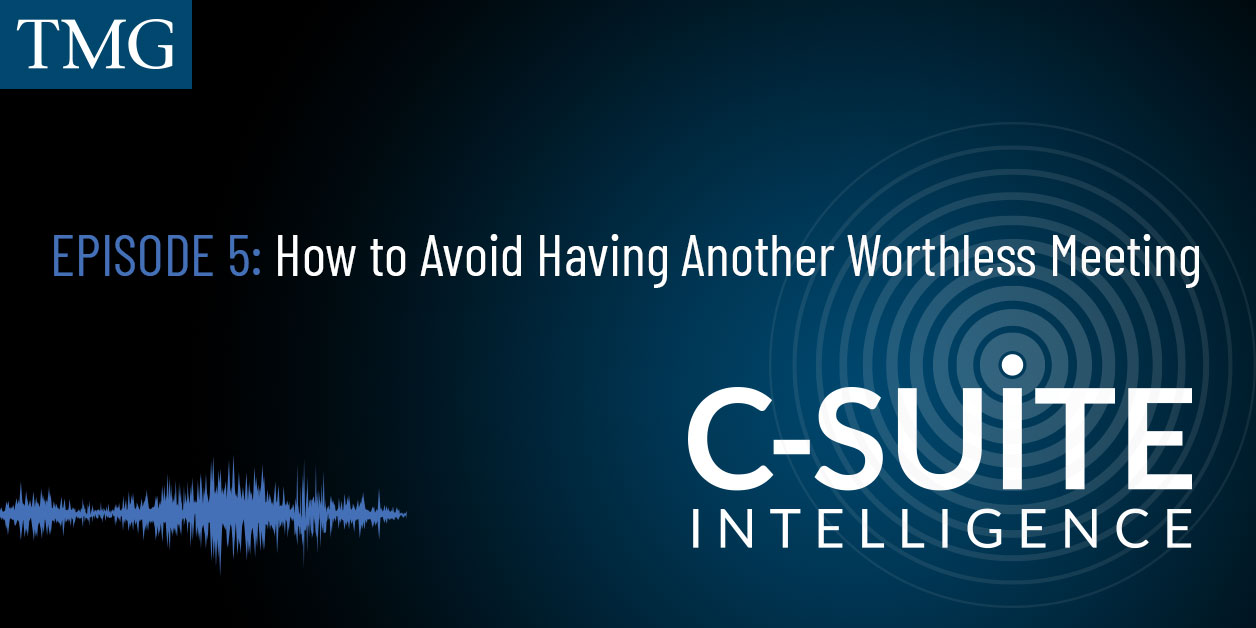 SEASON 1 | EPISODE 5 | SEPTEMBER 2019
Episode 5: How to Avoid Having Another Worthless Meeting
Meetings are the most expensive use of company resources, yet they are still too long, poorly organized, and a waste of everyone's time. But they don't have to be. Stephen Miles describes what's necessary to make meetings productive, efficient, and on-topic.
In this episode
Stephen Miles
Founder and Chief Executive Officer
Coach to top CEOs, boards, and C-suite executives around the world, Stephen Miles is the founder and CEO of The Miles Group (TMG). His 20+ years of working closely with some of the highest performing executives, leadership teams, and boards of directors in the global Fortune 500 has put him at the center of some of the most critical leadership challenges and decisions companies are facing today.
Speaking frequently to organizations on strategies for coaching C-level executives and developing high-potential talent, Stephen has been featured in the Harvard Business Review, The Wall Street Journal, Forbes, Fortune, Entrepreneur, and Chief Executive. He is co-author of Your Career Game: How Game Theory Can Help You Achieve Your Professional Goals; he collaborates frequently with the Stanford Graduate School of Business on research around CEOs and boards, including a recent exploration of the costs and benefits of CEO activism. Stephen and his CEO advisory services were profiled in the Bloomberg Businessweek article "The Rising Star of CEO Consulting."
Full transcript
RICHARD
Meetings: Usually, they're too long, poorly organized and waste of time. But they don't have to be.
C-Suite Intelligence: exclusive leadership lessons from coaches to the world's top-performing executives. I'm Richard Davies.
At most organizations, meetings are a source of dread—they fill up already busy calendars and can turn into the last thing you want to attend. Stephen Miles, founder and CEO of The Miles Group, tells us what's needed to make meetings productive, efficient, and on-topic.
STEPHEN
I think you can talk about the quality of the meeting to just look around, and if everybody opens their laptop and pulls out their phone and starts doing email, you're going to have another meeting. So, you know, let's focus on shortening the meeting, getting the content higher, and working on the topics.
R
On this episode, why meetings matter and how to be the best version of ourselves when we're in them.
S
If anybody enters the meeting and looks around and said, "Why are we having this meeting?" you should all just pick up your stuff and leave because you're going to have a bad meeting, A., and B., you're going to have another meeting because nobody came prepared for the meeting that you just had. I think part of meetings is the fact that you need to prepare for them, right? And, look, not every topic at every meeting, but there are certain topics that require a pre-read, and what happens most of the time is, if you introduce this, then you get the Encyclopedia Britannica, hard copy version of a pre-read, which is 1,000 pages with mind-numbing amounts, and you get it at 1:59 a.m., and your meeting's at 7:00, and nobody's reading that. So, therefore, you're going to have a meeting that people are unprepared for, and—I promise you—you're having another meeting. And then, other times, you get into the meeting, you look around, and the person's who's critical to the meeting isn't there and they forgot to dial in. Guess what, you're having another meeting. [00:02:00] So, I think part of...you know, I coach an executive, and we were having the conversation around meetings, and he said, "Steve, look, there are two kinds of meetings. There are immature meetings, and there are mature meetings." And basically, 90% of the meetings inside a company are immature meetings, and immature meetings are: topic hasn't really been formed; there's no pre-read; people who are supposed to be in the meeting are not present; or somebody who makes a habit out of hijacking the meeting and trying to take a decision that, again, nobody's prepared for—that happens inside the meeting—and then everybody at the end of the meeting simply gets up and leaves and there's no conclusion to the meeting. So, guess what, in all of those instances, you're having another meeting.
R
Yeah, as a participant in many meetings, the thing that drives me crazy when somebody's leading it is the leader just lets people ramble, and there's no specific direction.
S
What's interesting in my coaching to executives is I suggest to them, "You need to go to manual before you go into any meeting." And basically, what this suggests is you have an automatic way of leading and behaving and comporting yourself, and sometimes that's good. Sometimes it's less good. But if you consciously go to manual before you cross through the doors of any meeting or anything, just going through the door: "Who's in there? Who's the audience? Am I leading? Am I participating? And what's the best version of myself in this context?" you can draw on your leadership skills. So, if you're leading it, and it's a brainstorming session, you're probably not going to start off the conversation. You're going to go around the table and facilitate. If the decision's been made and this is about execution, you can be slightly more directive in the way that you lead the meeting. But being purposeful in terms of your leadership and/or your participation and being purposeful as you cross the chasm into the meeting by going to manual and just doing the three-millisecond hijack of your automatic response and then being the best version of yourself will make a huge difference.
R
So, that's the first part: entry as the meeting is beginning. The second part is the meeting itself, [00:04:00] and here both the leader and the participants need to show they're present by being focused and avoiding distractions.
S
Part of the meeting itself—let's just assume that you're a participant—your brand as an executive inside the company is on display for everybody in that meeting, right? So, have you read whatever there is to read? Are you prepared? Do you have some notes? And can you participate in whatever the topic area is? Or are you distracted on your iPad, on your iPhone, or in some other way, leaving the meeting to take phone calls, or just an intermittent participant both on your computer or physically leaving the room? And in the context of that, that's your brand, right? Everybody's looking around, and that's your brand, and that's not a good look. So, again, coaching to you, you may have a leader of a meeting who unfulfills you day in and day out, but the expectation on you is to be the best version of yourself and have a good executive brand as you comport yourself around the company. And one of the ways to do that is to be present and to participate.
R
So, that involves any kind of meeting whether you're a leader or a participant.
S
I think you can talk about the quality of the meeting to just look around, and if everybody opens their laptop and pulls out their phone and starts doing email, you're going to have another meeting. So, you know, let's focus on shortening the meeting, getting the content higher, and working on the topics.
R
You've mentioned "have another meeting" several times. Why is it that so many organizations have so many meetings, and, it sounds like, have far too many meetings?
S
I think it goes back to people don't realize the drain on company resources, and I think people somehow think these are free. They're not. They're the most expensive use of company resources, and they're often the lowest productivity version of the company.
R
Why are they the most expensive?
S
Because oftentimes [00:06:00] when you have a meeting, you're assembling a group of people of varying scales inside the organization, and you're taking them for an hour or two hours or a day or a half a day to participate on whatever the topic is, and that's a huge resource if you look at it from an hourly perspective times however many meetings are going on that day.
R
So, in any meeting, from a leadership perspective, the preparation for that meeting is vital.
S
I think if you are bound to PowerPoint, which is a picture-related vehicle, to have a meeting, then you should ask those people who are participating or producing the slides to have a narrative on the front end of it that actually has a point of view. Because what happens with pictures is everybody takes away a different version of whatever's in front of them, and, look, most of the time we just want to get our way, and if I can look at the picture and somehow get my way, that's how I'm leaving the meeting. So, our job as leaders or presenters inside meetings is to create some questions—for example, to organize your consumer of your data around the key topics and then put a short narrative in there to give a point of view—and therefore, I can consume the pictures, but I can consume it with the overlay of your questions and your point of view, and I can be better prepared to have an interaction with you.
R
And do this at least 24 hours in advance?
S
Yeah. I mean, part of it is we need to teach people how to write the short letter. Those people who can get it to three to five pages and maybe an appendix—that creates an efficiency inside the organization. It gets a point of view, gets the key facts out there, and now we can have a discussion. The challenge is you're just overwhelmed with material, and you can't consume it as a follower or a leader.
R
Well, how important is writing clearly part of a senior executive's job?
S
You know, I think that there's just a general standard and bar that's required to be a successful high-performing executive, and we want to be inclusive here, and people have preferences around being verbal versus [00:08:00] being written, but I do think the standard needs to be high on both verbal and written. And we do need to give people feedback and provide them with templates and ways of organizing their thoughts that facilitate the short letter with the right amount of content in it, and that takes practice. And I think a lot of times people don't get any feedback, and they don't get the proper practice. So, bad habits seep in quickly, and then those bad habits sort of seep into your meetings being horrific.
R
After the entry and being present during the meeting, the first two parts, there is part three.
S
So, you need to leave well. I think if you do nothing but leave well, you'll have a better meeting, which is, "Okay, let's summarize what we actually talked about here. Let's be clear on what decisions were taken. And what are the elements that are still open, and who are the responsible people to go get that data or follow up?" So, each meeting is cumulative, and if you have to have another meeting—and, look, you can't just have one meeting on any topic. There's usually a series of meetings, but you want each meeting to build on the previous one. Therefore, you're ending well, and then you're entering the next meeting at a better place.
R
You've made a clear distinction between being present as opposed to being productive. What are the...what's the difference between those two terms?
S
If you're in my generation, we've become multitaskers. If you're in the more youthful part of our generation, you've started out being a multitasker, and I think for some reason people think that now the entire world is a multitasking world and that you can be 10-20-30% present at any moment in time, and you can sort of partition out the other elements of your attention to other things. I'm sorry, but it doesn't work. I don't care how smart you are or how good you are. A. Your brand is diminished because I'm looking over at you on your cellphone or iPad, and I'm like, "Why are we here?" If you're the presenter, you feel really bad because if you happen to be the leader and you're doing that, [00:10:00] "I just spent all night working on this, the last week, last two weeks, last month," whatever it happens to be. "It's a special occasion for me to be able to present, and now when I present, elements of the team and the leader are distracted, and it just reduces my engagement, and it reduces my view of you as a leader and the brand that you present as a leader."
R
My personal observation is, actually, women are better at multitasking than men.
S
Look, I've been fortunate enough to coach many of the highest-performing, most successful women in the world including pioneers in CEO leadership positions. I think, in this context, you're on to something. I think that there is an element of focus, and, look, if we're going to do something, let's do it really well. And let's not discount the men that are out there, but I do think it's incumbent upon all of us to understand who we are and what we bring to the table. And in the context of our brand, what are we signaling to other people? And in this context, you want to signal that you are attentive, that you have done your homework—because there is homework required when you're an executive—and that when somebody is doing something, presenting to you in some way, shape, or form, it's usually something special that they're doing, and that you're creating an environment that looks at that specialness in terms of your engagement with them and on the topic.
R
The ability to focus deeply on one issue at a time—is there a generational concern here? Is this something that younger people sometimes struggle with more than older executives?
S
I think if you go to your corner coffee shop and look around, you'd probably answer yes to that, but, look, I've also had the benefit of coaching some of our highest-performing unicorn startup CEOs who are clearly in the next generation. And the one CEO that I coach who's one of the youngest and most successful CEOs in the world, I spent six hours with him in six different meetings, [00:12:00] and I never saw his cellphone. So, there are always exceptions to what you're describing. He's clearly a differentiator, maybe, in his cohort, but I get his 100% attention when I'm with him, and we interact at a very high level. There are other instances of people where there is a high level of distraction. And for me, I'm trying to coach, I'm trying to have an interaction with you. I've usually flown somewhere to be with you, and I want to have an engagement that's not 30% of you. My own experience with the highest-performing people is they've figured out what you're on to, which is: How do you have laser focus? Maybe it's for shorter periods of time, but how do I have laser focus with people on specific content? And my experience with their laser focus is 100%, and that could be the close-to-retirement CEO or my unicorn startup who's in his twenties.
R
How important is that level of focus?
S
Super important, and I think it creates clarity in your thinking. It creates clarity in your brand. I think you are always signaling to people, your counterparties, how much you value them because you are engaged with them in their topic as opposed to being distracted in some other topic.
R
Thank you for your laser-like focus on these questions and not being distracted despite the presence of a cellphone on the table. Stephen Miles, thanks
R
Stephen Miles of The Miles Group on being the best version of yourself in meetings and why that's so important whether you've just been hired or are in senior management. I'm Richard Davies with C-Suite Intelligence: leadership lessons from coaches to the world's top-performing executives. Check out all of our free podcasts, and please subscribe. Thanks for listening. [00:14:01]