Back To Podcast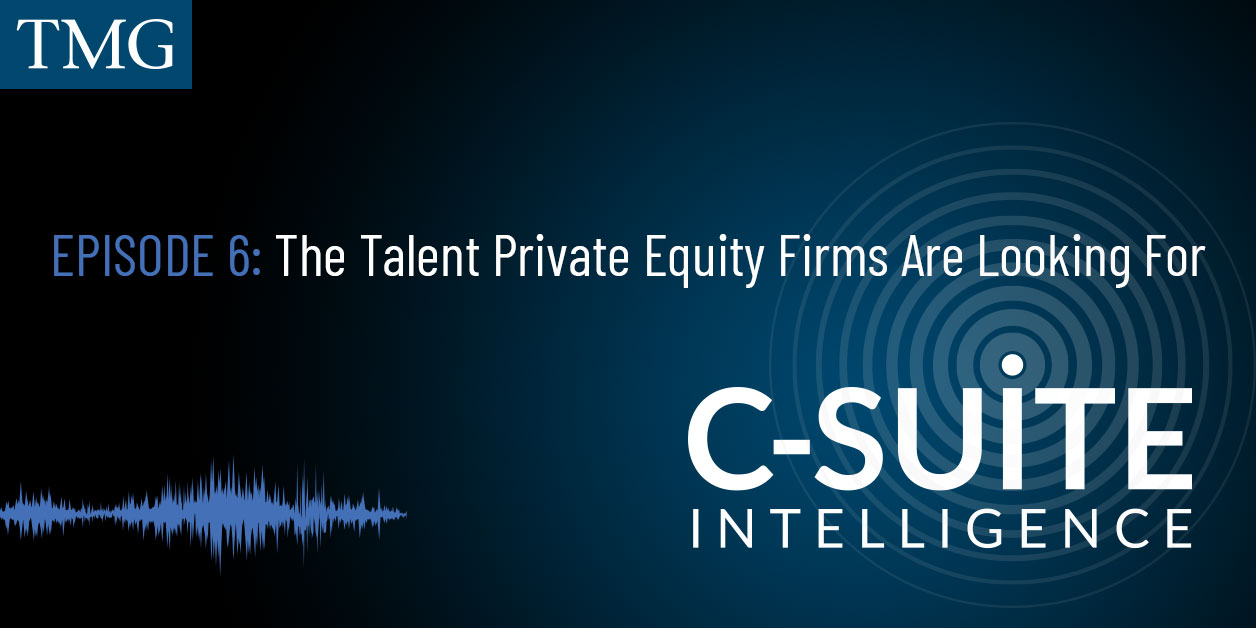 SEASON 1 | EPISODE 6 | SEPTEMBER 2019
Episode 6: The Talent Private Equity Firms Are Looking For
Private equity firms want the best management teams in place when they purchase companies. If your company is being evaluated by a PE firm, what do you need to be prepared for when it comes to your job? Where can you bring value to the company under its new ownership? Courtney Hamilton and Billy Stern discuss talent assessment in a private equity takeover and how employees can position themselves as the right talent to drive investor goals and growth.
In this episode
Courtney Hamilton
Managing Director
Courtney Hamilton works with senior executives in both Fortune 500 companies and private equity- and VC-backed firms to assess and develop talent. She advises boards and top teams through their most critical leadership challenges – including CEO successions, organizational change initiatives, and key executive transitions and new hires. With extensive experience in executive coaching and development, her work crosses a broad range of industries, from financial services, technology, and media to industrial products, consumer products, manufacturing, transportation, and healthcare. Courtney co-authored with Stanford Graduate School of Business professor David Larcker, researcher Brian Tayan, and her colleague Stephen Miles the paper "Where Does Human Resources Sit at the Strategy Table?". For C-Suite magazine, she contributed the article "When High Performers Behave Badly" with her colleague Taylor Griffin. Prior to joining TMG, Courtney ran livingsocial's market entry strategy in Asia. She has worked in investment banking and in marketing at American Express in Beijing and FBR & Co. in New York.
William Stern
Managing Director
William (Billy) Stern brings extensive corporate counsel, private equity, and M&A expertise to his work coaching and advising CEOs and senior executives around individual and top team effectiveness. In his talent assessment work, he conducts pre-hire assessments of executives for clients, as well as talent assessments at companies that are potential targets of equity investments. Billy also focuses on CEO and senior team succession planning as well as board evaluations and optimization. With his colleague Matt Bedwell, he wrote "Are Uncertain Times Causing Your C-Suite to Panic?" published in Chief Executive. Prior to joining TMG, Billy was the Chief Legal Officer at Ancestry.com, where he was responsible for Ancestry's initial public offering, domestic and international acquisitions, going-private transaction, and subsequent sale. Prior to joining Ancestry, Billy was General Counsel at Martha Stewart Living Omnimedia, Inc.
Full transcript
RICHARD
The talent private equity firms want most in a company buyout.
C-Suite Intelligence: leadership lessons from coaches to the world's top-performing executives. I'm Richard Davies.
Private equity firms want the best management team in place when they purchase companies. What kind of CEO and senior executives are they looking for? Courtney Hamilton and Billy Stern of The Miles Group tell us what can be expected when private equity firms take over an organization.
BILLY
I think realizing that this is not a "gotcha" exercise is critically important and that there's value add not just to the entity but to you.
R
First, Courtney on the large number of deals in recent years.
COURTNEY
Well, I think we've seen a large deal volume and consecutive years of deal volume. I think cheap capital has been accessible for the last ten years or so. However, there might be fewer and fewer deals to do, and so, I think that's the turning point that we're looking at now.
R
Because cheap capital's not drying up, at least yet.
B
But I think more and more companies welcome going private if they're public because the public markets are so difficult to exist in, and managing quarterly expectations and revenue results is a very difficult landscape against which to have a long-term view for your business. So, it's much easier to be private and invest for the future and take a short-term loss for the longer-term gain when you're privately held than it is when you're a public company.
R
And what are some of those problems of being public as opposed to private?
B
Well, you have to manage the Street, right? So, you give guidance, and you give quarterly estimations, and you're sort of telling people where you think the company will go. And to maintain your share price, that should be up and to the right, but sometimes there are big investments that [00:02:00] say, "Hey, we want to take a dip on purpose," and the Street may not be receptive to that, where a private investor can be.
R
Are we finding, Courtney, that more private equity firms, when they take over companies, are hanging around for longer before exiting?
C
Well, I think what we've seen post-IPO, the directors are certainly staying on the board for longer—I think for a variety of reasons, but namely among them, the fact that the markets have just been really dynamic over the past couple years. And so, their cost basis is looking a little bit different, and they haven't exited with...in the same period of time or in a shorter period of time as they did in the past.
R
So, when private equity firms are out there assessing companies, where does talent come in when they're doing due diligence, or is it more a question of, "We think this company can be making more money"?
B
I think it's a little bit more the latter. So, they look as companies as assets and the business model therein and how they can make them more profitable. I think, historically—which doesn't mean accurately—talent's sort of an afterthought or a trigger after the investment thesis rather than at the front end as part of the investment thesis. And historically, with many of the large private equity players, one way they come in and try to arbitrage the opportunity in the short term is bringing their own known talent in.
C
Right. I think one of the pieces that you often see is there is an undervalue of the franchise—sometimes, they think, because of the leadership, specifically. And so, if that is a piece of it, then they are certainly going to clean house. So, for example, if they think the CEO or the CFO hasn't been properly representing the company to the Street, and they haven't been able to own the narrative [00:04:00] of what's happening, they think that therefore it's a great time to come in and take a stake because it's particularly undervalued, and changing out leadership alone, before doing anything else, will see a bump in the stock.
B
I do think that whether it's pre- or post-deal or investment, as the case may be, I think private equity is wise to do an assessment of current talent rather than just assume that their talent's right because the dynamic can oftentimes be something that's a "pre-existing" synergy that they should continue, or there are problems that, frankly, removing some of the talent or replacing some of the talent or reorganizing around the talent can be a way to immediately realize a return on their investment.
C
Yeah, I completely agree with that, and I think there's a component when you're assessing a team, so you're assessing—maybe it's the CEO and his/her full top team. Beyond just understanding the individuals and their roles and what they're good at and what they've been able to deliver, you get to understand a lot of the dynamics across the team, and, in these interviews, you get really interesting tidbits about the fact that while the way that the finance function is set up with sales, it completely lacks accountability, and therefore we need to both change people out and change the structure because that's a fundamental problem here. And sometimes, you get a lot of that data through assessment interviews.
B
And the other thing I think we learn is that so many companies—notwithstanding the fact that they all know they're supposed to be maximizing shareholder return and being efficient—have actually organized themselves, officially or unofficially, around some egos, and those create enormous inefficiencies that are kind of easy to fix.
R
Has there been a change with regard to talent that private equity firms are looking at and asking themselves now compared to the past
C
I think that, typically, what private equity firms look for, especially when they're going to change out a team and [00:06:00] bring in some of their people—it's all about having someone with proven expertise. They're not comfortable with scope risk. They might be a little bit comfortable with scale risk. So, "I've done this at $5 billion. Now I'm going to do it at $10 billion," but when it comes to scope risk, they're rarely bringing in a CEO who hasn't already been a CEO. They're rarely bringing in a COO who hasn't been a COO before. So, that hasn't changed. I don't think you've seen that. What you have seen is a greater willingness to take the opinion of other people around what the team can and can't do.
B
And I also think that when private equity comes in, they have an opportunity before they themselves either bring their own perspective and/or get tainted by the preexisting perspective to objectively look at where people's biases are hindering performance. And a lot of companies over the years have gelled around issues rather than curing them on the personality and talent side, and I think private equity comes in and has an opportunity to fix whatever speed bumps or problems there are in the chemistry and interaction of management.
R
For folks who aren't familiar with the terms, what's the difference between scope risk and scale risk?
C
Sure. So, when you look at scale risk, it's all about changing the scale of what you've done. So, for example, I was the chief marketing officer at a five-billion-dollar company in the software industry, and now I'm going to be the chief marketing officer at a software industry company that...$10 billion. So, it's the same job, just bigger, right? So, there's components of that that might be a little bit different from a scale perspective. You might have a bigger team. You'll likely have a bigger organization. But the functions and your experience leading those functions and leading the team and driving an outcome are pretty similar, actually. I think when you have scope risk, [00:08:00] you have, for example, someone who's a chief marketing officer at a five-billion-dollar software company is going to be a chief operating officer at a five-billion-dollar company. They've never done that before. There's components of that role that they've never done before. Maybe they're going to take on HR. Maybe they're going to take on finance. That hasn't been necessarily a huge component of the role of leading from the front around those functions, and so, there's inherent risk there because they just haven't done it before.
B
Given that private equity firms have an investment thesis, finding proven operators to hit the marks is very important to them, and sometimes they do it without regard to the culture of the company that they're changing out, and sometimes they do it with regard to the culture of the company. And you can put in an operator who looks on paper like he or she will maximize your return and yet has an enormous cultural impact if you don't think about the rest of the company when you're doing it.
R
Is that a problem that pertains more to private equity firms, that they don't consider the culture of the company and that that's not high enough in their priorities?
C
It's certainly an issue. I think Billy can speak from personal experience, but I think we see oftentimes it's highly focused on being able to deliver in a short period of time and to drive results in a short period of time. Culture pretty much falls to the bottom of the rung—again, depending on the investor, though.
B
I think it's a bad joke to say that the 30-something with the spreadsheet is realizing where wealth maximization can take place and suggests fixes, and then I think it's up to the sort of sager people in the room to realize, A., that fix doesn't have to happen overnight—this isn't a stock price bump; this is an investment over the long haul—and that cultural dynamics changing too quickly can have an adverse impact. So, I think it varies by company...by private [00:10:00] equity investor and by company and by the horizon for the investment.
R
But in most cases, corporate culture's pretty important, isn't it?
B
I think it's critically important, and the question is how you massage it, and sometimes it's bad, and that's why they're coming in to change it.
R
Let's talk about the CEO role. What kind of CEO is many private equity firms looking for?
B
I think great operators who are responsive to their boards because the private equity is going to sort of be the new board, if you will. A lot of companies, whether on purpose or by happenstance, have boards that have become captive to the talent that is CEO because the CEO has played a large role in selecting the members of the board and approving members of the board. And so, the relationship sometimes can be a little too close, and I think when private equity comes in, they have the chance to really observe and evaluate a CEO for whatever he or she is actually delivering rather than how well they're handling the board.
C
Definitely. I think that's a big component of that. This, again, goes to the investment thesis of what they're trying to do, but typically if they're bringing in a new CEO, they want an operator who's going to deliver on that thesis as opposed to someone that they have to convince of it
B
Most CEOs have gotten their company to the place where it is an attractive target for the private equity investor. So, then the question becomes whether they see eye to eye with the private equity investor going forward, right? And they usually have a big enough equity stake that, of course, on paper, they do, but in terms of day-to-day operations and what the company can and should be doing, that's where things can sort of fall apart.
R
What about with the C-suite team as opposed to just the CEO?
B
I think the same thing applies, and it varies by company how much charisma [00:12:00] the other C-suite members have and how seriously they're taken by the private equity team.
C
I think it also depends, again, back to this whole investment thesis, of what they need to drive, right? Are they small tweaks, or is this in real trouble and we're talking about basically dismantling this company and putting it back together again, right? Have you actually had a team that's driven pretty good performance over the past couple years, but they need to fix some fundamental things and that's why they're going private? But some of those things might be out of their control. I think it is really, really case-by-case, but oftentimes the private equity board will also try to align with the CEO and allow him or her to have a say in who his or her direct reports are. One project we're working on right now is a buyout of a large global services organization out of the Midwest, but it operates loads of call centers, so lots of frontline employees. They—this is interesting—they actually invested in this company because they really see the sector growing, and they invested in this CEO. They want her, and so, they're making a bet on her. And while they do see some changes that need to be made, they've been very careful in how they go about making them and ensuring that they're fully aligned before they push for anything because, at the end of the day, they see that the more partnership they can have together, the more likely they are to be able to deliver the outcome they're looking for in a shorter period of time.
R
At The Miles Group, you work with private equity firms and help assess talent.
R
When an assessor walks into the room, can you figure out whether the person you're interviewing is up to the job fairly quickly, or is it something that really does take some time?
C
In certain [00:14:00] cases, it can be pretty easy, especially in a comparative situation, so when you've got a merger, and you've got basically two people for the same job. Certainly, we're not going to judge a book by its cover. It's going to take more than five minutes, but in certain cases, we've done our homework. We understand what this person has or hasn't done. And so, we might be going in with a little bit of a preconceived notion, which again goes back to the idea that you need to do your own homework as the assessee to understand what we might or might not be looking for and understand the work to be done in your upcoming role, so that if there's a gap in your résumé, you're going to speak to it and be able to give us content about it. So, we really try not to jump the gun on the assessment. But I think, in other cases, it can actually be really difficult, and my favorite assessments are when it's a big surprise, when somebody changes your mind about them.
B
Yeah, and I think that the way we go about assessing, whether it's our traditional process of crowdsourcing information rather than using some objective test about someone comes back with really interesting information because how they're valued by everyone who works with them can be very different than what the board or private equity investors think of that person. And so, they're a great insights gain there.
C
Right, and what Billy's talking about is our 360 process, right?
C
So, there's a couple different kinds of assessments. One of them is walking in and doing a two- or three-hour interview and just getting to know you as a person, understanding your career history, diving into some of those experiences. Great, but as much data collection as we can do beyond that conversation, the better. Sometimes it's an external succession. It's an emergency. You've got a week, right? So, you can get to some pretty good content there, but if you can do a 360 that is phone calls and conversations with the individuals that this person works with, you're allowed to have this open-ended conversation where they give you [00:16:00] sometimes conflicting data points, or they clarify things that they have and haven't done. So, it might be, "I architected the strategy for 20 by 20." Actually, they just printed out the deck.
R
And what's unique about your 360 assessment?
C
A lot of different providers use a sort of automated survey. You pick your evaluators. It sends you an email. You log in, and you have to answer a bunch of questions. And quite frankly, I've been on the other end of those, and they're pretty exhausting, and it's up to the evaluator on how much they want to give. When you actually have a conversation with someone, which is what we do—we call them on the phone—you get to understand the context in which they work together with a little more detail, how long they've known each other. You figure out quickly who your truth-tellers are, and you get a lot more specific data points. You're not relying on them to type it into the little bubble. You've kind of got them on the spot. And I think in a telephone conversation, as well, people are more forthcoming with data points.
B
And I also think that when you take one of these "off-the-shelf" tests, I can speak for myself, I'm a different person on Monday morning after three espressos than I am on a Thursday afternoon with a bowl of pasta in my stomach, and I'm going to answer those same questions differently. So, the accuracy of these objective tests is, in my mind, a little bit tainted.
R
You said that one of the most interesting things is when you change your mind as an assessor. Can you give me an example?
C
I think...you know, we do a lot of CEO succession planning. So, whether it's a short-term emergency situation or a three-year long game, understanding who they have in the pipeline in terms of talent and helping them to develop and get to where they need to be in terms of the key selection criteria for the CEO role, and I think when you've got more time is when you've seen a lot of surprises. And so, oftentimes you'll see people come in who don't quite fit the role. I think where we've gotten it [00:18:00] right is an individual's learning agility and their capability for further growth. And so, while they might not fit any of the criteria three to five years out of an actual succession event, what's really great is when you work on that development, you made the call on their learning agility, so you didn't count them out, and then you see them really flourish and grow and take on the CEO role and be really successful. So, that's, I think, the fun part of this job.
R
We've been talking about outside-in assessors looking at the leadership team, the CEO. What, in your experience, are some of the best ways that people who are being assessed in a takeover situation...what are some of the things that they can do to prepare to get it right?
B
Well, I'm not so sure it's a matter of preparing because, again, I think their brand is something that you can't really change in a very short period of time. But what I can say is, having been on the other side of the table—I met The Miles Group after being assessed by The Miles Group in a private equity investment scenario—I was the general counsel who thought, "What a ridiculous process this is going to be." I was totally skeptical about it and was like, "Wow, this is expensive. Wow, this is a waste of money. Wow, they're never going to know what a lawyer does. Wow, why am I wasting my time? I hate this." And at the end, I ended up joining The Miles Group. So, I 180-ed on the concept of an assessment. I think realizing that this is not a "gotcha" exercise is critically important and that's there's value add not just to the entity but to you because you're going to get feedback on what you do well, what you don't do so well, and how you can possibly get better at the perception of what you do well and what you don't do so well.
C
So, [00:20:00] one thing, in the context of a private equity assessment, especially in the context of a deal, I have to disagree with you a little bit.
C
I think there is a little bit of preparation to do. I do think that there is a little bit of homework to do, and I think especially—as we talked about earlier—if you haven't been in the job market for a while. And so, you need to be able to really carefully unpack your career experiences and create your own narrative about yourself, and the idea being that, again, you have to serve as your own agent in the interview process. Nobody else is going to do it for you. I think the other piece is the homework on: Why are they taking an investment stake? Why are they interested in this company? What are their plans for this company? And align what you're capable of doing with what they plan to do.
R
In a selection assessment, you're being interviewed by a new owner about your own job. How difficult is it to do that job differently because you may be required to with the new company coming in?
B
But in some ways, I think the question begets the answer. If the expectation is for you to do the job very differently, then you're probably tainted yourself because the rest of the organization thinks of you...there's a role bias. It's hard for you to come in the next day and be an inauthentic version of yourself and to suddenly perform and behave differently. So, I think if the desire of the owner is for you to be radically different, then maybe the answer is to get a different person in the job. That's sort of my bias. If it's just to see whether they're doing the job well, and there are other candidates out there, I think it's a different question, to me.
C
What I've found is some of the most thoughtful investors that we've partnered with over the past year really are making this investment in development [00:22:00] assessment. So, they've figured out, "This is the team we want in place, but we really want to understand how to optimize this team because we have big goals. We have big things we need to do. How can we figure out how this team works together, and how can we really make each person on this team the best version of themselves?" And so, it's not just beyond the sort of churn-and-burn assessment, yea or nay. There's this second piece that's focused on development that I think can really be a valuable component of coming into a company as new owners.
B
And one of the derivatives of assessing a few people like the C-suite is the organizational observations where we see what's working, what's not as an organization, not just replacing individuals but culturally what should be addressed.
R
Billy Stern, Chief Administrative Officer at The Miles Group with Managing Director Courtney Hamilton on C-Suite Intelligence. Every podcast episode in this series has tips and savvy advice based on years of experience from coaches to the world's top-performing executives. I'm Richard Davies. Thanks for listening. [00:23:09]