Back To Podcast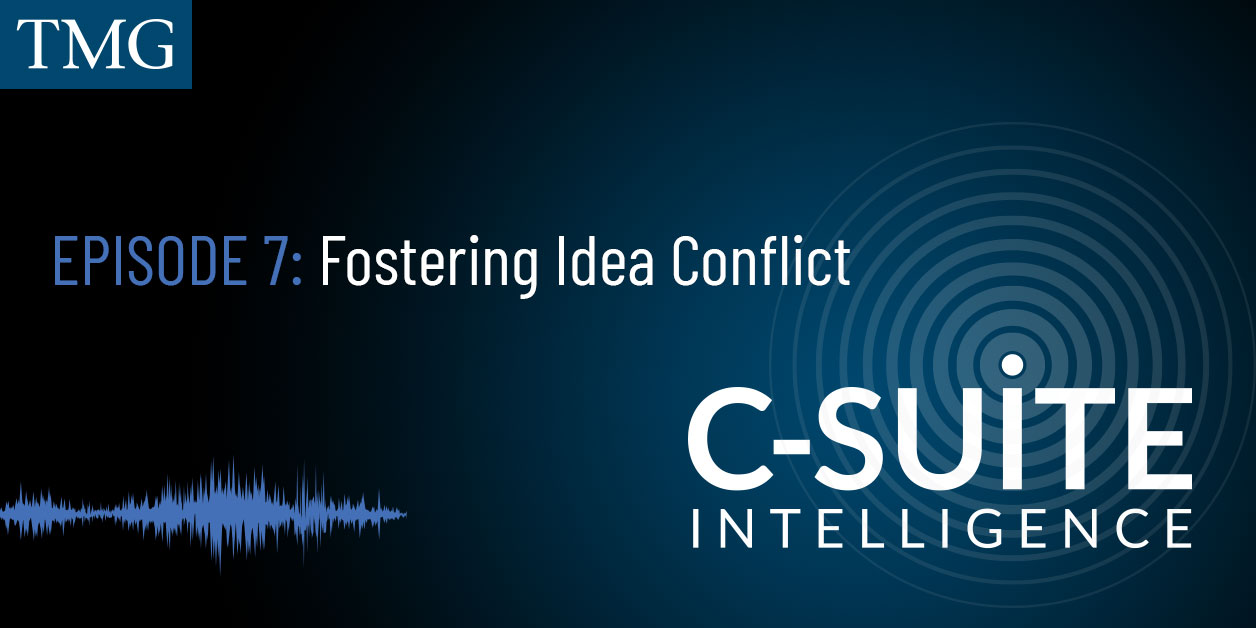 SEASON 1 | EPISODE 7 | SEPTEMBER 2019
Episode 7: Fostering Idea Conflict
Leaders can find it tough to get their teams to engage in real debate around a topic. Why? When people's ideas are challenged, many take it too personally. Workplaces can also fall victim to groupthink by over-collaborating. Stephen Miles explains how leaders can elevate growth by fostering "idea conflict" – pushing hard on the idea, not the person – and creating a space where different voices can challenge one another to advance their thinking.
In this episode
Stephen Miles
Founder and Chief Executive Officer
Coach to top CEOs, boards, and C-suite executives around the world, Stephen Miles is the founder and CEO of The Miles Group (TMG). His 20+ years of working closely with some of the highest performing executives, leadership teams, and boards of directors in the global Fortune 500 has put him at the center of some of the most critical leadership challenges and decisions companies are facing today.
Speaking frequently to organizations on strategies for coaching C-level executives and developing high-potential talent, Stephen has been featured in the Harvard Business Review, The Wall Street Journal, Forbes, Fortune, Entrepreneur, and Chief Executive. He is co-author of Your Career Game: How Game Theory Can Help You Achieve Your Professional Goals; he collaborates frequently with the Stanford Graduate School of Business on research around CEOs and boards, including a recent exploration of the costs and benefits of CEO activism. Stephen and his CEO advisory services were profiled in the Bloomberg Businessweek article "The Rising Star of CEO Consulting."
Full transcript
Richard
Fostering idea conflict: why this can lead to better decision-making.
C-Suite Intelligence: exclusive leadership lessons from coaches to the world's top-performing executives. I'm Richard Davies.
Most leadership teams want to increase the level of debate and discussion on critical topics, but often they're unsuccessful. So, what does success look like?
Stephen
I think what we're saying here is if you are the leader or the leader of the team, and you want to increase the debate around a topic, what are some of the things that you can actually institute to allow for an environment for that to happen?
R
Stephen Miles, CEO of The Miles Group, says the aim of idea conflict is to foster a higher level of debate on a chosen topic.
S
Essentially, what you want to do is uncouple the personalization of the topic and go hard on the idea. It's easier to say to all of the listeners out there that we just want to go hard on the idea and light on the person, but anybody who's been on a team before knows that most people who've worked night and day on a topic own the topic, and they own the topic right through their DNA.
R
So, it's part of my person.
S
Yeah, and so, when somebody challenges you—presumably in a low-politic environment—and they're challenging truly on the idea, you have a visceral negative reaction to that, and you put the gloves up or you totally recoil and shut down, and neither of those are good for the topic. And so, the idea around idea conflict is to give people tools to increase the level of debate on specific topics and then decreasing the level of personalization.
R
Let's look at the problem from several different perspectives, first from the perspective of somebody who's in a meeting. And they're being encouraged, "Speak your mind. Tell us what you really think," and they [00:02:00] shut down.
S
It's like feedback. Everybody says they want feedback until you actually give it to them, and what they really wanted was affirmation. They just wanted to be told how good they are. Similarly, everybody says they want to have idea conflict, and everybody says they want to take the debate and the meeting up to the next level, but when somebody actually tries to do it, that's actually not what everybody came to do. So, I think it's important first, if you are in the meeting or leading the meeting, is to sort of just gauge the temperature on: Is this real? And are people willing to engage on the topic in a real and meaningful way, or are people just saying they want that but really a lot of the meeting's already happened in the hallway and we're just coming in for ratification?
R
That's the problem, right? I mean, that happens a lot.
S
Yeah, it happens a lot. So, part of being organizationally aware and astute is to sort of understand what the culture of your team and company is and for you to be able to be the best that you can be in that context. Trying to individually change cultures related to some of these things is not going to happen if you just happen to be inside the company. So, you have to adapt in a way to be successful in whatever your operating environment is. I think what we're saying here is if you are the leader or the leader of the team, and you want to increase the debate around a topic, what are some of the things that you can actually institute to allow for an environment for that to happen?
R
If you're a team member as opposed to a team leader, and you think that your view may not necessarily be well-received, any tips for how you could put that idea forward—for instance, being a team player?
S
Look, part of the reason why people recoil and there's defensiveness around topics is people are just clumsy in terms of entering. So, they enter too strongly, or they use language that actually elicits a visceral response in their counterparty, and they [00:04:00] get the unintended or intended consequences. So, if you truly do care about the idea and you want to advance it, your EQ antenna needs to be on the highest of alert.
R
Your EQ meaning your emotional intelligence.
S
Yeah, your sensitivity for the people around the table and empathy for people around the table. And if those are on high alert, and you enter—and let's just assume you're going to enter clumsily because most people do—and you see your counterparty recoiling in their chair, they get defensive, they come back at you strongly, then just own the topic and say, "Whoa, whoa, whoa. I didn't mean for it to be that way. I didn't mean to elicit a response like that." And re-enter and say, "Look, actually, let me frame the question a different way. Let me ask the question a different way. Let me sort of soften the blow, so we're actually back on the topic and back on the idea," as opposed to you just continuing to push your clumsy approach to this.
R
Perhaps one tip is for people to ask a question rather than make a statement.
S
Well, I have my own personal learning as it relates to this being on a board. You're much better received by the management team if you frame your entry as a question, and—not that you have the answer to it—but you want to elicit a conversation around that set of questions that you're going to ask. The chances of that conversation forming are much higher, and it's much more easily received.
R
I'm assuming you think that, in many cases, idea conflict is good.
S
Not every topic needs to be taken to the mat. I think, look, if you look at collaboration in the highest levels of collaboration, I think a lot of our next-generation leaders over-collaborate. They spend too much time together and too much time on the topic, and you kind of get groupthink forming. The best version of collaboration is we all go away [00:06:00] and do our individual work, and then we come together at milestone moments, and we share our individual work in order to advance the whole. If we're in one of those milestone moments where we've done our individual work and now we're coming together to advance the whole, that's a place where it's good to get some debate around what it is we're doing here and what are our individual conversations? And that allows you to eliminate elements of groupthink and advance the conversation.
R
Because companies and big organizations are not democracies.
S
Again, I think you're on to a super important topic, which is I think that there's a lot of executives roaming around who think it is a democracy and everybody has an equal vote. That's actually not the case. If you're the leader, the best thing you can do is triangulate this individual work that's gone on because you're collaborating very well, and when you're in a collaborative point in time and the topic requires discussion and debate, that you're triangulating those individual points of view around the table in order to form your own point of view and your own decision-making. And it allows for an environment where there's engagement, there's participation, but I think you have to be clear—both as the leader and as the follower and the followers inside the organization—that this isn't a democracy, but, "I get to air and vet my points of view."
R
Airing and vetting your points of view—it's important to avoid groupthink, but this is a difficult…this is a touchy subject. I assume that no management team always gets this right.
S
Generally, this is really hard because this ability to get in under and debate and not personalize is a super powerful thing. Most of us are somewhere else on the continuum of idea conflict, but we want to encourage more of it. One of the ways that you can do it is if you have a specific topic—not every topic but you have a specific topic—that requires someone to take the other opinion—because what happens oftentimes on teams is you [00:08:00] have a person who's naturally the devil's advocate, and they speak up all the time taking the other position, and over time, they become the team A-hole. And it's true, and everybody will know who that person is on their teams, and when that person speaks, somebody goes to the washroom, somebody goes up and gets a soda. We wait until that's over, and then let's get back to our groupthink because we're all aligned around this topic. So, one of the ways that you can actually introduce idea conflict with a little bit of process is to assign a rotating devil's advocate. So, you actually...
R
Ah, so not always the same person.
S
No. You give permission to somebody who's credible and has content that's relevant to whatever the other side of the discussion would be, and we, as a team, empower them to take the other side of the point of view. And, look, when you give somebody permission, they don't become the team A-hole because we've given them permission to be on the other side, and now we can have somebody take it on, and then all of us are sitting on the other side of that saying, "Wow, that's interesting. I hadn't thought of it that way before." And it's not a mandatory requirement that everybody play that role, but what we want to do is get away from the individual who self-selects into the role and people discount them self-selecting.
R
What's the difference between being inclusive and groupthink?
S
Look, all teams have an "in" group, right? And there's a level of conformity associated with being a member of the "in" group, and a lot of times the "in" group and the associated conformity allow them to align, and there's an efficiency associated with how they think and the topics that they think on. And that's the challenge with diversity is actually inclusion, which is to try and get the elements of diversity that are around the table to express themselves when you need those differences as opposed to forcing conformity. And that's the challenge for every person and every leader, which is to try and get the expression of inclusion even when you have diversity.
R
Does that mean encouraging people in a [00:10:00] meeting to speak up when they're a little bit on the quiet side?
S
You're forcing conformity if that's your modus operandi because there's a cohort of people that don't want to be forced into doing anything and find that extremely uncomfortable and find your leadership style extremely uncomfortable.
R
But doesn't the term "idea conflict" necessarily involve a certain amount of discomfort at times?
S
Right, discomfort around content as opposed to personalization discomfort. And I think that the challenge with the term "idea conflict" is "conflict," right? I think people generally don't like conflict. People generally run from conflict. And so, by trying to increase the level of conflict around an idea, I think just the topic makes people uncomfortable.
R
How do you coach an executive not to say to someone who may be as uncomfortable with being challenged, "Don't take this personally"?
S
Well, I think there's a few tactics you can take. Look, with somebody...there are a whole cohort of people out there that, little bee or big bee, are trying to bully you and intellectually bully you and make a show out of something, and oftentimes you're the star of that show if you allow them to do that. And that is taking things personally, and then they elicit a reaction from you, and then I would say that you're in the executive recovery business because then you've got to go recover that incident. And oftentimes, because you were the person who reacted to the bully in some way, shape, or form, it's your job to go recover, and you're going to spend the next few hours or next day trying to repair the relationship and trying to fix your response to somebody who is working towards eliciting that response from you. Look, if somebody is a bully or somebody's taking you on, engage them in their content. If they're trying to bully you on your stuff, just flip the conversation over, which is, "That's an interesting point. I hadn't thought of it that way before. Tell me more." Right? So, you flip the conversation from [00:12:00] you to them and then you become intellectually curious related to whatever they're purveying. If they truly are a bully, it's usually a blank slate after you turn the conversation on them. So, and if it is somebody who's just clumsy in terms of their entry into the conversation but is valid in terms of their disparate view, then you're going to learn something. And oftentimes when you're in a situation where idea conflict is actually required, it's usually not a decision-making time. It's actually...the time is to actually think about the idea, take on other people's information, and then we're going to come back at some other point in time, or you're going to come back at some other point in time with a decision or a point of view.
R
Is that phrase, though, "Don't take this personally," something that a senior executive should not utter?
S
Well, look, we're all in recovery around our ability to personalize things and not take things personally, right? Anybody who's any good, who spends enough time at work personalizes their content because it's just...you know, it's most of your life. And so, to the take things personally thing, it's sort of: How do you address a situation where you are having that visceral response, where you can feel the drip of sweat on your back or you can feel like your hand's coming up? And, look, I'm a perfect example of that. I have to coach myself on this every day because I care deeply about my content, and I care deeply about those who are challenging me on that, and I've worked hard to basically embrace whoever the point of view is and try and learn something from them and get some content from them. And if they are truly pure in their intentions related to their interaction with you, there's going to be something good there. If they're a bully, you're just going to put them back in their chair where they should be.
R
Can idea conflict exacerbate gender or class tensions?
S
I think it's not just gender. I think it's the full spectrum of diversity it's going to test. [00:14:00] Those leaders that are able to operationalize idea conflict and have high-performing, diverse, and inclusive teams have a lot of range to their leadership style, and they don't have a one-size-fits-all to each person around the table. And that requires you to get to know your executives individually and understand where they're coming from and what their preferences are. It's not just incumbent upon the leader, and you sit back as whoever you are, and you're a follower. There's a follower expectation here, right? There are times when you need to conform just generally on efficiency, and there are other times where you need to express your differences in order to get to a different place. And I think that's the challenge with inclusiveness, is there's the follower requirement and a leader requirement, and both are important, and both have to be good.
R
Awkward things can erupt. Make the case for why encouraging idea conflict in some cases, at least, is a tightrope perhaps that a manager should walk along?
S
Look, when you're at the top of an organization, and you are decision-making, it's a bit like the legal profession, right? There is a next-best answer, and the people who are too responsive, too reactive, too straight-line, and too point-A-to-point-B often lose the fact that there is a next-best answer. In the spirit of complex, hard decision-making where you're oftentimes formulating a point of view and there's no right or wrong answer, there is a next-best answer. And so, your process for getting to next-best is really important.
R
So, that's a really good argument for why idea conflict can be vital to the DNA of an organization, but so often when you're further down the ladder and your boss is saying, "Let's talk this over," you're thinking, "Yeah, the boss just wants me to think that he or she is an enlightened person. This is about them. It's not about actually making our organization better."
S
That's why organizational [00:16:00] awareness is so important, right? There's no one-size-fits-all to what we're talking about, and your assessment of your leader and your assessment of whatever team you're interacting with and the maturity and elevation of that team is really important. So, even within the context of you maybe leading or being a member of a high-performing team that can get elements of what we're talking around idea conflict, that may not be the case in other parts of the company. So, you have to be very organizationally aware and savvy and then modify your leadership style to be the best version of yourself in those places.
R
Stephen Miles, thanks very much.
R
Stephen Miles on why idea conflict can lead to better decision-making. We discuss more topics of immediate interest to CEOs and other leaders of organizations large and small on C-Suite Intelligence: leadership lessons from coaches to the world's top-performing executives. From The Miles Group—get our free episodes wherever you listen to podcasts. I'm Richard Davies. Thanks for listening. [00:17:08]