Back To Podcast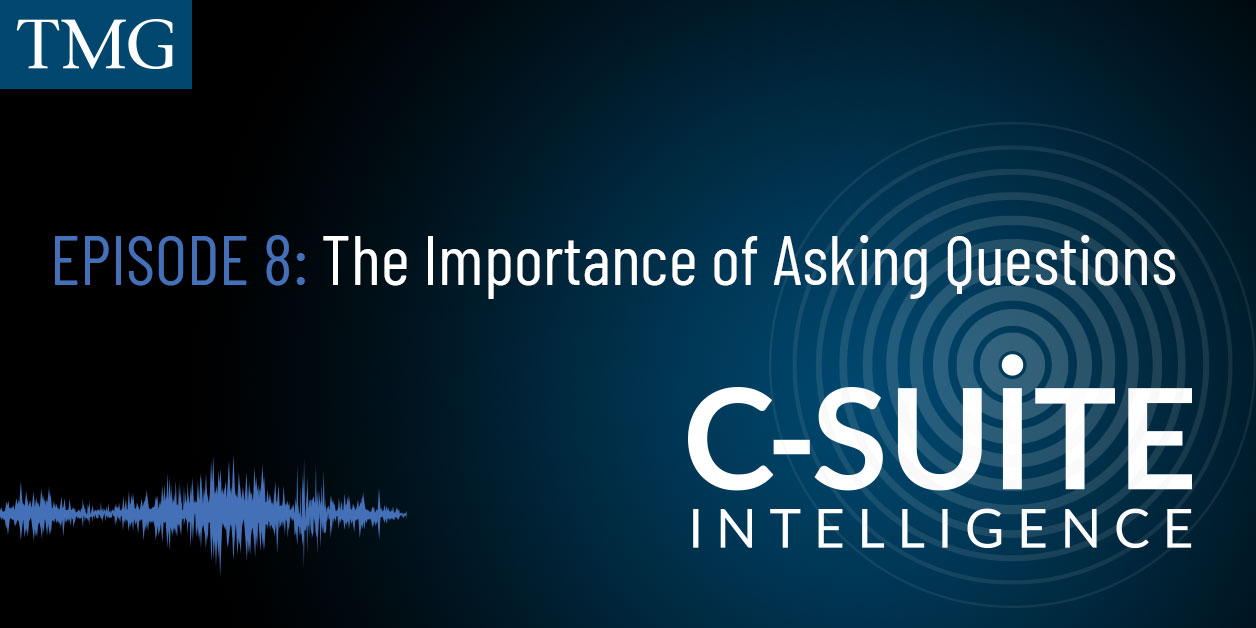 SEASON 1 | EPISODE 8 | OCTOBER 2019
Episode 8: The Importance of Asking Questions
One of the most effective tools to get the results you want, Taylor Griffin explains, is to think of your job as asking questions. Whether you are CEO or anywhere along the path to running a company, being Socratic in your interactions is the way to learn more, gain clarity, and understand the reasoning behind how decisions are made – good and bad. Taylor discusses the tone, timing, and context to consider when asking questions and how leaders can model a learning culture for their organization.
In this episode
Taylor Griffin
Managing Director and COO
Coaching C-suite executives and board directors for top performance and talent optimization across the organization, Taylor Griffin works across a broad range of company size and stage – from the largest Fortune 50 global corporations to private-equity portfolio companies and emergent VC-backed firms. Taylor works with these leaders to continuously attain higher levels of performance, grow successfully into new roles or new organizations, and build their "viability" as succession candidates for the C-suite or the CEO role itself. With deep experience working with management and boards on "people" issues and succession projects, Taylor has contributed multiple pieces of research and articles such as "When High Performers Behave Badly," published in C-Suite and co-authored with her colleague Courtney Hamilton, and "How Boards Should Evaluate Their Own Performance," published in Harvard Business Review and co-authored with Stanford Graduate School of Business professor David Larcker, researcher Brian Tayan, and her colleague Stephen Miles. Prior to helping found TMG, she was with Heidrick & Struggles' Leadership Consulting Practice.
Full transcript
RICHARD
The importance of asking questions—why they're at the heart of making good decisions.
C-Suite Intelligence: exclusive leadership lessons from coaches to the world's top-performing executives. I'm Richard Davies.
TAYLOR
Be curious. There's a lot to learn, and your job should be to learn it and be curious.
R
Whoever you are—top-level manager, board member, up-and-coming middle manager—results are linked to asking smart questions in the right way. Taylor Griffin is Chief Operating Officer at The Miles Group. Speaking of curiosity, how do you think of good questions?
T
One, I like the idea of forcing yourself to ask questions to start with, so thinking of your job as being one to ask questions. So, what I'll say is…I'll call it "the rule of five." In interactions, force yourself to ask five questions. It's a really effective tool as a manager of people because you're going to learn a little bit more. It's a really effective tool as a direct report because you're going to get a lot more clarity. So, forcing yourself to just ask questions becomes the starting point. Once you start doing that, I think it becomes a lot more natural. I like to think of effective leaders as being highly Socratic, and so it's your job to be Socratic and just ask questions, and be curious. There's a lot to learn, and your job should be to learn it and be curious.
R
For those of us who are a little shaky on our Socrates, when you say, "Be Socratic," what do you mean?
T
I mean ask a lot of questions. So right, the Socratic method is probably the most common form of this that you see in law school, and I'm biased because I went to law school, of course, but it's drawing people out through questions, and questions being how you get at things. And I think you have to view your job as a leader like that. It's not statements. It's questions that you ask.
R
But it's not an interrogation.
T
No, it's not an interrogation. So, how you ask the [00:02:00] questions—so it's a great point—how you ask the question really matters. Are you framing it in a way that's going to make the person's response be perceived well, or are you framing it and being sort of a jerk with it? That's not an effective question. An effective question is asked with the right framing in mind. And I do think when you're asking a lot of questions, it's okay to set context around that style. For instance, "Look, I want to learn here, and I'm here to learn," particularly if you're leading in an area where you're not an expert. "I want to learn from you. My style is to ask a lot of questions. So, I am going to be doing that on a pretty consistent basis, but explain to me this." And you can go into it with just a little bit of context up front to just sort of mitigate the impact that questions can have.
R
So, don't just simply say, "Okay, what do you think about this?"
T
Yeah, because I think when you go right into that firing of questions, it's like a firing squad. It becomes very intense.
R
Are there questions that you really like that you've come back to and you've used in different contexts?
T
So, this is going to sound overly simplistic, but I think the question, "Why?" is probably the most powerful one that you can find. It's, "Why is this so successful? Why is this not?" I mean, just think about it at its very basics. I think not enough people probe into areas that are performing well, and they don't ask any "why" questions around that. So, they don't really get deep in terms of understanding what's going on, what may be key to success, but also what may be a potential risk in the future. And additionally, when things aren't performing well, just asking the "why" questions to get at—it's the diagnosis of it. Or somebody's underperforming. Why are they underperforming? So, instead of just saying, "They're underperforming. Let's put them on a performance improvement plan," why don't we start with the, "Why?" It could be something going on at home. It could be something going on with their health. It could be 10 million things that have nothing to do with the person's capacity to do their job.
R
Are there less threatening ways of [00:04:00] asking the same question?
T
Well, I do think it's around the softness and the language that you put around the question. It's around the tone of voice that you ask the question in. I think all of the softening comes with the context that you give the question, as well as your tone.
R
I'm going to ask this question from two perspectives: one from you're the boss, and you're in a meeting with lower-ranking people, and the other also from people who are dealing with a boss, maybe a difficult boss. Are there times when questions are inappropriate?
T
Right. Just to start with the boss perspective and the boss operating downwards, I do think that you have to be cognizant of the situation. So, for instance, if you're asking a lot of questions of your direct report, and they're surrounded by their direct reports, that isn't always the best set of circumstances. It can be, but you just have to monitor that. You want to make sure that you're not disempowering them in any way or making them look bad in any way. I think the other piece is if it crosses over into an area that would be considered too personal or a personal attack of any kind. Those are never appropriate. When you think about upwards, I think you do have to think about your tone in asking questions, as well. This can't be around you questioning your boss's judgment in a way that's disrespectful, that lacks appreciation for the hierarchy that does exist inside of an organization. So, you want it to strike a respectful and professional tone always.
R
But is it okay for a direct report to ask a boss to explain their reasoning about something?
T
Yeah, I think so. I mean, you probably want to think about the context of the environment and the situation that you're in. If you're around your boss's boss, as well, probably not the best time. So, it really is using [00:06:00] some judgment and exercising some discretion in terms of how you choose and when you choose to ask that question.
R
And so, that speaks to the importance of the one-on-one meeting.
R
Which can be really helpful, right?
T
I think it's a great opportunity for the employee to ask those types of questions, as well as for a manager to ask some more pointed questions where it's a one-on-one environment. You don't have the judgment of others around. You're not questioning decisions. It doesn't seem like you're reversing decisions by asking questions. There isn't others' perceptions of it that can create some negative ripple effects, I would say.
R
Can asking questions make your job more interesting?
T
Of course! Because it's the element of learning.
R
Of course! Because it's the element of learning.
T
It's the element of learning. You would think that you'd want to ask questions, and you'd want to dive into it because if you love your job, you're interested more broadly in terms of what you're doing, and there's always something to learn.
R
And maybe if you don't love your job, it's a way of loving it a little more.
R
What can corporate culture do to encourage the asking of questions at all levels of the company?
T
I really think—with corporate culture in particular—you set the tone at the top. And so, I think it's senior leaders role modeling this behavior, role modeling it by they themselves asking a lot of questions and employees being able to see senior leadership asking questions. That could come in the form of—whether it's town halls, whether they see it in terms of how they engage, whether they hear about it from their leader that, "This is what our senior leaders do," and so they start to see their leader emulate those behaviors. It could come in a variety of forms, but I really do think culture starts to get defined by the tone the senior leaders set at the top.
R
There are questions, and there are questions. I mean, sometimes there are questions that shouldn't be asked.
T
That's right. You know, there are certain things that shouldn't be asked [00:08:00] because of...for various reasons of confidentiality. It's not something that should be gotten into with the specified audience. There's a multitude of reasons that you could imagine not getting into specific questions or questions that make people personally uncomfortable, but if you stay clear of those types of things, questions in and of themselves are a good thing. You see many more appropriate than inappropriate questions.
R
Should even top-level executives question themselves, and, if so, what sort of questions should they ask themselves?
T
You hope that they do, right? I mean, I think it's really important. So, for instance, having that internal locus of control to question and doubt yourself where you check, "Is this the right path forward? Have I appropriately triangulated across the right number of people? Have I gotten input from a sufficient number of people?" I don't think you want to see people question themselves in terms of their conviction wavering because that can be really bad for an organization and create a lot of confusion, but you do want to make sure that they're sort of testing and validating their own assumptions and thinking.
R
Yeah. How does humility play into this? And what's the balance between humility and ego?
T
Well, there's healthy ego, and then there's hubris, which is something different which becomes arrogance, and I think arrogance doesn't play well in pretty much any company and culture in any environment. And humility does play well, but not to the point where you lack confidence and direction. Most organizations would say that they would really like their leaders to have the type of humility where they seek and take advice. That's really how I hear it defined most frequently and where I see the most effective humility come out. It's humble enough to know, "I don't know everything, and so I should [00:10:00] probably seek out advice and input from others who do know something on this topic."
R
Yeah, that's a difficult one because I assume that there are times when an executive doesn't know something that he or she maybe feels like they should.
R
And so, it's difficult to reveal what you don't know.
T
Well, that's why I think asking questions versus knowing all the answers is the most important piece that you could have here as a leader, and that's the toolkit. A lot of people are put in these big, broad roles. They haven't done all elements of the role to be successful. Think about any internal transition to a CEO role. There is no way on earth that that CEO has led in every function in every business area of that organization. So, their powerful toolkit is asking questions where they don't know those answers, and it's using questions to find the answer and to get to the answer.
R
I asked you about what corporate culture can do to encourage questions. What about the board? What sort of questions should boards be asking beyond the obvious?
T
Well, I think for them, they understand it's their role to ask questions. I think the construct in general provides that as the avenue for it. They need...their interface with management has to be around healthy questions and healthy tensioning of management. It can get a little toxic when the questioning feels like an attack and it puts management on the defense. So, they do have to think about how they ask the questions, but their whole job is to ask questions. And so, they're usually quite good at asking questions. It's just making sure that they ask it in the right way and that they play off each other in the right way, so they don't pile onto one another, that one person can get a point across, and another person can build on that point, but it's not about piling on against management.
R
That's a really important point you made, and it goes way beyond corporate boards, and that is asking or not asking [00:12:00] questions that are perceived as an attack.
T
Yeah. I think you're always wanting to think about: Who's the person that you're engaging with, and how are these questions making them feel? And are you getting the best response for them? Because, ultimately, what you're trying to drive is a great outcome for the organization, and just getting somebody defensive or riled up isn't driving a great outcome. And so, how you ask the questions becomes really important and giving that person space and time to also respond to your questions.
R
Successful companies are nearly always top-down at least to a very large extent. So, how do questions inform that?
T
Well, corporations have to be hierarchical. Hierarchy isn't bad. It provides clarity. When you're completely flat, sometimes it's not clear who's going to make a decision or if we're going to move forward on something. Questions are a way of seeking out information, of obtaining the right information, so that the decisions made are well-informed. And so, I think it's just thinking through the lens of: this is all about seeking out the right information to inform the best decision. And so, receiving it in the right way is just as important as asking it in the right way.
R
C-Suite Intelligence is our free podcast. Executives from The Miles Group share what they know about management, leadership, change at the top of organizations, and so much more. Free podcasts are available on your favorite podcasting platform. I'm Richard Davies. Thanks for listening. [00:13:42]