Back To Podcast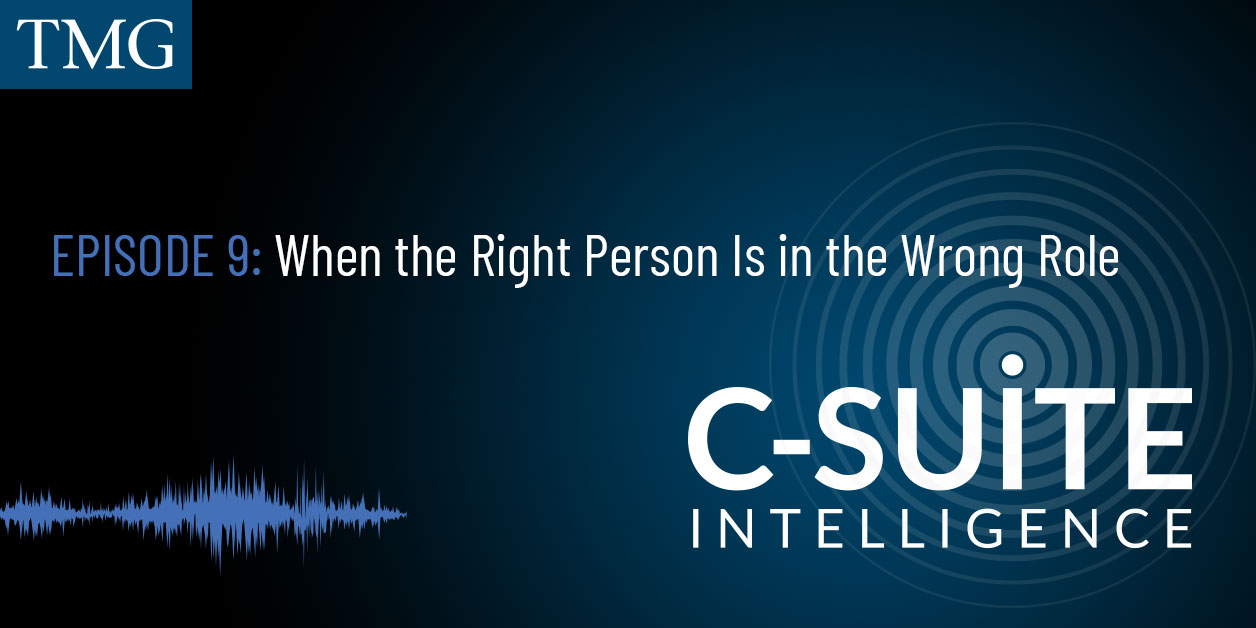 SEASON 1 | EPISODE 9 | OCTOBER 2019
Episode 9: When the Right Person Is in the Wrong Role
Many high-performing executives promoted or hired into a new senior role are "uniquely unqualified" for the position – they have never done that job before. This carries significant risk for the organization, as even the best people can fail when facing scope or scale beyond their experience. But companies can mitigate risk, Stephen Miles explains, if they give people adequate developmental support and ensure that there is strong enough capacity in place to support new talent coming onto a team.
In this episode
Stephen Miles
Founder and Chief Executive Officer
Coach to top CEOs, boards, and C-suite executives around the world, Stephen Miles is the founder and CEO of The Miles Group (TMG). His 20+ years of working closely with some of the highest performing executives, leadership teams, and boards of directors in the global Fortune 500 has put him at the center of some of the most critical leadership challenges and decisions companies are facing today.
Speaking frequently to organizations on strategies for coaching C-level executives and developing high-potential talent, Stephen has been featured in the Harvard Business Review, The Wall Street Journal, Forbes, Fortune, Entrepreneur, and Chief Executive. He is co-author of Your Career Game: How Game Theory Can Help You Achieve Your Professional Goals; he collaborates frequently with the Stanford Graduate School of Business on research around CEOs and boards, including a recent exploration of the costs and benefits of CEO activism. Stephen and his CEO advisory services were profiled in the Bloomberg Businessweek article "The Rising Star of CEO Consulting."
Full transcript
Richard
When the right people are in the wrong role.
C-Suite Intelligence: leadership lessons from coaches to the world's top-performing executives. I'm Richard Davies.
Large organizations face all kinds of risk. One example is when a high-performing executive is promoted to a senior role without being qualified for that job.
Stephen
My coaching is: up front, let's create some awareness around what the risks are.
R
Stephen Miles, CEO of The Miles Group. The risks of failure in job transitions are surprisingly high.
S
You can mitigate these kinds of risks, but you mitigate them by being aware.
R
We'll find out what successful executives should consider when they're promoted to a new role, but, first, let's look at the risk to the employer.
S
Well, I think a lot of companies have really good intent when they promote somebody internally or recruit somebody from the outside, and that good intent is they are hiring somebody for their capacity for growth. They can be uniquely unqualified to do that job because they have never done it before. So, they're doing something new and for the first time, and for some people, that can be in the pure sense where they've never done anything like that before and don't have a set of experiences that support that. But most often, we see people come into roles where they have a set of experiences that are tangential, but they're going into a role where they're going to do something new or different, and I think that their eyes are not wide open to the actual personal risk that they're taking in the transition, and I think that there's a discounting on the fact of the company in terms of supporting them in the transition and the risk associated with it.
R
What do you mean by "discounting" the risk?
S
I think a lot of people think they can fake it till they make it, and it's actually hard to fake it till you make it when it comes [00:02:00] to business. And there's certain expectations that people have of you when you come into a role because often when you're promoted or recruited, the expectations for your success and for your impact are very high, and then you have to come in and hit the ground running. And so, the risk that's resident for people is real risk for them.
R
Part of that risk is what you call "scope risk." What is scope risk?
S
So, scope risk is when there's something that you haven't done before in your new role, and you're having to do something new or something for the first time, and the greater amount of newness for the role against your experiences increases your scope risk.
R
Now an example of scope risk when a new senior executive is hired.
S
We can take, for example, a technology company. Let's say it's a $3 or $4 billion technology company, and they want to hire a chief marketing officer, a CMO. And what oftentimes will happen is that the search firm that's doing the search will say, "You need to get somebody big," and what that translates into is: you need to go to a large company and get somebody to be your CMO because they've had large-company experiences, and we want to bring those experiences back into our smaller company. So, in this case, let's say they went to a $40 billion technology company. The challenge is that the CMO of the $40 billion technology company doesn't want to be your CMO. Their direct reports often don't want to be your CMO, and maybe their direct reports want to be your CMO. So, you're three layers down into the big company, and what happens when you're three layers down into a big company is you have specialization. So, what oftentimes you think you're hiring, you're not hiring. You could be hiring, for example, the brand and advertising person who sits in this bigger marketing organization.
R
And [00:04:00] you're hiring somebody who's never been a CMO before.
S
Never been a CMO before, but even in the context of being a CMO, they're the brand and advertising person. They're specialized where the CMO job is very broad. So, let's take it all the way to the end. We bring that person into our technology company that's $3 or $4 billion, and what's interesting is the smaller technology company believes they've over-hired, and they're really excited about that over-hire because they actually went and got somebody big. And the person who's coming from the big company thinks that they're overqualified because, "I'm coming to this small technology company from my really big company. Therefore, you should be happy to have me." We have massive scope risk here because unless the work that needs to get done in the first year in the CMO role is brand and advertising, they are uniquely unqualified to be the CMO because they're coming with a very specific set of expertise against a broad, general mandate as the chief marketing officer, and you are truly uniquely unqualified to do that job.
R
So, who might be better qualified in that situation where the tech company wants to bring in somebody from the outside?
S
If the work to be done in the first year was brand and advertising, and the person from the big company who's specialized is a brand and advertising person, they can hit the ground running, and it gives them the degrees of freedom and credibility to build out the other elements of the role that they don't know.
R
So, they could learn on the job?
S
Yeah. So, you reduce scope risk by the overlap between what we need to get done in the first year and the specialization of the person. The other way you can reduce it even more thoroughly is to do what I would describe as "scale risk." So, you would go to the $1 billion technology company, and you'd hire their CMO.
R
So, a smaller technology company rather than a larger one.
S
Correct, [00:06:00] and they've done the totality of the role at a $1 billion company. You're asking them to come to your $4 billion or $6 billion technology company and to be your CMO. So, they've actually done the entire role before. Now you're asking them to do it at a higher scale.
R
You say organizations should avoid the trifecta of scope risk—the trifecta being somebody new to the role, new to the company, and new to the industry.
S
I think that that is something that you want to avoid whenever possible. There are very special people out there—and you can probably count them on one hand—that can handle that level of scope risk. But generally, what you want to do, especially as an individual who's managing your career or a talent manager or a hiring manager selecting people, is you want to try and reduce the amount of scope in the transition where you're getting somebody who is uniquely qualified in some way to do the role as opposed to uniquely unqualified.
R
What about scale risk? Could you give us an example of how that might be a problem?
S
Well, scale risk is an interesting one because I think that people think that scale risk is actually much more difficult than scope risk for whatever reason. And scale risk is, essentially, somebody's done the totality of the job, and now what you're asking them to do is exactly the same job, just at something much, much bigger. In my own opinion, there's less risk here because you're essentially reducing the amount of scope because the content for the job they've done before. So, now you're going to move company and culture as opposed to the content for the job overlaid on that and the position because they've actually done the position previously. Where scale comes in is that some people just don't have a capacity for personal growth, and so their smaller playing field is maximizing their potential as an executive. And so, the assessment here is a little bit more nuanced, which is: Can they go into a more complex environment as it relates to [00:08:00] getting stuff done and really leading in the role, or are they unable to do that? And I think a lot of people just avoid the scale transition because they think, "Somebody at a smaller company could never come and work at my larger company. Let's go get somebody at a big company." And the example that we used previously usually ends up in specialization. So, my advice to people when they're recruiting is to always have a slate of candidates—some from big companies but also some from smaller companies. You're taking scale risk as opposed to scope risk. Assess both cohorts to see who the best person is for the role.
R
So, if you have high-potential and you're being courted or headhunted for a job that may involve a certain amount of risk to you as well as to the organization that wants you, what type of risk should you beware of or worry about the most?
S
The easy first response to that, which would be an automatic no, would be you going into a critical role that requires critical technical expertise, and you have none of it because the chances of you being successful in that role are extremely low. And I would recommend, if I was coaching you, for you not to do that. So, let's take specific technical expertise in critical roles off the table. Now let's look at scale versus scope risk. What you need to do individually is to say, "Okay, what do I need to get done in the first year?" At the end of the first year, when you sit with your direct supervisor, what's the best conversation you can have with them related to the work that needs to get done? And part of the hiring process would be for you to sit with your hiring manager and say, "Look, let me understand the first 12 months and what 'exceptional' is going to look like in the first 12 months." Now you have an element of content for the role. What do you need to deliver?
R
So, as with so many other things, it's about asking the right questions before you make a decision.
S
Asking the right questions and then overlaying, doing your own [00:10:00] self-assessment. We always talk about being self-aware and having EQ and empathy. This is about applying your own awareness of your experiences and your capabilities against an opportunity. And don't go in just smiling and, "Hail fellow well met." You want to go in with your eyes wide open. You want to ask the right set of questions, but then you want to translate the answers to those questions against who you are and what you know, so you can be successful.
R
So, when you're coaching a high-potential executive, what do you say to them about which challenge to take and which challenge not to take?
S
I think one of the challenges with being a high-potential is that people worship you in some way, shape, or form. You're always on lists. You've always been given opportunities, and the next opportunity is always coming around. And what happens is that people start to drink the Kool-Aid or believe that they are Superman or Superwoman in the sense that there's nothing they can't go into and be successful. And, look, maybe there are a few people who are like that, but generally that's not the case. And what we want to do is advise people and coach people and help support them, so their career aspirations can be met and they can manage the risks associated with some of those transitions in their career. So, my advice—and I coach a lot of men and women around the world who are deemed high-potential inside their company—they're usually promoted beyond their peers at a rate that's beyond other people inside the organization. And sometimes they jump one or two or three levels, and they find themselves in a role where I would tell them that they are uniquely unqualified for. Part of this is just creating awareness around it, right? So, for me, it's putting that sort of headlights right in front of their eyes and saying, "When I evaluate the opportunity you've just been given, you are uniquely unqualified. We have a lot of scope risk here. So, how are we going to work together [00:12:00] to manage that scope risk?" And part of it is awareness because I think a lot of times, high-potentials just, "Oh, I just got the next job. I've been promoted. I'm VP. I'm SVP. I'm EVP. Look at how great I am." And then, you know, all of the crowd's gone, and reality sets in, which is: What do we need to get done in the first year? And you look back on the body of work that you have to draw on, and it doesn't actually overlay as well as it should on what we need to get done. My coaching is: up front, let's create some awareness around what the risks are.
R
And how should I react if I'm in this position of having somebody like Stephen Miles walk in and go, "You're uniquely unqualified for the job"?
S
Well, a lot of people react the way you just did, which is, "Me, uniquely unqualified? You're kidding me, right?" And so, part of this is just confronting reality. I think part of success in your career and success in life is to not skate through stuff but stop at these Ys in the road, and let's confront reality, and let's confront it in a way where we can manage the risk associated with the reality. And, look, I've coached people who are truly uniquely unqualified for their new role, and we've been successful. So, you can mitigate these kinds of risks, but you mitigate them by being aware.
R
In some cases, it may be better for the person who has been offered a promotion or an exciting opportunity to say no.
S
You don't have to say no if you're uniquely unqualified, but you can do some certain things, which is, "Okay, let's assess the team. What's the team I'm going to inherit, and how good are they related to the specialization that's required?" You can take more or less risk personally based on the team. If the team happens to be brand new, there's a lot of people new to role, new to company, you can take less personal risk. If you've got an incumbent team that's relatively high-performing, and you're going to sit on top of them, your ability to take a little bit more risk and the [00:14:00] company's ability to take a little bit more risk goes up.
R
I'm assuming that the idea that a company takes a risk with a new person in a key job is not something you necessarily want that company to steer away from entirely. But is there a special danger when it happens too often?
S
You're on to something that I think is really important, and this is the broader playing field around talent management. So, in every company everywhere in the world we've ever been in, you essentially have an open position, and in the context of that open position, usually HR, the hiring manager, and the head of talent management will suggest to you, if you're making this decision, that you should go get a high-potential to fill the role. So, they have a lot of capacity for growth, and oftentimes the potential part of this is what you're hiring for. So, they're often uniquely unqualified for the role you're putting them in in some dimension and—to our earlier conversation—there's scope risk. Most companies have open positions with hiring managers trying to fill those. There's a push towards high-potentials, which often means you're assuming some level of scope risk. What's interesting is if you back off and then start to look at the broader mosaic of hiring inside of an organization—and opposed to looking at one-offs, we're looking at, "Okay, who did we hire in the last 100 people?" And if my definition holds that we had an open position, and we went to get or promoted somebody who's a high-potential, now you could have a problem because the mosaic of uniquely unqualified people in roles who have an element of scope risk is now magnified across the organization depending on how much hiring's been done.
R
So, the takeaway: be careful about hiring too many high-potentials? Sometimes it's better to be a little safer?
S
Well, look, all of our jobs are really to develop people. We want to [00:16:00] give people the opportunities to be successful in their career. Part of that success is that you go into roles where you are taking on some scope risk, but we need to do that with our eyes wide open. What's the mosaic of talent? How many times have we done this? And what we want to do is just manage that holistically as a mosaic, and then we want to manage it at the individual level, which is: How do we support this person? Do we have the capacity from our leader to support this person? How developed and how strong is the team below them to support them? And if our eyes are wide open to this, look, we can develop amazing, high-potential, high-growth general managers or functional leaders. But this isn't about throwing people at the deep end with no wings on. We have to do this in a very thoughtful way and help people be successful. That's why the rates of failure and derailment are so high because the mosaic element of this isn't taken into consideration, and I think a lot of times people underestimate the scope risk in the transition.
R
Stephen Miles, your eyes are wide open. Thank you very much. C-Suite Intelligence: leadership lessons from coaches to the world's top-performing executives from The Miles Group. I'm Richard Davies. This episode is part of a series of free podcasts aimed at helping and advising employees, executives, and leaders at companies and other types of organizations. Thanks for listening. [00:17:36]
Want to be the first to know?
Sign up to receive our quarterly newsletter