Back To Podcast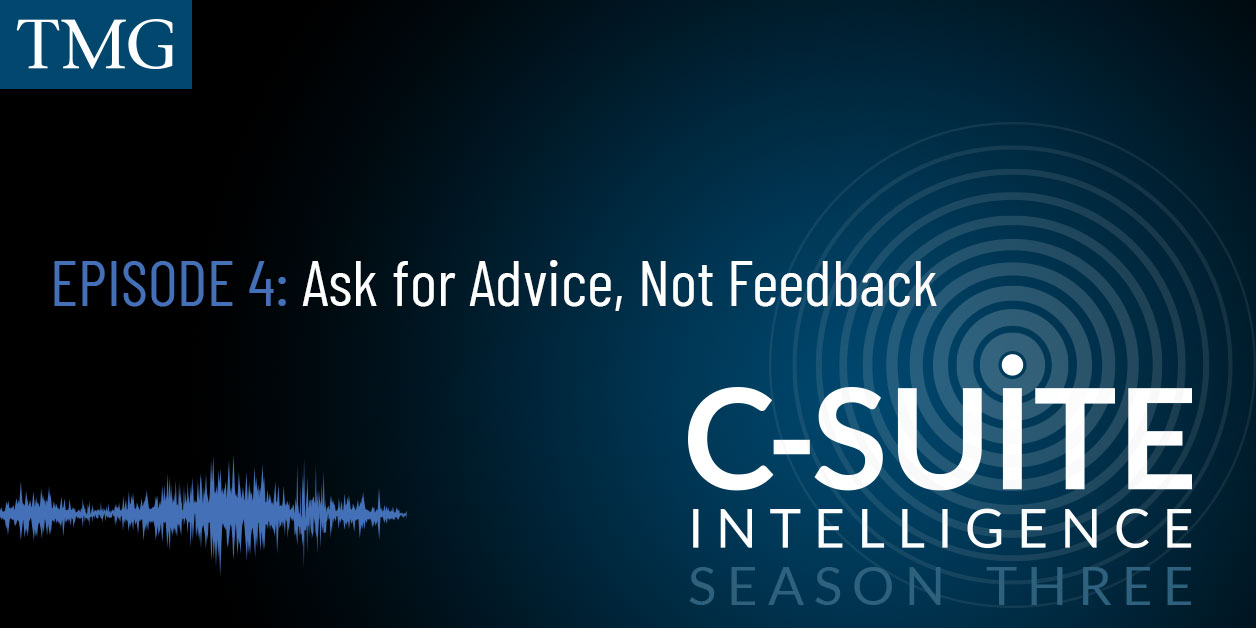 SEASON 03 | EPISODE 04 | JULY 2023
Ask for Advice, Not Feedback
Employees crave feedback on how to improve their performance, but according to workplace surveys, most say they don't get it. Taylor Griffin and Samantha Smith suggest asking for advice, not feedback. Advice changes the content from backward-looking and often negative to something that is forward-looking and framed in a more constructive, developmental manner.
In this episode
Taylor Griffin
Chief Operating Officer
Coaching C-suite executives and board directors for top performance and talent optimization across the organization, Taylor Griffin works across a broad range of company size and stage – from the largest Fortune 50 global corporations to private-equity portfolio companies and emergent VC-backed firms. Taylor works with these leaders to continuously attain higher levels of performance, grow successfully into new roles or new organizations, and build their "viability" as succession candidates for the C-suite or the CEO role itself. With deep experience working with management and boards on "people" issues and succession projects, Taylor has contributed multiple pieces of research and articles such as "When High Performers Behave Badly," published in C-Suite and co-authored with her colleague Courtney Hamilton, and "How Boards Should Evaluate Their Own Performance," published in Harvard Business Review and co-authored with Stanford Graduate School of Business professor David Larcker, researcher Brian Tayan, and her colleague Stephen Miles. Prior to helping found TMG, she was with Heidrick & Struggles' Leadership Consulting Practice.
Samantha Smith
Managing Director
Samantha Smith is a managing director with The Miles Group focused on CEO and executive succession planning, leadership coaching, executive assessment, board effectiveness, and team effectiveness. She partners with public companies, PE-backed companies and VC-backed companies across all sectors, advising them on their most important leadership and talent decisions. Prior to joining TMG, she was a principal at Heidrick & Struggles, where she was a member of the CEO & Board and Global Technology practices. Samantha successfully completed C-level searches for board members, Chief Executive Officers, Chief Operating Officers, General Managers, Chief Financial Officers, Chief Product Officers, and other functional leaders. She was actively involved in the firm's leadership consulting efforts and advised companies on succession planning, executive assessment, and onboarding.