Back To Podcast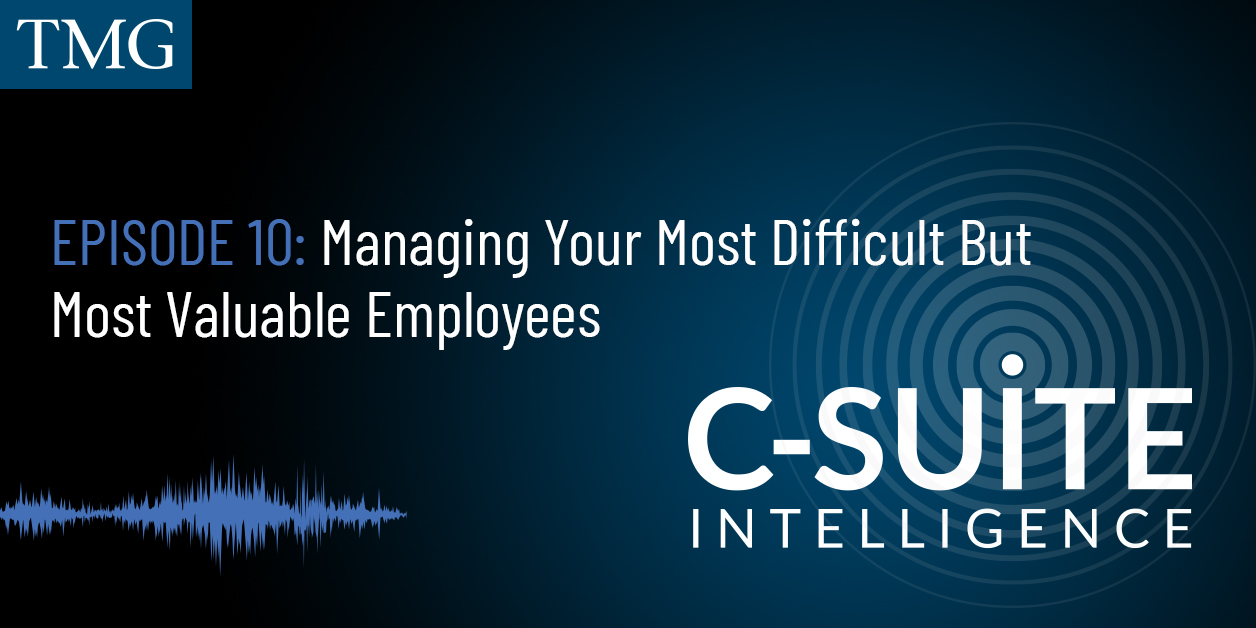 SEASON 1 | EPISODE 10 | NOVEMBER 2019
Episode 10: Managing Your Most Difficult But Most Valuable Employees
They're hard to get along with and difficult to manage, but they bring disproportionate value creation to a company, says Stephen Miles. He dubs them "high-beta" executives, and explains how their breakthrough thinking and willingness to take on a business's most difficult problems can result in massive opportunities for a company and its future. Miles describes the leadership style required to manage the idiosyncratic "high betas" and how to create a place for them to be wildly successful.
In this episode
Stephen Miles
Founder and Chief Executive Officer
Coach to top CEOs, boards, and C-suite executives around the world, Stephen Miles is the founder and CEO of The Miles Group (TMG). His 20+ years of working closely with some of the highest performing executives, leadership teams, and boards of directors in the global Fortune 500 has put him at the center of some of the most critical leadership challenges and decisions companies are facing today.
Speaking frequently to organizations on strategies for coaching C-level executives and developing high-potential talent, Stephen has been featured in the Harvard Business Review, The Wall Street Journal, Forbes, Fortune, Entrepreneur, and Chief Executive. He is co-author of Your Career Game: How Game Theory Can Help You Achieve Your Professional Goals; he collaborates frequently with the Stanford Graduate School of Business on research around CEOs and boards, including a recent exploration of the costs and benefits of CEO activism. Stephen and his CEO advisory services were profiled in the Bloomberg Businessweek article "The Rising Star of CEO Consulting."
Full transcript
RICHARD
They're hard to get along with and difficult to manage, but your organization might fail without them: high beta employees.
C-Suite Intelligence: leadership lessons from coaches to the world's top-performing executives. I'm Richard Davies.
High beta executives can make you billions of dollars, but they drive everybody in your organization crazy.
STEPHEN
Inside corporations, there are lots of things that are in the corner that smell, and a whole bunch of people go through a different door. These executives do not do that.
R
But they make the tough decisions and take on the most difficult problems when others don't want to.
S
They are difficult. They're difficult in every dimension, and they pride themselves on their prickliness.
R
Stephen Miles, CEO of The Miles Group, tells us more.
S
There are people inside an organization which I would define as disproportionate value creation. So, if you look at, for example, a pharmaceutical company, that's often the R&D function. If you look inside a technology company, it's usually software engineers, and these executives usually display higher levels of idiosyncratic behavior. They're usually very high on IQ. They're usually, in the stereotypical sense, a little lower on EQ or a lot lower on EQ, and there's usually a prickliness associated with the engagement with them. But that cost of doing business with them is rewarded by disproportionate value creation inside the company.
R
So, when you say disproportionate value creation, you mean these individuals are responsible for creating the most value in their organizations?
S
100% of the time, and I think that the confusion that you have is that there are a lot of people that would probably define themselves as high beta disproportionate value creators, and they're really [00:02:00] high beta disproportionate A-holes. Right?
S
And so, that's what happens, right? And so, they're prima donnas. They need a whole bunch of touch and care, but they're actually not giving anything in terms of value creation to the organization.
R
So, to add to the definition of high beta executives, what do these folks bring that other people don't?
S
So, a few things. They're typically what I would define as "nothing is too hard" executives. So, inside corporations, there are lots of things that are in the corner that smell, and a whole bunch of people go through a different door. These executives do not do that. The most difficult problems have personal risk associated with it, and they're willing to embrace all of that to deliver a better outcome.
R
Can you give me an example of a sticky, smelly problem that typically most executives would steer away from, and these high beta executives would go, "Okay, yeah, let's take that on"?
S
So, if you take a pharmaceutical company, what you really want to do is discover drugs. Drug discovery is one of the most difficult, fraught-with-problems adventure in the entire world, and it costs a lot of money. It's the proverbial needle in the haystack, and you need to be good at prioritizing, prioritizing around, "We've got 10,000 compounds, but really only 50 have any discernible upside." Right? So, what you're trying to do is differentiate, prioritize, invest in, and experiment in the sort of fruit-fly version of this, which is lots of life cycles in the petri dish, to deliver an outcome, and most people aren't willing to do that. They just sit back and throw stuff against the wall. Hopefully, something germinate as it relates to that, versus these executives that are much more willing to go after things and make bets, right? This is about taking risks and making bets, and a lot of people make a lot of little bets and have no upside on the other side versus [00:04:00] picking some things to really go for.
R
But just because an executive's willing to make a bet doesn't mean it's a good bet.
S
This is where they differentiate themselves from the crowd. They can actually pick things where the other side of that equation is a ten-billion-dollar drug. So, you know, in the context of this, their hit rate on the disproportionate value creation is disproportionate.
R
Are high beta executives needed now more than ever, and, if so, why?
S
The reason why I think disproportionate value creators are necessary is because we live in a world that's getting harder every year, not easier. Growth is hard to find. So, if we use our example in product or software or pharma or whatever it happens to be, what you're trying to do is create some growth as it relates to the organization, and I think differentiation as it relates to that is really important. And I think the world that we live in—growth is super hard, right? Anything you try and get on the top line is really hard. If you ask any CEO between 2008 and 2019, "Was there any years there where you were sitting back and playing a lot of golf?" and most of them would say, "Absolutely not." Each year seemed harder than the year before, and trying to achieve any level of growth was one of the hardest things they did as a company.
R
Really? I mean, say 2019 when the economy—at least starting off this year—looks pretty good compared to, say, 2009, 2010 when everybody was struggling.
S
So, you look at the play between 2008 and 2019, and it was a bottom line play. I think most of the companies, at least in North America, are the fittest they've ever been from a balance sheet perspective and from a cost perspective. They are moving from triathlete to Olympic athlete as it relates to their cost and efficiency, and that has allowed smaller amounts of growth to actually look bigger because it's amplified in the bottom line [00:06:00] because they're fitter as a corporation. You know, is the top line bubbling? It is not bubbling for anybody, at least I know.
R
We're talking about high beta executives. Many companies resist them. Why?
S
So, the reason that they're difficult is because what comes with that is usually idiosyncratic behavior, usually a level of hubris that's commensurate with their disproportionate value creation and just a high level of need for specialness and affirmation. So, these typically are not people who have bad ethics, who have bad values. They're good people with good ethics and good values.
S
But they require special handling.
S
And many executives aren't equipped for special handling. So, they have a bad experience, and then they go work somewhere else. And what you find is, eventually, they'll find and they'll seat in with a leader who understands them, who has range to their leadership style and is able to get the disproportionate value creation captured in their company.
R
So, how does their boss, how do the top leaders in an organization have good radar for their high beta employees?
S
Well, you know who these people are automatically. Any single person inside any company can put them on a list instantly, and then we have to separate the As versus the Bs, right? The important part is disproportionate value creation. So, we've got to get the As off the table. Once we get to that cohort, it really requires a lot of range to your leadership style because people will come to you on a team and say, "Why are they special? Why are they different? Why are they doing this?" And they're not conforming, right? And when you're not conforming, then you're different, and so this notion of inclusiveness—right? They don't ever typically want to identify with the "in" group. They want to identify themselves as something different and special, and as a result, you'll get a lot of pressure to get rid of them, knock them back, get them off the team.
R
Because they may be difficult [00:08:00] to work with, perceived as being difficult to work with.
S
They are. No, it's not perception. They are difficult, right? They're difficult in every dimension, and they pride themselves on their prickliness. It's just what comes, typically, with this package.
R
What kinds of risks are there for the person who is a high beta employee?
S
Every and anybody wants to get rid of you. It's true because what people want is calmness. They want everything to just feel good, and most people aren't up for this. These executives require disproportionate management attention and time. They want to come into your office. They don't typically want to schedule with you. They'll hijack your meeting because they've got some topic that's more important than whatever you're talking about, and that needs to be the focus of attention.
R
So, how do you deal with that?
S
Look, you can't go all the way out of the sandbox because that's what they want. So, you have to create some lines of demarcation in terms of how you're going to engage with them, but, at the same time, the talent, if you will, requires special handling, and you need to be a good special handler. If you, for example, work at a television studio, and you have a star who brings in $100 million a year in revenue, then most of that drops to the bottom line, most people inside that organization will be in service of the disproportionate value creation, and they are, right? They recognize the talent. When you translate that into a corporation, there are a few people who are the true talent inside the organization and recognizing that they are in service of that—especially at the CEO level, you can actually maximize that value creation.
R
Is it inevitable, though, that a high beta employee is a pain in the rear?
S
Oh, no. They're a pain everywhere. The rear is just one part.
S
That's just the 7-8:00 a.m. So, you have to, as an executive, understand that and be willing—there's a cost associated with this, and you have to be willing to explain the [00:10:00] cost to other people, "We're in service," and be willing to be in service of it yourself.
R
So, you don't want a company or an organization full of high beta employees.
S
It would be...chaos would ensue, right? So, you need a few. Most companies have a few. They're usually in specialized functions: software engineers, designers, heads of R&D. Specialization usually comes with this cohort.
R
Are they usually born or made?
S
They've been like this their whole life. They've been high beta in the crib.
R
Yeah. So, in a large global corporation, what's the best way to manage a high value employee who's at a pretty senior level? Is that something that a CEO can delegate to someone else, or when it's somebody who's really adding a ton of value and is also a difficult person, is that something that has to be managed personally, at the top, by the CEO?
S
So, I think the answer to that question is: if the person has reached the sort of pinnacle of their function, usually in this case, they have to report to the CEO, and if you tried to sort of layer them into a chief administrative officer or a COO, that would diminish their status, and they would reject that wholeheartedly, and you would lose...
R
Because status is so important.
S
Super important. They are special and need to be treated special. So, high beta people don't just show up in the last job. They've usually been prickly and high beta and disproportionate value creation for the lifetime of them as an executive. So, you can get high beta people two and three layers down, and what's important if you're the CEO and on the senior leadership team is that you recognize—because usually the translation of this executive lower down is everything negative about them: prickly, usually not a cultural fit. That's the easiest way to get rid of people, right? So, there's this whole language that usually is attached to them where the antibodies want to reject them and get rid of them because they're just a little too hard, and we use big words like, "They don't conform," "They're not a cultural fit." [00:12:00] And so, this cohort of people usually goes to a lot of different companies before they get to the top because they're rejected. And so, if you're the senior role, you need to recognize where your high betas are developing and understand who they are and build a relationship with them where you're not hijacking the person that they report to, but you're creating an awareness around their disproportionate value creation. They are on your radar, and they see that you're on their radar, and you're teaching the executive, oftentimes who's ill-equipped to deal with somebody that prickly, to lead somebody in this form.
R
And do you send a message to your lower level executives that, "These folks, even though they're a pain to deal with, could be really important. Be careful before you nudge them out"?
S
What you want to do is teach them the broader toolkit to not just have people that are easy reporting to them but to actually have people who are hard reporting to them. Because if you aspire someday to be a CEO or in a senior leadership position, the model many executives have is, "I'm a tenured professor, and I like to have first- and second-year students reporting to me," because in that model, you can always be right, versus this model which is, "I'm a tenured professor. My aspiration wherever I am, whatever level I am is to have other tenured professors report to me." And that creates a level of hardness associated with that, and you get good at that, and you will be exceptional from a general management perspective.
R
When are high beta employees needed the most? Is it after a crisis?
S
Depends on your company because they sit in different pockets inside the organization, but I think generally—you know, when we think about innovation and creativity, this is usually housed by people like what we're describing. You talk about R&D—they're housed by these people. You talk about special software engineers or designers—these kinds of people. So, I think that they're needed regardless of what state the company is in. The challenge is that they usually have a bad experience and go somewhere else until [00:14:00] they land with somebody. And what's special in terms of management of them is it usually tests the EQ of the person that they report to because if you have a super high EQ or somebody who has a lot of empathy and has a lot of range to their leadership style, they can usually create a place for these types of executives to be wildly successful.
R
Yeah, and these types of executives, these people, these high betas, apart from being real hard workers and maybe obsessed with the subject that they're dealing with, what else do they bring that others don't?
S
Well, they usually bring creativity and ideas. They usually break paradigms. So, a lot of smart people have usually focused on some paradigm, and nobody has been able to move it, and they're usually the cohort of people who are able to break really hard paradigms and create new thinking, a new product, a new way to address a market. They usually have breakthrough thinking, and that's what different about them, right? They are not incrementalists. They are usually people who are big bang types of people, and they break existing paradigms and create something new.
R
Are there areas of specialty where you're much more likely to find high betas than others?
S
For sure. So, I've referenced pharma companies, but R&D in pretty much any company—you see it oftentimes in technology companies with design and/or software engineers, people who create something out of nothing, and you also see it across the landscape. You see it in food in R&D, innovation. You also see it predominantly in the function. So, if you look at specialization—you can see supply chain, for example, where you'll have somebody who is a nothing-is-too-hard supply chain leader. They'll take on plan footprints. They'll take on geographies. They'll take on flow of goods. And a lot of people would say, "Oh, that's just too hard. We can't do that," and they're not those people. They take them on, and they usually solve those wicked hard problems. [00:16:00]
R
Do those people...do the high betas sometimes not adopt a company-first mindset?
S
Yeah. So, this is the challenge with high betas, is part of being a great company executive—it's a leader of my business or function and a leader of my corporation. They usually over-rotate of leader of my function. So, they create tribes within the context of where they lead. They create verticalness and specialness associated with that, which is, "We're bunkered in," or, "We're siloed," or, "We want to be special," or, "Everybody needs to do x, but we're going to do y." So, they really create a challenge for leadership as it relates to making sure that they are part of the corporation and not isolating themselves.
R
Are high betas often on the spectrum or they have some kind of mental challenge?
S
So, I would define it differently than that. So, what I would say is when you think about high beta people, they're usually very high-IQ. So, on the spectrum of intellect, they are usually in the top 1%, and then usually what's associated with that is that it usually comes with fairly low EQ. So, their self-awareness is typically low, and their awareness of how their leadership impacts people around them and their environment is usually very low. So, that would translate into weak or no antenna in terms of organizational savvy. And as a result, they are clumsy as it relates to their interface for the organization, and that clumsiness can come in the form of bullying, difficult, prickly, special, idiosyncratic, and their awareness of their impact is very low.
R
But some of those problems are getting very close to the harassment line and where you might have a lawsuit on your hands with an employee like this.
S
Look, I started out the conversation with: the best [00:18:00] high beta executives are conformists as it relates to integrity and values, and they live up to the standards of the company. And those that are outside those lines—I don't care how special you are—you need to be dealt with in the appropriate manner. They will push the limits, though, on everything else, and there is always a line of demarcation between the gray area, and they will often have a toe or two in the gray area. That's why they require a high-EQ leader, usually a high-EQ CEO, and they require people around them who understand that and who can give them some organizational savvy, give them some reality checks along the way, but also value their disproportionate value creation.
R
This was a conversation with Stephen Miles on C-Suite Intelligence. In this and other episodes, we draw on the deep knowledge and experience of the experts from The Miles Group, coaches to the worlds' top-performing executives. Subscribe on Apple Podcasts, Google Podcasts, Spotify, and other podcast apps, and never miss an episode. I'm Richard Davies. Thanks for listening. [00:19:16]