Back To Podcast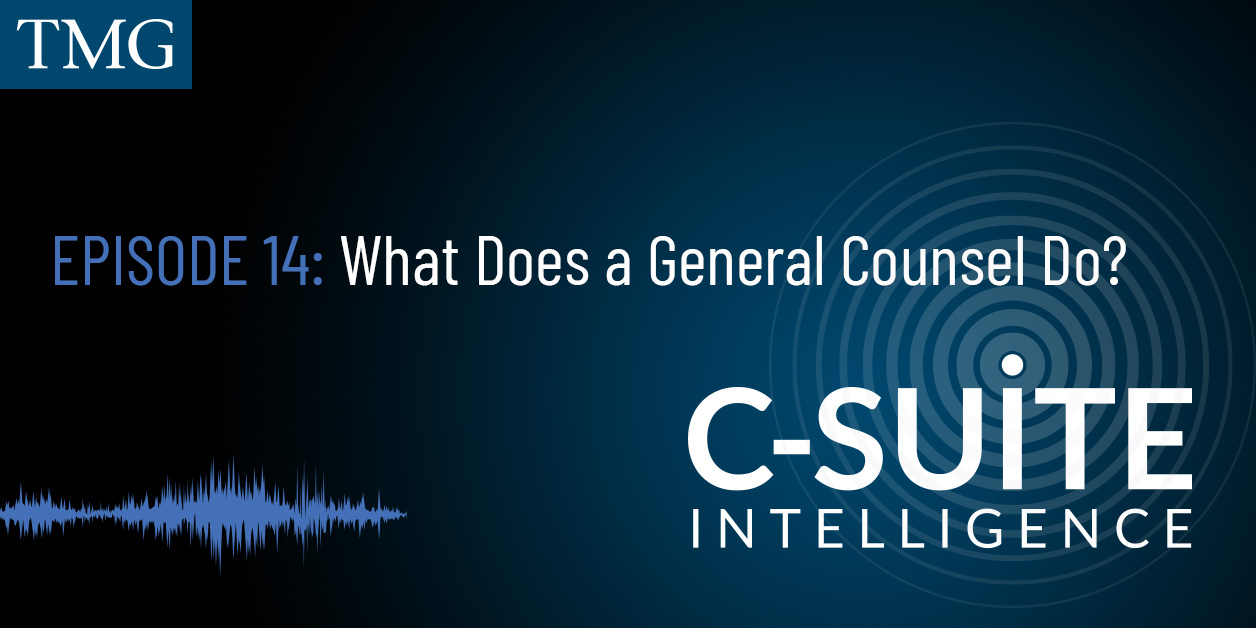 SEASON 1 | EPISODE 14 | JANUARY 2020
Episode 14: What Does a General Counsel Do?
The General Counsel acts as air traffic control for all legal issues across a company, says Billy Stern – from HR, compliance, and IP to a host of business risks. But while a lawyer is typically a "no" person, the best GCs have a "yes" mentality, working with the CEO to think expansively as a true business partner. Stern explains the complex job of GCs as they serve this and other roles including succession advisor, company "heavy," contract enforcer, and fierce legal and regulatory advocate.
In this episode
William Stern
Managing Director
William (Billy) Stern brings extensive corporate counsel, private equity, and M&A expertise to his work coaching and advising CEOs and senior executives around individual and top team effectiveness. In his talent assessment work, he conducts pre-hire assessments of executives for clients, as well as talent assessments at companies that are potential targets of equity investments. Billy also focuses on CEO and senior team succession planning as well as board evaluations and optimization. With his colleague Matt Bedwell, he wrote "Are Uncertain Times Causing Your C-Suite to Panic?" published in Chief Executive. Prior to joining TMG, Billy was the Chief Legal Officer at Ancestry.com, where he was responsible for Ancestry's initial public offering, domestic and international acquisitions, going-private transaction, and subsequent sale. Prior to joining Ancestry, Billy was General Counsel at Martha Stewart Living Omnimedia, Inc.
Full transcript
RICHARD
Key jobs in your organization—what does the general counsel do?
C-Suite Intelligence: exclusive leadership lessons from coaches to the world's top-performing executives. I'm Richard Davies.
A great general counsel is a strategic thinker who knows how to add value and work as the CEO's most trusted advisor. What are the key differences between this role and a senior corporate lawyer? Billy Stern of The Miles Group is a lawyer and former general counsel. He knows the job and the responsibilities. His answers might surprise you.
BILLY
How do the best general counsels prove their value to their CEOs? It's by being much more than just the lawyer, but being the thought leader.
R
What's the scope of the general counsel job?
B
It's a great question because it varies wildly by company and by general counsel. And so, in the narrowest sense, you're the head lawyer for the company, and the title could be General Counsel or Chief Legal Officer or General Counsel for a division reporting into a Chief Legal Officer for the umbrella organization, but on paper, you run the legal function. The scope can be much greater than that. You can also be consigliere to the CEO and really be part of the decision-making process for the organization across all sorts of things from personnel to business to organization to tax to all sorts of policies and procedures and really looked at as one of the thought leaders of the organization.
R
And you are a former general counsel.
B
I was partner at a very large international law firm and a less large law firm, and then I've been general counsel to two publicly-traded companies.
R
So, you know what you're talking about.
R
So, [00:02:00] I'm a journalist and worked for a long time for a big media company, and maybe I have a somewhat jaundiced view, but I always thought of lawyers as the people who said, "No."
B
Well, that's what lawyers are, and I think the big difference between being a lawyer and being a general counsel—or I like that consigliere or company rabbi title—is that, first of all, I think to be an effective business partner, which a general counsel should be rather than just a merely functioning lawyer, is to make this intellectual switch in their own head from the "no" person to the "yes" person who says, "Yes, we can drive into a brick wall at 100 miles an hour, but just realize there's going to be damage to the wall and damage to the car and damage to the people in the car, which is okay if we're thoughtful about it. But just, let's be expansive in what we consider before we leap into something." So, it's not a "no" proposition. It's an expansive conversation about what we're going to do.
R
Is it often a "yes, but..."? Yeah.
B
It is a "yes, but..." thing in that it's just making sure the conversation takes in all the risks without being the naysayer about everything.
R
How has the role of general counsel changed in recent years?
B
I don't...well, first of all, there's a lot more of a microscope on compliance and ethics, and I think that often falls into the general counsel's realm. So, from the 30,000-foot perspective, I think more stress is on whether companies are doing the right thing, and general counsel will work with the investment relations and PR to make sure things are going well from that perspective. But I also think the role changes company to company because of the relationship between the general counsel and the CEO because you do whatever the CEO wants or needs you to do. The role can be expansive or more limited depending on your personal relationship [00:04:00] with the CEO and how they value you.
R
It sounds like, in order to be a really effective general counsel, that your relationship with the CEO is crucial.
B
I think it is crucial. I mean, it's implicit that you're the trusted advisor. So, one of the great thrills about being general counsel is that you are inside a business. You're no longer the line lawyer at a big law firm. You're now, as I like to say, air traffic control for all legal issues across the company and the spokesperson and advocate for everything that's happening from HR to compliance to contracts to whatever it is, and thinking about all the risks and making sure everything's thought through.
R
Switching slightly, how do CEOs, in the best possible circumstances, use their general counsels?
B
Well, I would almost invert the question. How do the best general counsels prove their value to their CEOs? And I think it's by being much more than just the lawyer, but being the thought leader and helping the conversation be expansive about what we're going to do, why we're going to do it, what the costs are, what the ramifications are, and how to mitigate those risks.
B
Absolutely. And that's why I think it's important to have a seat at the table because that allows you to know what's coming down the pike and being prepared to be constructive in the conversations about that.
R
So, it's not just being reactive.
B
Absolutely. And then, there will always be complaints about the lawyers, and sometimes there should be, and sometimes there shouldn't be. So, for example, as general counsel, part of your job is to protect the franchise, and if you're in a company that has, for example, a large sales force—not to pick on sales—they're commission-based, and the concern of the individual salesperson is often, "How do I maximize my quota and get the biggest sale?" And the answer is: not by giving away the shop. [00:06:00] But they don't necessarily think past their own commission, and I'm not indicting all salespeople, but sometimes they will give to get a deal done stuff that I'm not willing to give as the franchise, and one of the jobs of general counsel is to have the spine to say, "No, we can't give that away."
R
"We can't make money on that."
B
Or, "We can't give away our intellectual property to get this deal done."
R
Are there things the general counsel in some circumstances does that she or he shouldn't be doing?
R
I guess what I'm asking you is: What should general counsels not do?
B
Well, obviously the obvious do-nots are don't do anything unethical, immoral, or illegal. I think the question of what makes a good GC is less a function of lawyering than it is a function of gaining the trust of the rest of the leadership team and being part of the conversation. And I think that that's much more amorphous for a general counsel than it is for a CFO or a CMO where the expertise and role are much more clear, right? They're the finance person, or they're the marketing person. A GC can be across a lot—as finance can be across a lot as anyone can be across a lot—if they're a trusted advisor.
R
Well, obviously the obvious do-nots are don't do anything unethical, immoral, or illegal. I think the question of what makes a good GC is less a function of lawyering than it is a function of gaining the trust of the rest of the leadership team and being part of the conversation. And I think that that's much more amorphous for a general counsel than it is for a CFO or a CMO where the expertise and role are much more clear, right? They're the finance person, or they're the marketing person. A GC can be across a lot—as finance can be across a lot as anyone can be across a lot—if they're a trusted advisor.
B
Depends on the industry, but also the legal profession has become bigger. I think the best lawyers know whom to ask and know what they don't know and know when to call for help. The morass of regulations is too great for anyone to learn them on the fly. They need to go get the experts. I remember when I was a first-year associate, the senior most partner at my law firm told me one day, "Only the silly lawyers go to [00:08:00] the library. Find the expert and get the answer. Don't waste days trying to learn something incorrectly." So, picking up the phone and getting the advice is a critical skill.
R
Now, you've been in this role of being general counsel. Are you or are general counsels frequently misunderstood by their colleagues, and, if so, what should other members of the C-suite know about dealing with or working with a GC that they don't know already?
B
Well, it's hard to speak in those generalities, but I think a GC, over time—a good, effective GC—has the company's interests at heart, of course, and has to, and that's frankly your obligation as a lawyer. And if they say, "No," to a deal, that should be their last resort rather just coming down as the "no" person, right? They should be the "yes, but let's think about this" person. That said, complaints will percolate up from a sales guy—in the example I just gave—or they have to have the spine to take the insults that may come their way either because they've said, "No, you can't give this away in a deal," or they've been the difficult person who's had to complain to a vendor to say, "You're not living up to your side of the contract," and that can be with any department because the dispute comes up through legal. And one company where I was general counsel, we had a by-far largest commercial arrangement with one retailer, in this case, and on a regular basis we were having line disputes between our company and their company, and it was up to the general counsel of that retailer and me to sort of keep the children in the playbox. That was our big joke. "None of this is as dramatic as they're making it sound. The bigger picture is that we have to get along." And so, I think keeping that in mind rather than looking for a fight is also [00:10:00] important.
R
I guess what I'm asking, though, is not just what the general counsel should do, but are there things that colleagues of the general counsel should know about that person that, in many cases, they don't?
B
Well, I think it's about the legal function. One way legal becomes a trusted part of a business and helpful to the business is by being included because—to go back to being proactive—I think a good GC makes sure that he or she or their deputies sit in the meetings for each of the departments, so they know what's coming, knowing to be prepared rather than having to be reactive to what a department decides they're going to do, and they announce at 11:30 p.m. It's critical at the front end to know what they're thinking about and be prepared to help guide the conversation in the first place.
R
What kind of relationship would other senior executives have with the GC or the GC's office?
B
In my case, I could say really fun and good ones. I mean, being part of the business team—it shouldn't be so different than just being a colleague with anyone else. They should realize that a good legal department is an ally and someone who's going to help them get the result that they want rather than an obstacle to them getting the result that they want. So being brought in to negotiate whatever it is, whether it's in the tech world to how you get into the cloud or how you're going to change your agreement between providers, or whether it's marketing, how you're going to do x, y, or z. You should be part of the conversation on the front end.
R
You're involved in leadership succession. You're involved in assessing people in companies and especially in companies and organizations that are being taken over. What do you look for specifically for a general counsel that perhaps you're not looking for in other roles?
B
I think the cultural fit is something that's very much overlooked by a lot of [00:12:00] companies when they hire a GC because they look for the "best lawyer," and that can be someone who comes in from a firm or has an academic credential that makes them sound terrific. But if they don't gel with the leadership team and become part of the conversation, they're actually less effective. So, I think there's that fit component, so that people will come to them rather than just look at them as a line lawyer. That's part one, and part two is, if they elevate into the position of general counsel, that switching from a "no" to a "yes" baseline in getting stuff done.
R
It sounds like that's pretty difficult.
B
It's counterintuitive to a lawyer who's come up through the, "Here's where all the problems are," and to help resolve them rather than realize it's just making people aware of the ramifications rather than terrified of the ramifications.
R
So, there's a duality in this role of being general counsel. Sometimes it's not just about being positive or proactive. It's also showing the spine to be the tough guy, right?
B
A hundred percent. I mean, leading a conversation or being participatory in a conversation about business results where you're helping to get to "yes" is one side. The other side is absorbing the stress of being the company heavy. That is the job of the general counsel, is complaints to vendors who aren't doing their job, absorbing the complaints of people who sue you, right? When a regulator comes to the door, I'm the one who answers it as general counsel, and you have to absorb that stress without amplifying it back to the rest of the company to make it more calamitous than it is because it's the workaday reality that there are disputes. I think it's important to not look for fights, but when one comes, you can't be scared of it.
R
Absorbing that stress—what are examples of that kind of behavior as opposed [00:14:00] to amplifying?
B
Whether it's the law enforcement is at the door—and that has happened, not because of stuff the company has done but because employees have done—that doesn't impact the business at all, but it's an incredibly stressful moment when you get a subpoena for all the company computers, and you just fight it and win because it's an overreaching subpoena in the first place. Or...
R
I guess what I'm asking is: How does a general...when you said that they should absorb stress rather than amplify it, what do you mean?
B
I mean the natural reaction of getting something as stressful as a police activity or law enforcement activity or a lawsuit from a company that's larger than you are is a very stressful thing, and to not set off the alarms because, again, that is sort of the workaday reality of American corporate life. Lawsuits happen. Hopefully, they'll settle, but your reaction is to get really worked up about them, and that's...
B
Well, you should get worked up about them because you're going to do battle, but then you have to remember that when you go into the discussion about whether we're going to open an office in London, it's not about the fact that you're really annoyed by this lawsuit that just came in or that you're really angry at this vendor that you're about to sue. You just have to participate in the conversation about the business goal at hand.
R
So, as a general counsel, you do have to be tough. You have to be strong. But what about the difference between strong and mean?
B
Well, I don't think you have to be mean to be strong, and I think when you get to a big enough company, your reputation and your intellect and your ability to reason are what win the day more than your ability to throw a stapler at someone's head, right? So, I think just being nasty [00:16:00] isn't particularly helpful, and when people are nasty towards me or towards a GC, it undermines their credibility. This is about business and about commerce and about legal disputes. It's not about proving you're the meanest person in the room.
R
And sometimes what you're doing is communicating reality, which comes from the outside, that you have no control over.
B
Right, and you have to be a truth-teller. If someone's not performing well, I have no problem terminating them. I don't have to yell at them to do it. I just sit down and say, "This is why things aren't working out." Whether it's an employee or a vendor, what have you, you just need to be able to say, "Here's the truth," which, again, is not so easy and can be a very stressful thing depending on who you're talking to. But you need to just sort of deliver it in an intellectually even tone.
R
And that also goes back to having the full confidence of the CEO and the board.
B
Typically. I mean, some of them are not big enough disputes to rise to that level. Some of them are huge disputes that require an enormous amount of description and buy-in and conversation. But, again, you're the advocate, but you should be the reasonable advocate.
R
Billy Stern of The Miles Group for C-Suite Intelligence: leadership lessons from coaches to the world's top-performing executives. Every episode tackles a different topic. Subscribe on Apple Podcasts, Google Podcasts, Spotify, and other podcast apps, and never miss an episode. I'm Richard Davies. Thanks for listening. [00:17:44]