Back To Podcast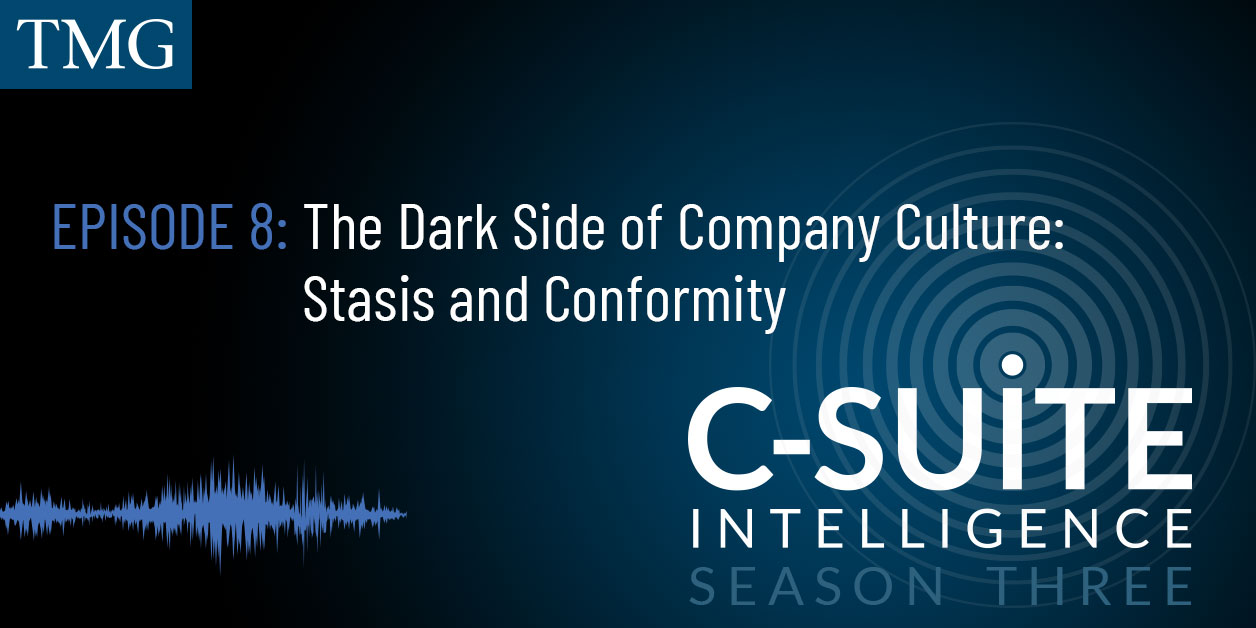 SEASON 03 | EPISODE 08 | SEPTEMBER 2023
The Dark Side of Company Culture: Stasis And Conformity
Culture is most often shaped and fortified on the margin, when leaders must make hard choices. Depending on what they can tolerate, their decisions will either result in a high-performing company culture or one that leads to high levels of conformity and stasis. TMG CEO Stephen Miles and Senior Managing Director John Nasr discuss the criticality of a company's culture to its longevity and long-term success; and explore the dark side of corporate culture – stagnation that can lead to an organization's irrelevance and decline.
In this episode
Stephen Miles
Founder and Chief Executive Officer
Coach to top CEOs, boards, and C-suite executives around the world, Stephen Miles is the founder and CEO of The Miles Group (TMG). His 20+ years of working closely with some of the highest performing executives, leadership teams, and boards of directors in the global Fortune 500 has put him at the center of some of the most critical leadership challenges and decisions companies are facing today.
Speaking frequently to organizations on strategies for coaching C-level executives and developing high-potential talent, Stephen has been featured in the Harvard Business Review, The Wall Street Journal, Forbes, Fortune, Entrepreneur, and Chief Executive. He is co-author of Your Career Game: How Game Theory Can Help You Achieve Your Professional Goals; he collaborates frequently with the Stanford Graduate School of Business on research around CEOs and boards, including a recent exploration of the costs and benefits of CEO activism. Stephen and his CEO advisory services were profiled in the Bloomberg Businessweek article "The Rising Star of CEO Consulting."
John Nasr
Senior Managing Director
John Nasr is a senior managing director with The Miles Group, where he focuses on executive coaching, assessments, and C-suite succession planning. John serves as an executive coach for business and functional leaders across industries, including airlines, defense, technology, utilities, financial services, homebuilding, consumer packaged goods, oil and gas, healthcare, manufacturing, and professional sports. John is also a trusted partner to Boards and senior management, having consulted on talent development initiatives, including CEO and other C-suite succession planning, for several large, multi-national corporations.
Prior to joining TMG, John worked in operations accounting for one of the country's largest oil and gas companies in Dallas, TX. Following his work as an accountant, John practiced law at a large firm in Phoenix, Arizona, where he represented primarily institutional clients, including publicly traded banks, in commercial bankruptcy and related matters and was recognized by SuperLawyers as a Rising Star.
John holds a bachelor's degree in business administration (finance and accounting double major) from the University of Oklahoma. He also holds a juris doctorate from the Sandra Day O'Connor College of Law at Arizona State University and a master's degree in business administration from the W.P. Carey College of Business at Arizona State University. John lives in Phoenix.