Back To Podcast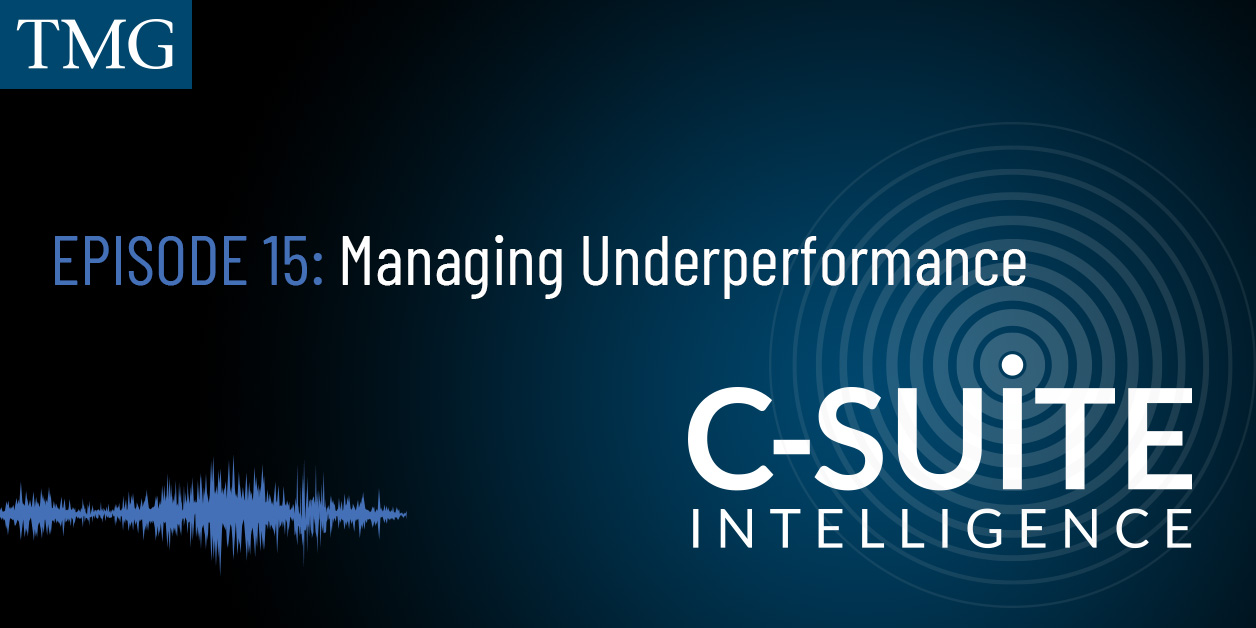 SEASON 1 | EPISODE 15 | FEBRUARY 2020
Episode 15: Managing Underperformance
Nearly all leaders wait far too long to deal with underperformers. "I wish I had handled the problem sooner" is what Taylor Griffin says she hears from every person she coaches. Leaders are evaluated on how well they select and develop talent by whoever is the lowest performer on their team, so managing underperformance is critical. Griffin explains how to recognize signs of habitual low performers, how to give meaningful feedback and how to address issues swiftly to minimize damage to the team.
In this episode
Taylor Griffin
Managing Director and COO
Coaching C-suite executives and board directors for top performance and talent optimization across the organization, Taylor Griffin works across a broad range of company size and stage – from the largest Fortune 50 global corporations to private-equity portfolio companies and emergent VC-backed firms. Taylor works with these leaders to continuously attain higher levels of performance, grow successfully into new roles or new organizations, and build their "viability" as succession candidates for the C-suite or the CEO role itself. With deep experience working with management and boards on "people" issues and succession projects, Taylor has contributed multiple pieces of research and articles such as "When High Performers Behave Badly," published in C-Suite and co-authored with her colleague Courtney Hamilton, and "How Boards Should Evaluate Their Own Performance," published in Harvard Business Review and co-authored with Stanford Graduate School of Business professor David Larcker, researcher Brian Tayan, and her colleague Stephen Miles. Prior to helping found TMG, she was with Heidrick & Struggles' Leadership Consulting Practice.
Full transcript
RICHARD
Making difficult people decisions is a common problem executives face: Managing Underperformance.
C-Suite Intelligence: leadership lessons from coaches to the world's top-performing executives. I'm Richard Davies.
There are costs when executives wait too long to deal with underperformers. Taylor Griffin, chief operating officer at The Miles Group.
TAYLOR
I really see people address it far too late, and once they've addressed it, I always hear, from every single person I coach, "I wish I would've done this sooner."
R
Do a lot of organizations hold on to people longer than they should?
T
Yes, almost universally. I would say not only organizations, but just individual leaders. I would say one of the more common pieces of feedback that I'll get on people I coach and work with is that they don't like making the tough people decisions. And so you get branded with this moniker of not liking the tough people decisions, which then makes people question your judgment. What happens is that people have such a negative frame around managing underperformers or managing underperformance in general. Somebody... You're experiencing a performance issue. Your gut is pretty much tingling around this. You know that there's a problem. But you're not giving yourself permission to dive in and figure out what the problem is and handle it and manage it. That's what I find happens with most people, is that they just allow somebody to continue to underperform instead of finding out what's actually going on. And sometimes it's actually not underperformance. So, if you give yourself permission to dive in and do a diagnostic, when you start to get a sense that somebody's having some challenges on a particular project or initiative, give yourself permission to dive in and ask questions and find out what's going on because underperformance might be it, and the task might be too big for them. But it might be something else going on in their life.
R
Are there often cases where somebody underperforms [00:02:00] and a check-in or some feedback turns it around?
T
Yeah, that can absolutely be the case. It might be somebody just didn't have full context or understanding of the situation. I like it when managers and leaders have a system for managing such that they are stepping in and out of work streams to see how it's going, even when they're getting positive reports, right? So there's this sense of, "Well, I'm looking at my dashboard, and if the lights are all green, I don't need to probe in and see what's going on." But you should have a method for applying continuous tension across your organization, even when the lights all look green. How are you asking questions? How do you know if it's going well? Can you remove any roadblocks for them? Having a good system around that helps you to diagnose early where there's performance issues.
R
Continuous tension; that's an interesting phrase.
T
Right. I think it's this idea that it's your job to stay across all elements of your responsibility, even the ones that seem to be really positive because you've seen in a number of instances, green lights turn to yellow lights, which turn to red lights. And being able to get the whiffs of smoke before there's a fire is incredibly helpful from a management perspective. So that does mean you need to have a process for checking in on how all things are going, and checking in when you see somebody is experiencing some issues, or you have a sense that somebody is struggling in their role.
R
Let's look at the costs of waiting too long to deal with underperformers. What are they?
T
Right. Yeah, I mean, the first cost of dealing with underperformance is usually the individual leader or manager's personal time, and you can usually tell when you've got a performance issue that you're dealing with because that individual leader or manager's time, it doesn't feel like it's in balance. They feel like they're being drawn down in some way, and that's usually because they got a people or performance issue on their team that's requiring a lot of their own personal time to manage.
R
And this also affects the morale and potentially the performance of other team members.
T
Right. [00:04:00] I think what people fail to realize is that, in this effort to be nice and not want to deal with the performance issue, necessarily, and deal with it swiftly, because making a swift decision would seem too harsh in some instances, actually most people are pretty frustrated around the underperformer on the team or if there's several underperformers on the team. Usually, you're not the only one that sees it, and it creates a void for them. It creates a void in terms of your own leadership of those individuals because you're spending far too much time with the underperformer, and it creates a void in the sense that they don't have a capable colleague to handle their area of responsibility. There might actually be even just a capacity drawdown for them.
R
And you've said that a leader is only as strong as their weakest performer.
T
That's right, and what I find, too, is that you get branded in terms of your ability to lead high-performing teams and select and develop high-potential talent by whoever's the lowest performer on your team.
R
So this is really important. Let's look at the symptoms of habitual low performers.
T
That's right. There's a number of them to be on the watch out for because sometimes you've got people who are underperformers, and their peers on the team all see it. But they might be exceptionally good at managing upwards or communicating upwards, and so sometimes it can be hard to recognize. So you have to look at some of the more subtle symptoms of it, as well. So, obviously, there's pieces of just not hitting your numbers, not hitting your metrics, not hitting your targets. Those are the straightforward ones that are very easy to diagnose and figure out what's going on within the business or function.
R
What about the role of explanations?
T
They come to you with an explanation as to why something went wrong as opposed to a solution for what you can do. What we often frame it as is it's an explanation mindset as opposed to a solutions orientation. You do want people who are solutions-oriented. Maybe they're not making the final decision, and there's a decision for you to make, but they're coming forward with solutions and options as opposed to, "Well, this is why it doesn't work."
R
Do low performers [00:06:00]have a track record of bringing surprises?
T
Yes, absolutely. I mean, I think you can sort of spot trends over time, if they're sort of surprised by the end result, or you're surprised because they didn't bring you along on the journey. There are surprises that happen in every business, in every organization, but when you have this track record of bringing them forward, it typically means that that person doesn't have a way of tensioning and managing their own business or function very well. So they, themselves, are being surprised, which in turn causes the surprise for you. Another sign that you look at is their team that they have around them. So you're being evaluated by your team and the performance on your team, and you're doing the same with your own team. So the individuals on their team, do they surround themselves with high performers, or do they have a habitually low-performing team, so they surround themselves with other weak players? That's one element of it. That's a sign of a low performer. Your job as a manager of people is to actually build a high-performing team with capable individuals.
R
Because you very often find that people who are very high-performing surround themselves with people who they think are actually better than they are.
T
Better, exactly. Another sign that you'll also see is a lot of turnover. So they might be getting high performers on to the team and might have an ability to spot talent, but they can't keep that talent. And that's a real challenge, too, and people get frustrated working with them. They might have just bad leadership characteristics or qualities. So, when you're starting to see a lot of turnover on the team that isn't contextualized by a specific situation, that's a warning sign that something's going wrong.
R
What about finger-pointing or blaming others?
T
Right, and we've talked in other podcasts around a defensive mindset. So that goes to not only having an explanations mindset, but it also goes to: How do they behave with other colleagues and with you? Do they blame other people? Do they finger-point around issues? "It's not my problem. This happened because of this." A high-performing executive doesn't use that as an excuse. A high-performing executive says, "This is the context [00:08:00] in which I'm operating in, and I'm going to find a way to solve around that." So understanding that there's always going to be constraints in the system, but you can't take a blaming and finger-pointing approach because that's really just a sign of defensiveness, quite frankly.
R
Yeah, yeah. So you often find that people who are low-performing may be more defensive than their colleagues.
T
Yeah, and they might even not even want to take decisions on. They don't want even the accountability for decisions, meaning they want to delegate that upwards, whether it's a decision or a big task. You'll find a lot of low performers, somehow it ends up in your lap.
R
So a low performer might actually like it if they feel that the boss is taking all the decisions.
T
For sure, and high performers, they want more empowerment, usually, to make decisions, but they earn it, right? They earn the right and the ability to make those decisions through a track record of good judgment, a track record of being across the details of their organization, a track record of having a very good team. Low performers don't have that, necessarily, and therefore whatever the situation might be often gets delegated to the manager.
R
What about attention to detail?
T
When you're getting a lot of surprises, it usually means that this person has an issue around managing the details of their organization, and details are important. I think people underestimate how detail-oriented managers and leaders need to be. There's management textbooks that will tell you to operate at a very high level inside of the organization, but the most effective people I see are actually incredibly attentive to details in their organization. Yes, they can fly high, but they know how to swoop in and crop-dust when they need to.
R
You say another sign of a low-performing executive is a lack of being able to manage expectations. What do you mean?
T
Yeah. I think, when you are thinking through your own management of a business, of a function, of a project, there are people that you need to bring along with you, and they have a certain [00:10:00] expectation for what the outcome is going to be. So you need to bring them on that journey with you, and you need to have a method for communicating around what's happening so that somebody has an understanding because there's other people that are accountable, usually, around something. It doesn't all start and end with you unless it's your own company, I suppose, but even then, there's expectations that you're trying to manage.
R
You say that low performers often lead by exception.
T
This goes back to this point of continuous tension on an organization. I think that people sort of naturally gravitate to the problem areas of their business or function, and they should. It's not that they shouldn't do that, and those are the areas that require an attention to detail to turn it around. That said, if you're only leading in those areas and only diving into those areas, you're missing where there's potential for those areas to arise in other parts of your business or function.
R
And there's one other sign that someone may be a low performer, and that is that not only are they defensive, but they're also seeking affirmation rather than try to be better or develop further.
T
Yeah. This goes to sort of a learning mindset, ultimately. There's people who just want to be affirmed and patted on the back, and that's truly not what growth and leadership development is about. You definitely want to understand what your strengths are, but you should be seeking to learn and grow, which means you should be seeking to understand: Where are the opportunities for you to grow? And if you've got somebody who doesn't take that type of feedback on board but constantly needs the pats on the back, you might have an issue.
R
Okay. So we've discussed some signs of low performance. What are a few action steps that they can take to deal with this in a timely manner?
T
Yeah. I think the first and the most important is to give yourself permission to just quickly diagnose what's going on. Don't go back and sit in the bleachers and just watch it unfold. Give yourself permission [00:12:00] to dive in and understand what's going on. So, when you're spotting some of these trends, dive deep. What is happening? Ask people around that individual. Get some information and collect some data and content for yourself so that you can get an accurate understanding of the full picture.
R
We all have lives outside of our jobs.
R
Can personal issues have a big impact?
T
Of course. I mean, you might have some of these signs of underperformance or challenges that you're seeing with an individual, and it might not be that they're not up to the task, but they've got something personal going on in their life. Maybe it's the death of a relative. Maybe it's challenges in their marriage. I mean, who knows what it could be? It could be a million things, and underperformance is just one of them.
R
That's a very difficult topic, sensitive topic to address.
T
Right, but I think if you are addressing it and willing to give this person feedback, and then you give yourself permission to talk to the individual about it, they can let you know what's going on. Give them space to do that. Have a conversation. Give them some feedback. "Here's what I'm observing. This is what I'm concerned about. Talk to me about what's going on."
R
And that speaks to something else that's been raised in other podcast episodes, which is the importance of having more than merely a transactional relationship between one executive and another.
T
That's right. At the end of the day, we're all human, and this doesn't need to be an overly close relationship, by any means. I don't want to signal that. But we're human, and we care about one another, and you should care about the members on your team and what's happening in their lives, in the sense of, if they are experiencing real challenges that have nothing to do with performance, this is a situation where you and the team are willing to step up. Maybe it is a bit of a drawdown on your time, but you're doing it to help and support a colleague.
R
You say that it's important to collect data when assessing someone's performance.
T
That's right. I think what you want to make sure you're doing is really understanding that this is actually a performance challenge or they're underperforming in some way, which means it's not an anecdote that you just heard and you're passing along. It truly is [00:14:00] information that you've gotten around this person's trends and performance. So it's not just one data point, but it's at least three. Then, once you have data, you have an opportunity to figure out what a solution is going to be.
R
Okay. So how do we do that?
T
That's when you've gotten the information, you can carve a path forward, right? It's to sit down with that person. It's to talk through the feedback. What are the commitments each of you are willing to make? Maybe that's putting in place a performance improvement plan. Maybe it's putting in place, "We need to support you or take you off this specific initiative while you've got something personal going on." Maybe it is, "This isn't going to work long-term, and you simply don't have the skills for this role. Therefore, we need to manage you out of the organization."
R
Is feedback part of this, having regular check-ins?
T
Yeah, I think the more feedback-rich the environment, one, you've got an opportunity to catch this much earlier because you take it as your job to collect feedback and collect data and content on that person. So you are staying abreast of their performance in a different way.
R
You say that it's important to coach with content.
T
You need data around people. Everybody talks about data and the importance of data, and we always think of quantitative data, but there truly is qualitative data on people. Data on people just looks a little bit different, but you should be keeping a lot of notes on your individuals that are on your team and that you work with such that you can have pages of notes to reflect upon, and you're spotting trends around.
R
We've talked about underperformers in general holistic terms, but I'm sure there are many cases where you have someone who underperforms in one area of their job, but in other areas, they're a stellar performer. So it's hard to categorize.
T
It's not necessarily around somebody being kind of what I call spiky, right? It's not necessarily around them being really great at this one competency but struggles with this other area. Underperformance is really when you start to see it across multiple places, and you really start to see that [00:16:00] this person, maybe the job has gotten too big for them. Maybe they've sort of promoted beyond their capability. Maybe the content for the job is a learning and growth and developmental role. So it's not necessarily underperformance, but they're in learning mode. So I think you have to understand the context in which somebody's operating.
R
How important is this, addressing the underperformance issue?
T
I think it's really important. I really see people address it far too late, and once they addressed it, I always hear from every single person I coach, "I wish I would've done this sooner. I wish I would've addressed this sooner," because what happens is, when you're seeing the underperformance, it's being amplified elsewhere in the organization. As the leader, you're actually seeing the more muted version of it. So, elsewhere, it's being really amplified and creating dysfunction inside of your business or function. So you need to be thinking about how addressing it swiftly, you're being judged and evaluated on that, but it's not just important for you and the perception of your leadership, but it's incredibly important for your team and their own effectiveness.
R
Taylor Griffin of The Miles Group on C-Suite Intelligence: leadership lessons from coaches to the world's top-performing executives. We tackle a different topic on each episode. Subscribe on Apple Podcasts, Google Podcasts, Spotify, and other podcasting apps, and never miss an episode. I'm Richard Davies. Thanks for listening. [00:17:35]