Back To Podcast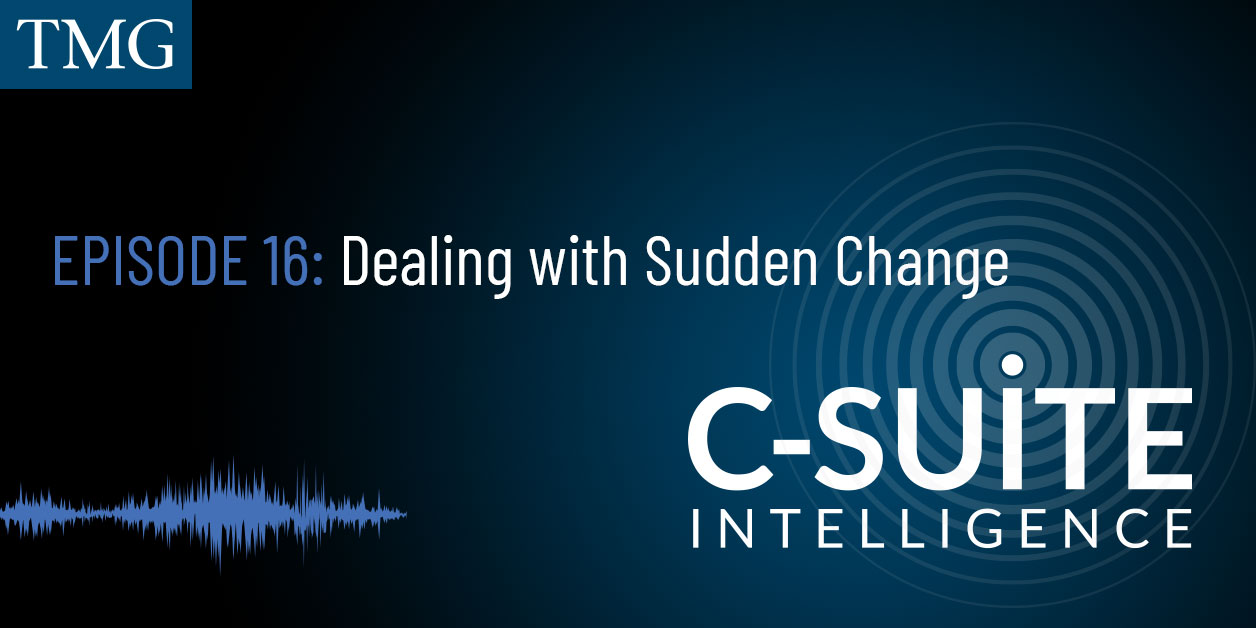 SEASON 1 | EPISODE 16 | FEBRUARY 2020
Episode 16: Dealing with Sudden Change
During times of sudden change, how leaders respond is critical to driving the best outcome. Leaders who are less effective make decisions too quickly or not at all. The best leaders are like the best athletes: they slow the game down around them and make it easier for other people to participate. Stephen Miles and Taylor Griffin explain how great leaders communicate with and leverage their teams, absorb rather than amplify stress, and create the context for people to be successful.
In this episode
Stephen Miles
Founder and Chief Executive Officer
Coach to top CEOs, boards, and C-suite executives around the world, Stephen Miles is the founder and CEO of The Miles Group (TMG). His 20+ years of working closely with some of the highest performing executives, leadership teams, and boards of directors in the global Fortune 500 has put him at the center of some of the most critical leadership challenges and decisions companies are facing today.
Speaking frequently to organizations on strategies for coaching C-level executives and developing high-potential talent, Stephen has been featured in the Harvard Business Review, The Wall Street Journal, Forbes, Fortune, Entrepreneur, and Chief Executive. He is co-author of Your Career Game: How Game Theory Can Help You Achieve Your Professional Goals; he collaborates frequently with the Stanford Graduate School of Business on research around CEOs and boards, including a recent exploration of the costs and benefits of CEO activism. Stephen and his CEO advisory services were profiled in the Bloomberg Businessweek article "The Rising Star of CEO Consulting."
Taylor Griffin
Managing Director and COO
Coaching C-suite executives and board directors for top performance and talent optimization across the organization, Taylor Griffin works across a broad range of company size and stage – from the largest Fortune 50 global corporations to private-equity portfolio companies and emergent VC-backed firms. Taylor works with these leaders to continuously attain higher levels of performance, grow successfully into new roles or new organizations, and build their "viability" as succession candidates for the C-suite or the CEO role itself. With deep experience working with management and boards on "people" issues and succession projects, Taylor has contributed multiple pieces of research and articles such as "When High Performers Behave Badly," published in C-Suite and co-authored with her colleague Courtney Hamilton, and "How Boards Should Evaluate Their Own Performance," published in Harvard Business Review and co-authored with Stanford Graduate School of Business professor David Larcker, researcher Brian Tayan, and her colleague Stephen Miles. Prior to helping found TMG, she was with Heidrick & Struggles' Leadership Consulting Practice.
Full transcript
RICHARD
Change is constant, sometimes sudden and dramatic. How are the best corporate leaders dealing with change?
C-Suite Intelligence: leadership lessons from coaches to the world's top-performing executives. I'm Richard Davies.
STEPHEN
So, I think the best people are like the greatest athletes in the world, which is they slow the game down around them, and they make it easier for other people to participate with them.
R
Stephen Miles is Founder and CEO of The Miles Group. Taylor Griffin is TMG's Chief Operating Officer. I asked Stephen first, how do creative executives react when something big or bad happens?
S
I think "react" is the important word in that question. I think the mistake people make is they actually do react to something. I think most things, when you're a CEO or a leader, you have a stimulus, and your response to that stimulus determines the outcome. And I think people who are less effective respond in the moment to whatever the stimulus is, and most stimulus or stimuli don't require an instant response. So, I think the best people are like the greatest athletes in the world, which is they slow the game down around them, and they make it easier for other people to participate with them.
R
Give me an example of how that might work.
S
A stress event, for me, is something bad happens. People have a binary reaction to a stress event. They're either a zero or they're a one, and so, a zero in a stress event turns inward. They micromanage. They don't leverage the company. They don't leverage the team. They typically make decisions in two dimensions. They either make them too quickly, or they don't make them at all, and they typically amplify the stress. And all of that is bad: poor decision-making, not inclusive [00:02:00] with the team, not communicating with the team, usually isolating yourself, usually some level of micromanagement. So, on the other side of the equation, something bad happens. It could be a food recall. It could be an SEC investigation. It could be something bad happens...
TAYLOR
It could be a natural disaster.
S
Natural disaster, plane goes down, whatever.
R
Like the thunder outside the room right now.
R
We're speaking during a thunderstorm.
S
And in response to that, a positive or a one in our binary response is you turn outward. You leverage the company. You leverage the team. You communicate in high bandwidths. You make the decisions on the available information, and you absorb, absorb, absorb. And the people who do that create an environment where other people can participate. They're triangulating both wise people and content experts' advice, and, in essence, they're slowing the game down in order to be more effective in terms of determining an outcome. If you can be a one in your engagement and show all of those behaviors, then typically the outcome of that is a much more positive outcome than being a zero.
R
So, bringing other people on board is part of it?
T
Well, yeah. I mean, you can't make it all about yourself. It has to be about the company. It has to be about managing to the right thing for the company, which means you need to leverage the team beneath you and leverage the stakeholders that you also need to engage along the way. There's a lot of stakeholders that you have to bring on the journey with you, particularly at a senior level.
R
Talk about the importance of what you call "social emotional empathy."
S
Emotional intelligence distilled down to its essence is really empathy, and so, empathy one-to-one, and a lot of people fancy themselves as being emotionally intelligent and having what they would call "high EQ." Our experience is, actually, that's not the case. Most people overestimate their empathy. And what social emotional intelligence is...our terminology, SocQ, which is empathy one-to-many, and essentially, empathy decreases with distance. So, most people who think they have high empathy, one-to-one, [00:04:00] they actually don't have it. So, when you go one-to-many, and you create distance between you and those many people, it often decreases significantly. And so, what happens—the best way to do it is really to describe something bad happening. So, essentially, SocQ is about being able to take a diverse group of people's perspective and then responding to it. And companies that have purpose, companies that have a set of values that they can respond to, not everybody's going to like your answer to whatever the problem is out there. But if you can revert back to something that, "This is how we operate;"—one of our fast food restaurants doesn't open on Sunday, and that's how they operate. They have a purpose related to that, and that's the mantle which they lead from. Similarly, if you don't have a purpose, you fall back on to responding to what I would define as a 20th-century response, which is a numerical response. "I've had something bad happen here. The algorithm suggests that it's going to cost me $100 million, and I'm a massive company. That's a rounding error. Let me pay the fine, and let's move on." In the social emotional world, what happens is people look at you, and they judge you, right? It's the community standard now. It's not some mathematical equation.
T
Well, and everything's visible now, too.
T
And it's instantly visible to a broader public, which is your consumers in a lot of instances.
R
Yeah. How much is this in response to changing technology—to the growth of social media, to the always-on, 24/7 news environment?
T
Well, it's changed the way companies have to respond completely. I mean, their consumers have so much more access to what they're doing, what maybe happens, what went wrong, what their response was, and they have an opinion about it, and that opinion can impact their business.
R
How important is the board in all this in setting the right corporate culture, in making a group decision about the mission of a corporation? [00:06:00]
S
Boards don't set corporate culture.
S
At the end of the day, what they do is they choose the person who leads the company, and that person sets the tone at the top. And so, the boards can be involved in reinforcing that tone at the top and making sure that they get somebody in place that represents the ethos of the board and the company, but what boards do is govern, and what CEOs need to do is make it easier for the board to govern. So, one of the areas which I think is a topic that's hot and very important—which is corporate culture because corporate culture can lead to good things happening or bad things happening, and it starts with the tone at the top. And I think boards can reinforce that tone in the top both in terms of their selection decision and also reinforcing those selection decisions with the person who's in the role and having an expectation around culture and having cultural conversations.
T
And it goes back to what you were saying around a narrative, as well. So, you have to have a narrative around what your corporate culture is going to be, so that you can respond rather quickly because you don't have a ton of time to respond in those situations where you think about the one-to-many model.
R
Speaking of responding quickly and being stress tested, what are the differences between the way that senior executives react well or react badly to very stressful situations or sudden change?
S
I think those who react poorly isolate themselves. They typically micromanage the situation, so they're not leveraging people around them or the corporation, and they often throw their arms in the air in the sense that they amplify whatever the event is and make it harder for other people to participate with them versus the opposite of that, which is somebody who responds well, which is they turn outward. They make it easy for people to participate with them. They set a lot of context around what's happening, so people aren't scared and uncertain, and they're able to participate in terms of decision making but also in terms of communications. Because what happens in a stress event is there's [00:08:00] asymmetries and information, and then people make stuff up, and when people start making stuff up, they're 100% wrong 100% of the time. So, your job is to cut through that with a lot of communication, with a lot of absorption, so you're not scared, you're not uncertain, at least at a level where you can be highly functioning, and you create the context for other people to be successful in terms of your leadership.
R
Can you control the narrative, or is that too difficult?
S
I think in the world we live in today, controlling the narrative—I think people automatically revert to a 20th-century version of that, and that's impossible. We're just not...we don't live in that world anymore.
R
So, what's the 21st-century version?
S
You have to be able to fall back on a purpose, a set of values, and why you exist. Because, look, in the world we live in today, you are not going to make everybody happy every day. In fact, that's impossible. So, therefore, you have to understand your counter-parties that you want to engage with and that you want to embrace as a corporation, and then you have to have a set of values and purpose that align to those people, and they can understand—they may agree or disagree at the margin, but they understand why you're doing certain things a certain way.
T
Well, and then you can maybe influence the narrative or at least have your set of values be part of the narrative as opposed to just a reaction that isn't based in anything.
R
Many corporations have far-flung entities. They're global corporations. They have important executives around the world. So, how do you create a sense of team in a global company?
S
Culture. So, in order to cut through the world that we live in—look, the U.S. is really made up of a lot of different kinds of people, and we always think of it as one language. It's not. It's as much Southeast Asia as it is Europe. It's a lot of different people in different states that have different places that they come from and value, and as a corporation, you have to have a culture that sort of binds [00:10:00] the people that work for the company together, that is powerful and hopefully positive. And then, what you need to do is send executives off, so they have a view of the world that's not ethnocentric, that they actually can look back at the corporation and say, "This is how we operate," and bring people in, so they can understand how the headquarters operates and looking out. And I think it's the combination of a strong corporate culture that's reinforced day in and day out by people. You weed people out that don't fit, and then you have this, "We're going to go to you, and you're going to come to us," mentality to try and reinforce that.
R
A key part of the work The Miles Group offers companies is leadership succession. We'll talk more about that in future episodes, but when a new person comes in and joins the leadership team, it's not just about him or her. Stephen talks about the concept of new member, new team and not old team, new member.
S
So, I think this is a really important distinction. I think the reason failure and derailment rates are so high is because leaders define an existing team with a new member, and it's hard to join that team because there's an "in" group, and you happen to be on the outside, and you have to work really hard to get to the inside of that team especially if it's high-performing and been around for a little while. Our definition is new member equals new team, new leader equals new team, and in the context of that, what you do is you reestablish the team every single time somebody new joins, right? And reestablishing the team is, "What's our mission/vision/values? What are our team processes that reinforce that? How do we make decisions? How do we communicate? And what are the behavioral expectations around the table for you to be a high-performing member of the team?" And the new member is allowed to participate in that and help form that or at least shape it in the context of them joining the team.
R
So, you've got the new member—that's change—but the team also changes.
S
It's new. You have to define it as new, [00:12:00] not existing.
R
How crucial is it that the new member and the team understand these concepts?
S
You know, in our definition, what we say is you should take the team offsite. It doesn't have to be fancy. Spend two or three hours together. Hopefully you have a team charter. Hopefully you have a set of behavioral expectations around your team, you have an established set of team processes. Let's open those up. We can always make them better. Let's have our new member participate to making them better. Let's close them up, and let's go back and reinforce them.
T
And doing that consistently really creates a truly inclusive team, right? Because if you're joining from the outside, you're immediately included in the formation of that team or the reforming of that team.
R
Speaking of new teams, how important is diversity in this—diversity of opinion, diversity of gender, diversity of background?
S
The best teams are diverse, and the worst teams are diverse. The challenge with diversity is actually inclusiveness. So, how do you operationalize diversity? I think we're super focused on identity diversity—age, gender, and ethnicity—as we should be, and the numbers are nowhere near where they need to be, and everybody should have intent around changing that. But once you have that, the real challenge for leaders is there's a higher level of expectation on any leader of a team that actually is diverse because, by definition, there's differences on the team. What happens oftentimes is leaders are ill-equipped to lead in an inclusive way. So, it creates conformity. The people who actually stay on the team are the people who conform to the highest level, to the leader, and if you happen to be different, you start out different. So, therefore, you have to conform at a higher level. So, the expectation of you to be a member of the team is higher levels of conformity because you start out different. And so, the challenge around diversity is truly inclusion, which how do we create an inclusive environment? And how do we allow people to participate? And the real challenge is there's a leader problem [00:14:00] here, and there's a follower problem. The leader problem is, "I need to create an environment where different people can participate, and I value your differences." The follower problem is you kind of break people who are different—and I mean cognitive diversity and identity diversity—into two cohorts. There's the super conformists and the people who will never identify themselves as being part of the "in" group. So, they have to be different in every equation. And neither one of those really works. So, part of operationalizing inclusiveness is to create an environment where I value differences, A., and then those who choose who are followers and who identify themselves as not being part of the "in" group need to understand that there's an inefficiency with being different in every equation all the time and that there is efficiency in just you conforming at some level and then you being different on the things that really matter in terms of creating an environment where you have idea conflict, and you can challenge and be the devil's advocate and have a different point of view. And what happens is we don't have that. We either have people who derail because they identify as being different all the time, or we have people who overly conform.
R
When you say "derail," you mean...?
S
They choose to leave because they have a bad experience because people don't value their differences.
T
But it truly starts with the leader who's going to create the openness for that environment and create the space for people to disagree.
S
And it's safety, right? People are smart, and self-preservation is a powerful force.
R
You have this lovely phrase, "Socratic leadership." What do you mean?
S
It means asking questions. I think one of the reasons why some of the history has suggested that lawyers have been really good in leadership positions is because they've been trained to ask questions, and they've been trained to ask questions where they don't have content mastery. They're actually just good at asking questions, and I think it's one of the most powerful tools in most leaders' toolboxes that they don't use. So, most high-performing executives have a pretty good answer for the first and second question, and a lot of people just sort of let things [00:16:00] lie at that moment in time. The best leaders, in our opinion, is...you know, you learn everything you need to know in the third, fourth, and fifth question, right? They're really facts and data. Who have they triangulated their information with? Do they really understand what's going on? And your gut will tell you, "I feel great about the interaction I just had with somebody on question three, four, and five," or, you know, "Oh, my god, I'm scared."
T
What's interesting, though, is sometimes these leaders get sort of a bad reputation by asking too many questions, right? They're difficult, they micromanage, all of those things, and the truth is they're actually just really effective, and they can probe you further, and you should be making people a little bit uncomfortable.
S
I think defensiveness is just a form of weakness, right? When we coach people and when we assess people, we try and poke them a little bit to see if we can get a defensive response because if I can get you to be defensive, you're defending something, I've got the upper hand on you. And bullies, that's how they prey on people. They roam around the reservation, and they basically try to get people to be defensive, so they can win, and they basically move the argument against somebody else and away from themselves. And the best way to deal with somebody who's bullying you and creating a defensive reaction—and we have a visceral emotional reaction to somebody who does this to us—is to facilitate them, right? "That's an interesting point. I hadn't thought of it that way before. Tell me where that's coming from because it's different from the way that I'm thinking about it. What are the facts and data behind it?" Now I've got you on your back foot.
T
Yeah, I mean, I think you always have to take the perspective that you can learn something from questions, right? If this is the first time that you're ever dealing with it, you have a lot to learn from the questions that are being asked.
R
I want to talk about change, geopolitical change, because right now, we live in a world that is changing a lot. One example are potential trade tariffs, trade war. Is that something which involves greater, more sudden change than normal?
S
For sure, but we've lived in a world where nobody predicted Brexit, nobody predicted [00:18:00] $140 oil, and nobody predicted $25 oil. And there's a lot of smart people around the world that aren't predicting what's actually happening in the world today. So, that creates a shock from a leadership perspective, and I think a lot of leaders are untrained and don't have the muscle around: How do you deal with the plan unravelling in front of me? And I think tariffs are just an example of that. Some people have had a positive response. The tariffs are good for them. Other people, the tariffs are horrifically bad for them. But it changes the plan, and it changes projections, and it changes their narrative. This can be a stress event for you as a leader, and you need to be a one in that stress event, which is respond well to it because there's always a way to respond to it, and people are going to be accommodating in the sense that something bad has happened to you. Its then: How do you respond to it? And I think some leaders don't do that. They just cry wolf or that, "Bad stuff's happened to me. You need to feel sorry for me," as opposed to taking the high road as a leader and responding well to it.
T
Well, I think you see some leaders where they really fail in this situation is they start with just explanations. You know, "Markets are bad here. This region is suffering, so we can't do business. Our competitors aren't doing well, either," instead of using it as an opportunity and using it as a place to be creative and find a solution.
R
Is some intellectual humility required?
S
I think humility's always required. I think people who are arrogant are dangerous, and they hurt themselves, and they hurt others. I think you don't learn when you're arrogant. You don't learn when you have high levels of hubris. And so, I think humility is one of these underpinnings for great leadership.
R
Are there some leaders who blame others when things go wrong?
S
It's back to Taylor's comment, which is right on the money, which is they're are explainers out there, right? Something bad has happened, and they explain to the ninth decimal place how those bad things happened or how they missed their numbers or how this didn't happen. And the best leaders in the world—you know, bad stuff happens, and good stuff happens all the time. They just take that. They translate that [00:20:00] into a new narrative, and they are solutions-oriented. "This is what we're going to do. This is how we're going to respond. This is how we're going to mobilize around that," and they get the organization mobilizing around it as opposed to explaining.
R
Stephen Miles and Taylor Griffin for C-Suite Intelligence: leadership lessons from coaches to the world's top-performing executives. Every episode tackles a different topic. Subscribe on Apple Podcasts, Google Podcasts, Spotify, and other podcast apps, and never miss an episode. I'm Richard Davies. Thanks for listening. [00:20:42]