Back To Podcast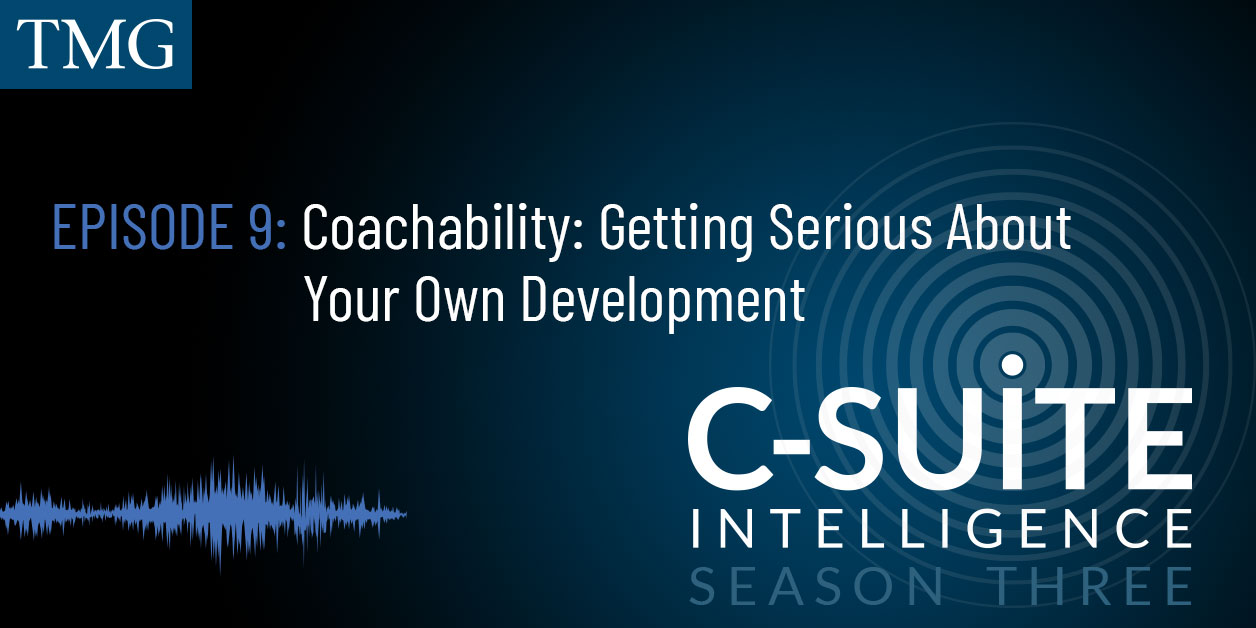 SEASON 03 | EPISODE 09 | SEPTEMBER 2023
Coachability: Getting Serious About Your Own Development
Regardless of raw potential and natural talent, every person who is serious about their leadership development and growth demonstrates coachability. Taylor Griffin and Samantha Smith explore the concept of coachability – openness to feedback and new ways of doing things, and following through with those changes as part of an iterative, ongoing process.
In this episode
Taylor Griffin
Chief Operating Officer
Taylor Griffin works with CEOs, senior executives, and boards of directors across a broad range of company size and stage – from the largest Fortune 50 global corporations to private-equity portfolio companies and emergent VC-backed firms. She works with leaders to continuously attain higher levels of performance, grow successfully into new roles or new organizations, and build their viability as succession candidates for the C-suite or the CEO role itself. With boards and management, she draws from her deep experience working on top talent development and succession projects to help fortify organizations in their talent needs for the future. As COO, she is responsible for the overall operations and management of the firm.
Prior to helping establish TMG, she was with Heidrick & Struggles' Leadership Consulting Practice. Before joining Heidrick & Struggles, Taylor was an attorney specializing in commercial litigation and bankruptcy matters in state and federal court. Taylor holds a bachelor's degree in political science, cum laude and with honors, from the University of Arizona, and a juris doctorate from Emory University School of Law. She lives in Phoenix, Arizona.
Podcasts
Dealing with Sudden Change
Managing Underperformance
Dealing with Difference: Adapting to a Diverse Global Workforce
The Importance of Asking Questions
Working For a Tough Boss – One of Bizwomen's Favorite Podcasts in 2019
Publications
"When High Performers Behave Badly" – C-Suite magazine, co-authored with Courtney Hamilton
"How Boards Should Evaluate Their Own Performance" – Harvard Business Review, co-authored with Stanford Graduate School of Business professor David Larcker, researcher Brian Tayan, and Stephen Miles
"How Board Evaluations Fall Short" – Veritas Executive Compensation Consultants, co-authored with Professor David Larcker, Brian Tayan, and Stephen Miles
"Board Evaluations and Boardroom Dynamics" – Stanford Closer Look paper from the Corporate Governance Research Initiative (CGRI) at the Stanford Graduate School of Business, co-authored with Professor David Larcker, researcher Brian Tayan, and Stephen Miles
"Board Evaluations: Good Defense and Good Offense" – Ethical Boardroom, co-authored with William Stern
Samantha Smith
Managing Director
Samantha Smith is a managing director with The Miles Group focused on CEO and executive succession planning, leadership coaching, executive assessment, board effectiveness, and team effectiveness. She partners with public companies, PE-backed companies and VC-backed companies across all sectors, advising them on their most important leadership and talent decisions. Prior to joining TMG, she was a principal at Heidrick & Struggles, where she was a member of the CEO & Board and Global Technology practices. Samantha successfully completed C-level searches for board members, Chief Executive Officers, Chief Operating Officers, General Managers, Chief Financial Officers, Chief Product Officers, and other functional leaders. She was actively involved in the firm's leadership consulting efforts and advised companies on succession planning, executive assessment, and onboarding.
Samantha holds a master's in business administration from Columbia Business School and a bachelor's degree from Colby College. She lives in New York City.